Chapter 15 in our weekly series of celebrating Australian whisk(e)y takes us to the New England Highlands in Kentucky NSW, where you just might find nirvana, in the form of fresh air, Jazz music, whiskey, beer, wine and great food.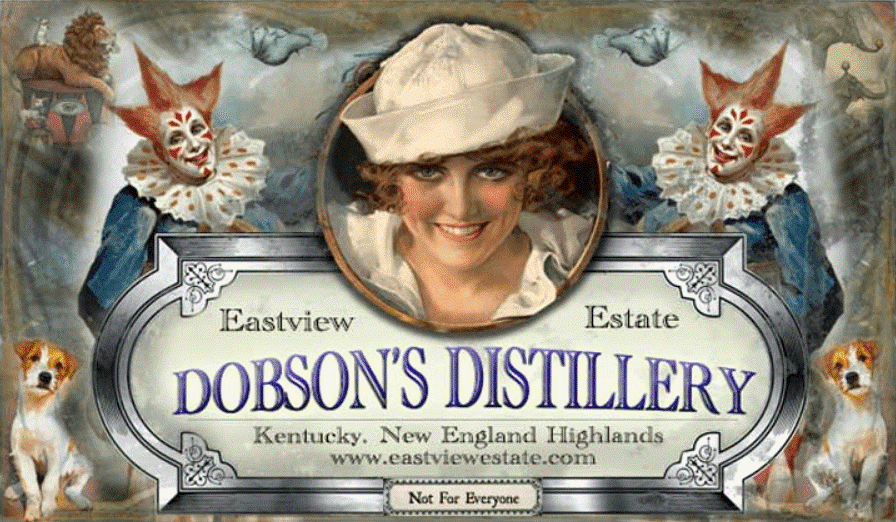 Dobson's Distillery (Eastview Estate) is located at 298 Kentucky Road, Kentucky NSW, about a 5-hour drive north of Sydney. Situated at over a kilometre above sea level, the property is blessed with extremely good terroir as it lies at the confluence of the continental and maritime weather patterns, which makes it ideal for the production of premium whiskey. As well as a fully equipped distillery, the estate houses a winery, restaurant, brewery and speakeasy-style bar and is owned and operated by Stephen and Lyn Dobson who are driven by a lifetime love of whisk(e)y and gin.
Through determination and hard work, they've managed to create a line of whiskies with a sense of terroir, taking in the land that surrounds them. Just as a nuanced, Islay Hebridean whiskey will trap the iodine and salt swept smells of the sea, so do Dobson's whiskies reflect their place of distillation and destination.
Their website alone is a visual tapestry of colour and humour with a burlesque, Victorian era romantic vibe all framed in a love of Steampunk that will keep you scrolling heartily with a grin as you navigate an endless range of delicious products from whiskey, gin and vodka, to various liqueurs and chilli jams.
"I made a conscious decision when I started to take all the thermometers off the stills. A distiller who only knows how to use a thermometer is at a distinct disadvantage and possibly dangerous – so we teach our distillers to use their senses because nothing will get you to make pure spirit like knowing you have to taste anything impure" Stephen Dobson
Meet the owners in their own words.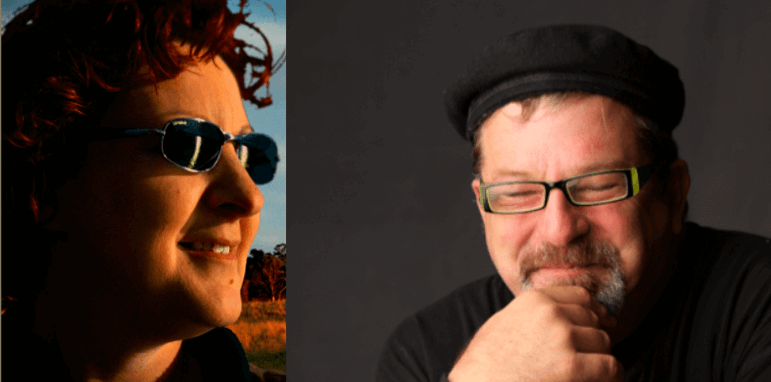 Stephen Dobson – Master distiller, brewer & winemaker
A self-confessed radical misfit, Stephen approaches his whiskey and beer making with a scientific edge by thinking outside the box and using unorthodox techniques conjured up over many years of distilling and brewing, including micro-oxygenation of whiskeys, steam filtration of vodka through amorphous volcanic glass, etc… all of which contribute to the glittering story that is Dobson's.
Stephen comments:
"Living ones dream is a mantra for me, forging the co-incidences that have led me to this place at this time, has been my lifelong concern. I was born to brew, distil and make wine I love it…yeast bubbles through my blood as surely as I live and breathe. I am very lucky to share the support of a beautiful wife Lyn, on whose shoulders I daily stand, that I may see a bit further. I am a misfit, a radical, a visionary…. but after all that is who Dobson's is brewed for. The Sublime beauty of the highlands is never more evident than in winter. The world slows to a more measured pace. And open fires beckon… An open fire, a good dog and a good whiskey, are my idea of heaven. …."
Lyn Dobson – Chef, brewer & administrator
Lyn comments:
"If someone would have said Lyn in a few years you will not be living in the city, spending time at the beach, sun sand and wine. you will be living in the country co-owning, and running a winery, brewery, distillery and restaurant. I would have thought they were crazy.
When Stephen first started talking about his vision of our business in the country. I was really excited but scared, really scared, as this was way out of my comfort zone. But today, living in Kentucky, and loving the space, the fresh air, the country side and our business. I find it hard to remember my previous life".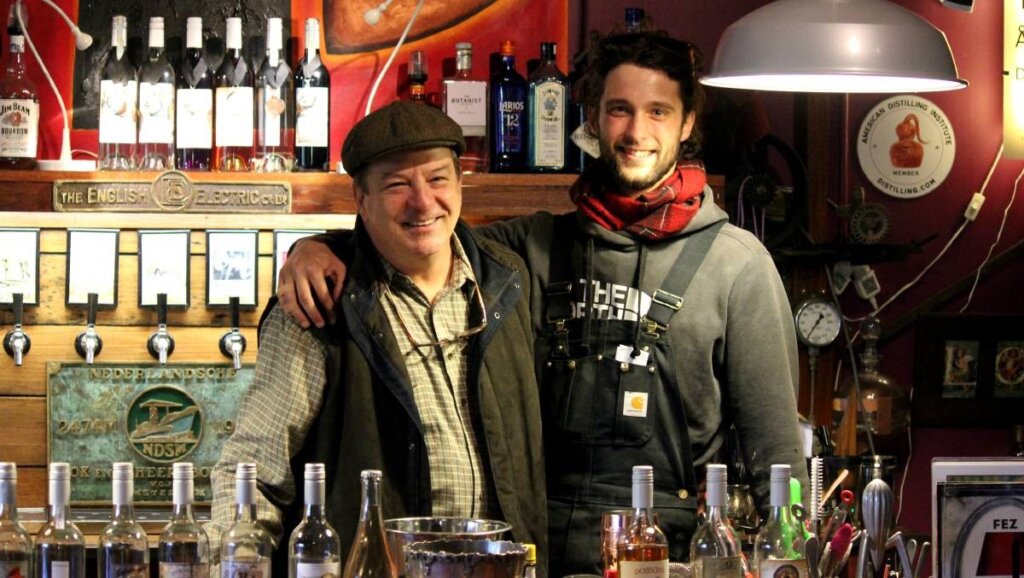 Dobson's bring back the good old days with whiskey filled in 750ml bottles
Kentucky is blessed with some of the purest recorded rainfall in Australia with an Electrical Conductivity reading approaching zero (which means it's fresh and almost flawless). Water of such purity is extraordinary and the distillery believe it's one of the many things that contribute to their unique whiskey. Dobson's single malt whiskies are made with 100% barley and are double and triple distilled with grain from the Baird's Inverness malt house in the sleepy town of Inverness, NSW. Their whiskies are representative of a developing New England Highland style with a Celtic-Irish influence. (Note their whiskey is spelt with an 'e')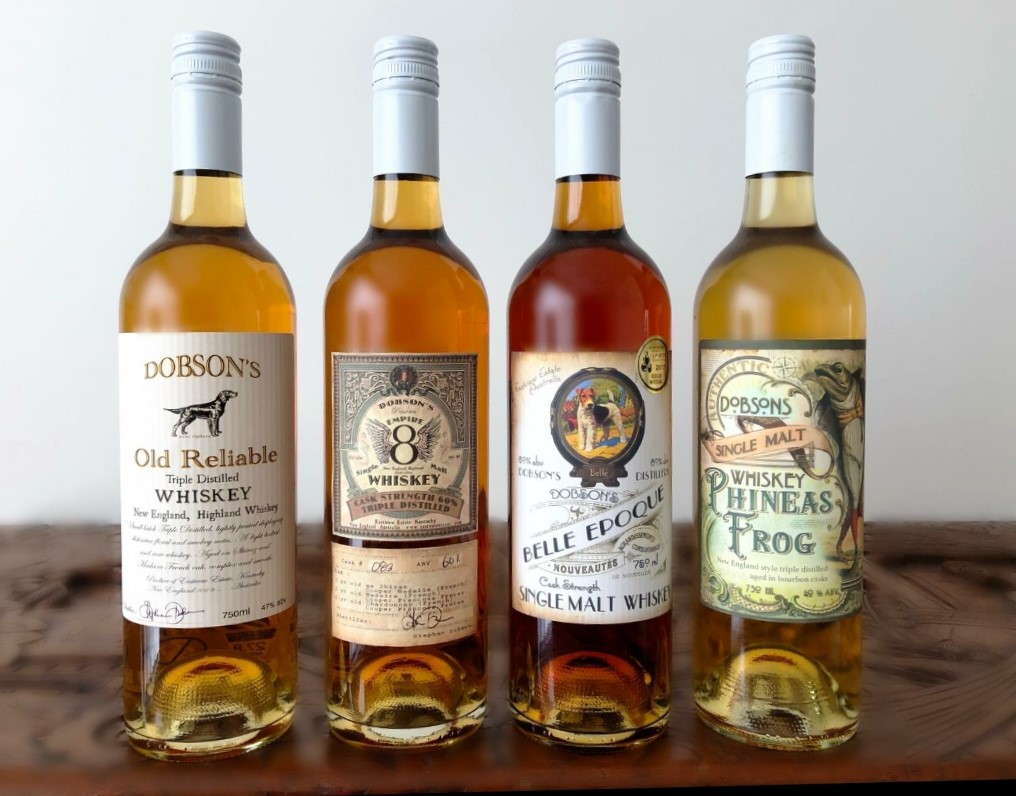 The distillery has four whiskies in their core range:
Phineas Frog single malt whiskey (750ml 40% abv) that's aged in Buffalo Trace bourbon barrels.
Empire 8 single malt whiskey (750ml 60% abv) cask strength that's first matured in stainless-steel with oak slabs for approx. four months before being matured in a shiraz cask for two years, a madeira cask for two years and a chardonnay cask for an additional two years. Think orange rind, vanilla, tropical fruits and fresh gardenias with a long spicy finish.
Old Reliable single malt whiskey (750ml 47% abv) is one of the lighter whiskies in the Dobson's range that's lightly peated and matured in French ex-shiraz oak. Released every 6 months, it's a bright and approachable whiskey with vanilla, toffee apple, citrus and pepper spice with faint hints of peat smoke.
Belle Epoque single malt whiskey (750ml 60%) Their flagship, award winning whiskey that will be discussed in more detail later in this article.
Most casks are ex-wine barrels, so 336 litres except for their 'Quercus alba' white oak barrels (ex Buffalo Trace) which are approx. 260 litres. The distillery also uses some smaller casks from time to time for their one off experiments and trying new techniques.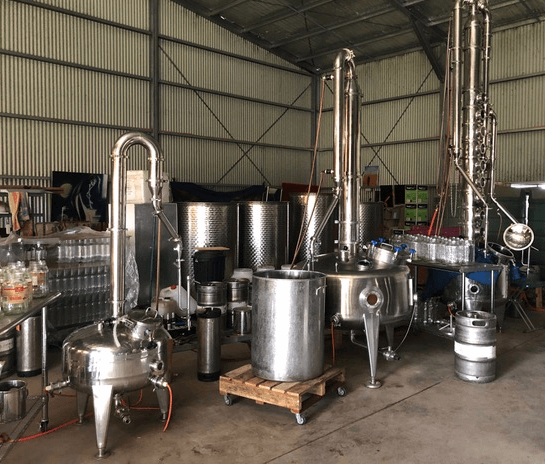 The distillery operates three stills that are all modular and can be re configured to accommodate any spirit or style… They range from 500 litre, 300 litre and 100 litre and are generally configured as 500 litre as a pot still for stripping to produce the Scottish style spirit. The 100 litre is for laboratory grade ethanol when configured with plates, or can be detuned and de plated for Hebridean style spirit as well. This is also the still that head distiller, Steve Dobson used to create his gold medal winning "Belle Epoque" whiskey… The Third still is unique and configured via the "T" head to create Vodka on the left side and the vapour trail can be redirected through the Carter head (to exit) on the right hand side.
A closer look at one of our favourite Dobson's whiskey expressions.
Dobson's Belle Epoque Cask Strength Single Malt Whiskey 750ml 60%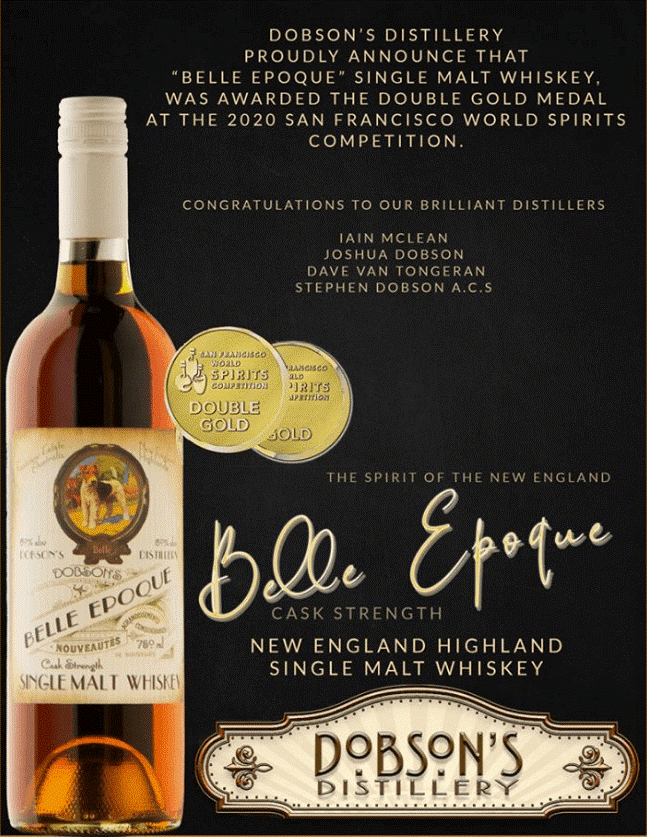 2020 Double Gold Medal Winner
San Francisco World Spirits Competition
Made with a Celtic-Irish touch, this Dobson's Estate 'Belle Epoque' cask strength single malt whiskey comes in at a rich 60% abv. The good folks at the distillery call it "a big, strong, smoky whiskey for the aficionado. A robust, unapologetic example of the whiskey maker's craft"
A real favourite amongst single malt enthusiasts who visit the distillery, the Belle Époque (which is French for 'beautiful era') is double-distilled and made with barley from Baird's malt house located in the small New South Wales town of Inverness. If you're a fan of smoky whiskey with a nutty bouquet that packs a real Aussie left hook – this one's for you!
Our tasting thoughts.
NOSE: Hazelnut's and spice, Frangelico-esque, cocoa and vanilla with plumes of smoke on the back end.
PALATE: Quite tart. Nutty, cigar box, old leather – grapefruit peel mixed with Grand Marnier.
FINISH: Intense and smoky with spotted pepper that seems to linger.
The distillery comments:
After some trying times it is so good to get some good news… we are very proud to have just won the Double Gold Medal at the spirits world cup in San Francisco… for our Single Malt Whiskey "Belle Epoque"… for us this is our Everest, we are very proud to represent the New England & N. S. W at this event. We managed to beat some of the greatest names in Whiskey.
Dobson's Raven Whisky 750ml 47% ABV – Now available only at the Cellar Door and soon to be available on our virtual shelves.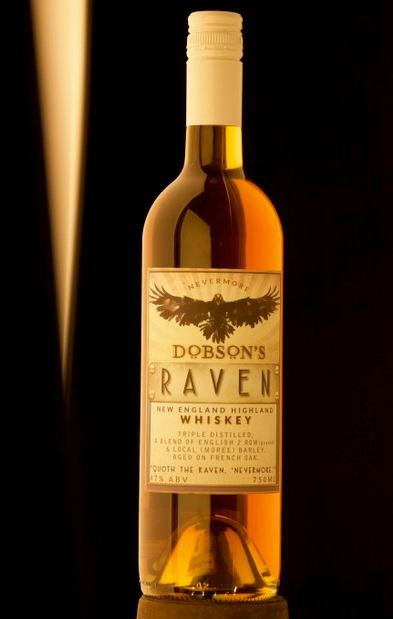 Raven is a New England Highlands whiskey that was triple distilled and made from a blend of 1/5 English two row barley that is peated at Bairds Inverness and 'Provenance' barley grown in Moree. This is co-fermented using an old ale, malt yeast in Dobson's controlled environment ferment hot-room.
The French oak is a favourite of Head Distiller Stephen Dobson, the same as he used for his multi-award winning 'Belle Epoque'. It's 'Francois Freres' cooper French oak, Ex-chardonnay, 2-year-old at purchase.
The name of the bottle (Raven) and the words "Quoth the Raven. Nevermore" that appear on the front label are a tribute to Edgar Allen Poe's poem of the same name. Which is said to mean: Something that happens nevermore, will never happen again.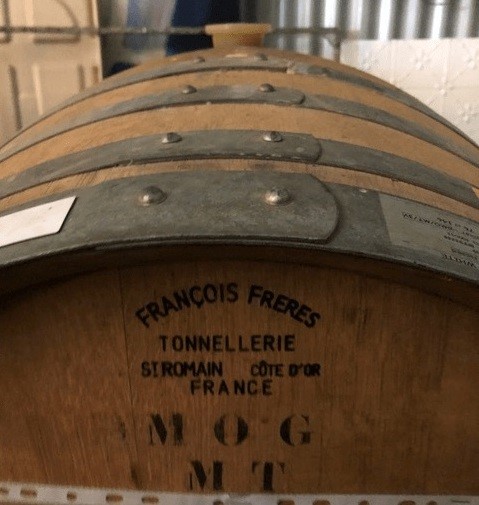 The Beer and the Speakeasy
The estate has eight beers on tap, plus seasonal ales and ales with historic interest. With names like Fudpucker pale ale, Sick Puppy Belgian Abbey Ale and Ol'Black Betty dark brown porter (just to name a few), you know you'll be entertained and delighted by a tasting at Eastview. All ales are made on site and as you would expect are all grain. Made in the traditional way.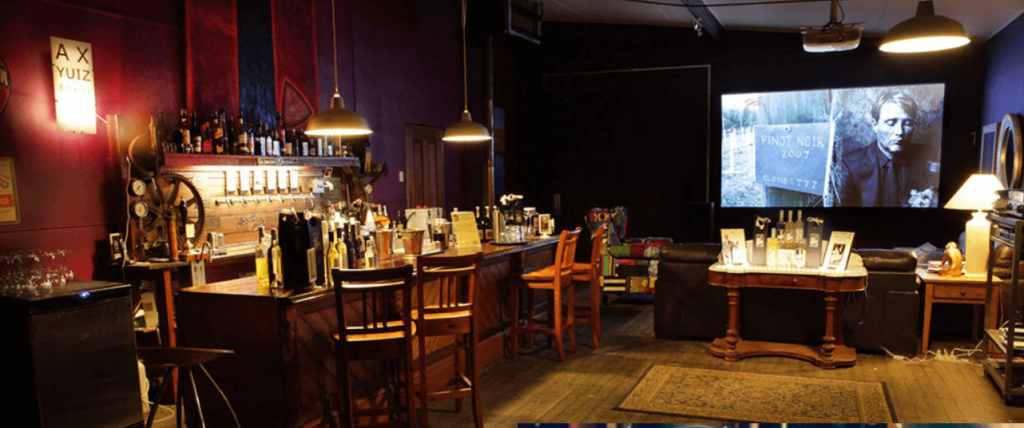 The speakeasy is Eastview's very special Jazz & Blues bar, a stylish sanctuary dedicated to Steampunk with a prohibition vibe that will have all you free thinking spirit-Gypsies channelling your inner flower child. Great food, vintage jazz, blues music and a high definition cinema screen streaming nostalgic and fun films is only part of the speakeasy's charm. The smooth music of Charlie Parker, Thelonious Monk and many other will leave you warm and fuzzy and if you have a little too much whiskey, you might just find yourself having a heart to heart chat with 'Jack Torrance' while 'Stanley Kubrick' picks up your tab. 😉
Restaurant, Cellar Door and Tastings
The property is also home to restaurant Pinot that showcases the beautiful produce of the region. Generous servings of fabulously prepared meals are served in a warm, friendly and informal environment. It's a place of laughter and inclusion, where every patron is regarded as a friend. The restaurant also doubles as the distillery's cellar door where you can purchase the whole range of spirits made by the Dobson's.
Before Covid-19, the Distillery was open for tastings between 10.30am – 3.30pm 7 days a week with
the restaurant opening for lunch Saturday and Sunday between 12pm – 2pm (bookings essential)
If you're looking for a great day out, throw some support behind our local economy and pop in to the Eastview Estate and have a bite and a drink, or jump on to their website and buy a few bottles of their family hand-made spirits.