Chapter 10 in our weekly series of celebrating Australian whisky takes us to the edge of the Tasman Sea where an old Drovers Hut once stood, and three lads are living the dream – making whisky, beer, wine and spirits!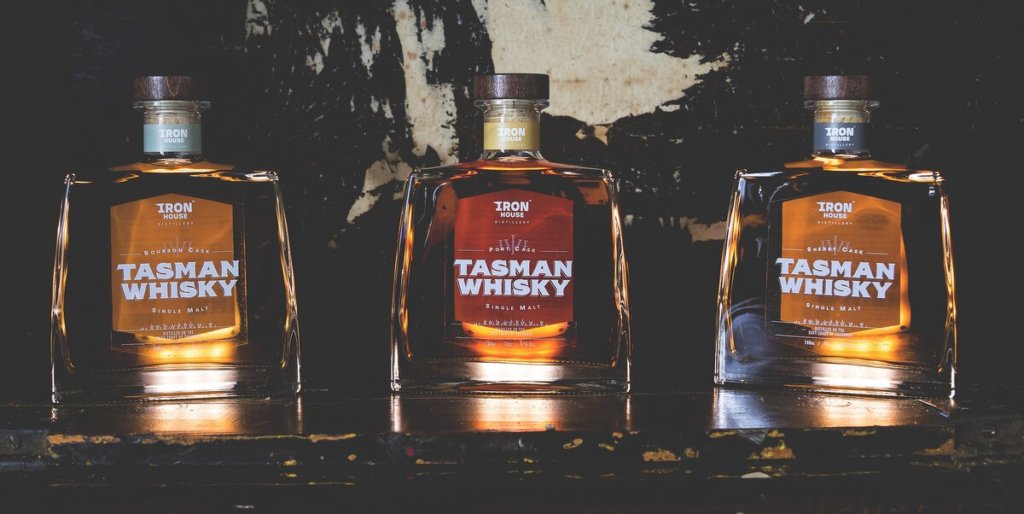 The Iron House Distillery is located in Tasmania at 21554 Tasman Highway, Ironhouse Point at the majestic White Sands Resort on the East Coast. It's nestled at the edge of the Tasman Sea and it's here where brewing legend Michael Briggs has turned distiller, carefully crafting his single malt whisky over the last four years that is now ready to be judged by the Aussie masses.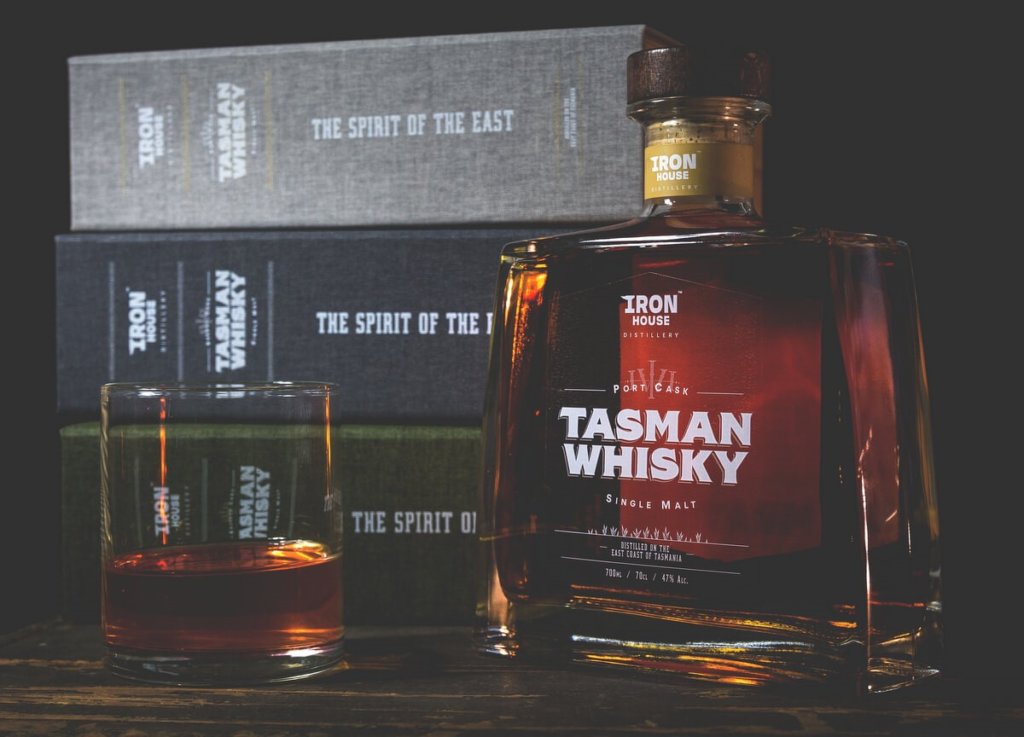 Iron House has invested in some of the most visually stunning packaging we've ever seen here at The Old Barrelhouse. Photos don't do the 'scholarly style' tome that cradles the uniquely shaped whisky bottle any justice; it must be seen to be believed. In saying that, here's to hoping you all enjoy the whisky behind the glitz, as Michael 'Briggsy' Briggs only started his whisky distilling journey a hand-full of years ago. He may be new on the scene, but he's improving on his whisky nous every day and has well and truly found his distilling legs creating whisky that's really starting to shine.
Distillery – Brewery – Vineyard
The History
The Iron House Brewery and Distillery is nestled in the tranquillity of the White Sands resort, a property that Michael Briggs's father in law purchased 17 years ago in 2003. The reason for his purchase…. Access to the boat ramp on the property, as Michael and his father-in-law love fishing and boating! (it must be one hell of a boat ramp) 😉
The property was quite run down when purchased so plans were put into place to restore it back to its former glory. Once the restoration was completed, they turned their attention to offering beer on their taps, which is where Briggsy happily stepped up and formed Iron House Brewery. He chose the name 'Iron House' as a tribute to the first tin roof building that was purportedly located on their current property in the 19th century. It was a Drover's Hut to be precise, that was used by weary travels for respite that locals used to call 'The Iron House'.
Whilst the brewery was been build, Briggsy was already putting plans together to establish a distillery on site to produce whisky and other spirits. It was a shrewd and calculated decision because the brewery was producing an abundance of beer per annum that was exceeding their current market supply, so instead of expanding to the mainland or internationally, Briggsy decided all the left-over wash from his beer production could be used in distilling glorious whisky.
Meet some of the team behind the brand!
From left to right……
Pete: Brewer, logistics, surfer, dreadlocks, good feels and wall scrawls.
Michael 'Briggsy' Briggs: Master Brewer, Distiller, Management, Ginger Ninja, flip flops, belly laughs and boats.
Craig 'Spillzy' Splisbury: Brewer in training, sales, marketing, photography, official taste tester, disgusting inappropriate comments and metal head.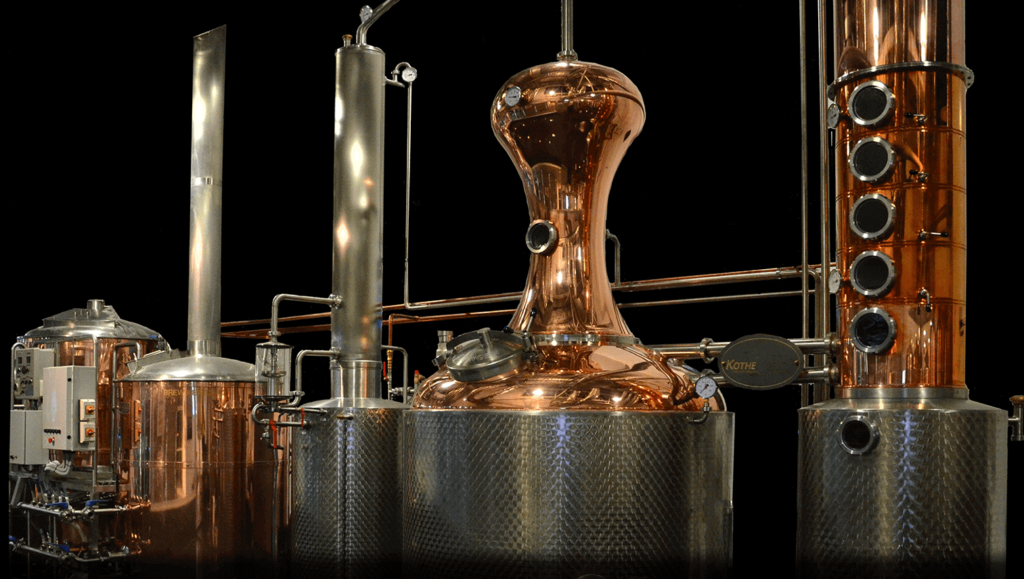 Iron House purchased their 1500L hybrid Kothe still from Germany, via the USA with zero instructions attached, so when it arrived in pieces, Iron House's mechanical engineer; Michael Aulich sniffed a challenge and got to work assembling it with images he found online. Many beers later, the Brewery could now be called a distillery as well as they were the proud owners of a sparkling copper-column still and an oddly shaped pot still.
The distillery punches out about 8,000L of new make spirit each year with around 150 barrels laid down in their bond store quietly maturing their Tasman whisky. They currently have 3 cask styles, Sherry, Port and Bourbon, and are starting to experiment with virgin oak with the hope of offering red wine finishing barrels within the next 6 to 12 months. Their Tasman Whisky is youthful and fresh, a synergy between the purest malts, the pristine waters and the cleanest ocean air of Tasmania's untainted East Coast that balance and mature the Tasman spirit beautifully.
A closer look at one of our favourite Iron House whisky expression.
Iron House Distillery – Tasman Whisky Bourbon Cask 4-Year-Old, 700ml 47% ABV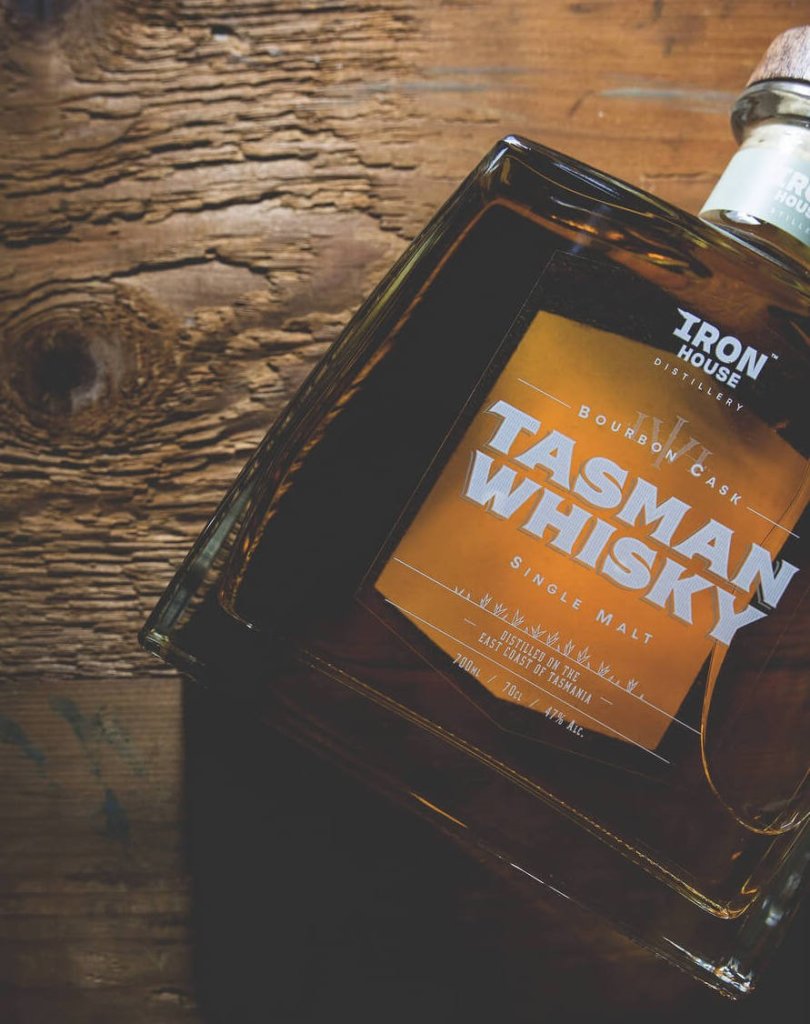 Batch: B2
Bottled: 2019
Cask type: Maker Mark Bourbon
The folks at Iron House believe the 'water of life' they produce should tell a story; hence designing a 'scholarly style' tome that cradles the whisky. They're really starting to nail their flavour profiles and this bourbon cask is a real beauty.
Our Tasting Thoughts
Herbal and earthy aromas lead the way with vanilla biscuits, lemon meringue pie, pear and soft oak. The palate brings sweet caramels (curlywurly bars), toffee and a touch of butter menthol, leading to a moderate and warming finish.
Support Australia – Buy Australian Whisky
Distillery and Brewery visits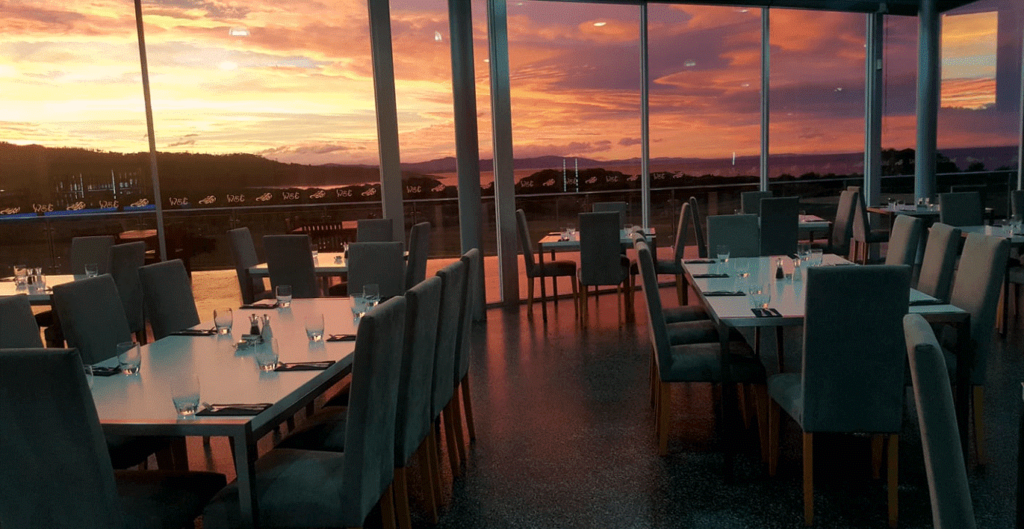 The Brewery and Distillery are usually opened for tastings daily from 8.30am with tours available every Saturday morning from 11am. Then there's the Brew Haus Cafe & Bar that offers Tasmanian produce and artisan meals with refreshing unpasteurised beer flights, whisky flights and wine tastings from their 60 hectares of vines overlooking the Tasman Sea producing fabulous Sparkling, Sauvignon Blanc, Chardonnay and Pinot Noir.
All these experiences and the accompanying revenue have been put on pause due to the partial lockdowns, so if you want to show some support and you're in to easy drinking whisky, handcrafted brews and wine with a real sense of terroir, hop on to the Iron House website shop and spoil yourself – there's something for everyone.
Where to purchase
Access Iron House's online store HERE.
You can also view our Iron House whisky selection HERE.
We'll leave you with the soothing words of Spillzy, who described life at Iron House to me….
"Mate, I'm not a God-fearing man but it's fair dinkum Gods country down here. We might be in the middle of nowhere, but it's heavenly. Nothing's ever stressful, you look straight outside the brewery and distillery window and you can see the waves rolling in about 200m away"
Wouldn't we all love a little bit of 'Iron House' in our life too, I know I would!
The Old Barrelhouse