Chapter 16 in our weekly series of celebrating Australian whisk(e)y takes us back to our good friends at Otter Craft Distilling in St Peters NSW, where owners Eduard and Julie Otter have well and truly established themselves on the Australian distilling landscape.

It's been 10 months since we first popped into Otter Craft Distilling to say Hi! Since then, the world has changed dramatically, but the distillery's heavenly smells of baked bread, toasted apples, wood aromas and distant coffee has definitely stayed the same.
Visiting Julie and Eduard was like a homecoming of sorts, with the afternoon winter sun beaming through their high office window splashing their whiskey bottles in colours of ripe barley and late harvest grapes, and we revelled in the glow, sampling OCD's latest creations from Pinot cask single-malt whiskey to new vodka varieties, while sipping on a few Belgian strong ales. Some work chat and a few hours of eclectic banter was the perfect elixir to stave off our Sydney winter blues.
OBSESSION  CREATION    DESTINATION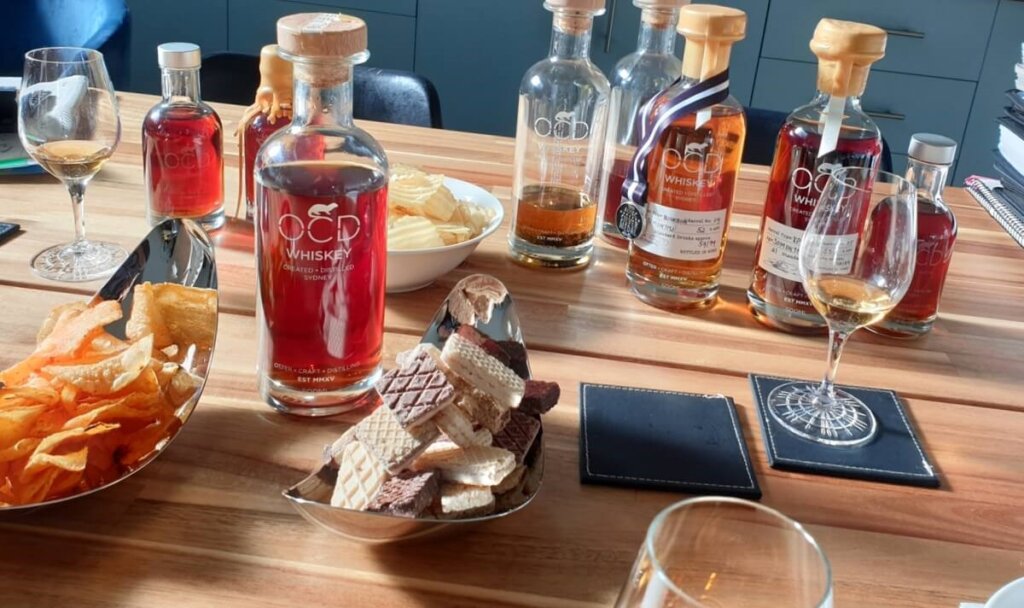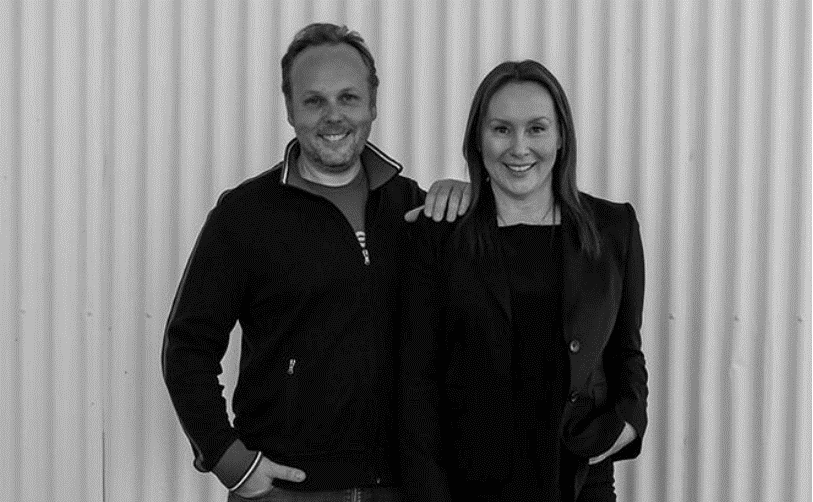 It's been quite the journey that has brought Julie and Eduard to this moment in time since leaving lucrative careers behind to conquer new horizons. Julie's career resume reads as a masterclass in branding, beauty and fashion: General Manager at M.A.C Cosmetics, group General Manager at Peter Alexander, CEO at Sass & Bide, the list goes on… Eduard's professional background has always been in liquor and hospitality, cutting his teeth in the 1990's working bars around the world, before working for brands such as Pernod Ricard and Schweppes in Australia helping open new markets overseas. His spare time was spent experimenting in his garage with a 70-litre column still, formulating ideas that would eventually instil in him a strong respect for whiskey tradition, provenance and a high level of innovation.
Eduard and Julie bring a wealth of knowledge to Otter Craft Distilling tapping in to their vast experience to create bespoke, premium whiskey and vodka that are as visually stunning as they are delicious. They're both driven by a sense of terroir and an infectious desire to produce and promote quality spirits, surrounding themselves with like-minded suppliers who are passionate about sustainable and traceable ingredients, that are ethically sourced.
Premium Whiskey and Vodka – Made by hand in Sydney in small batches, using equal parts tradition and innovation. OCD is about the obsession of creating authentic spirits.
A lot has changed in 10 months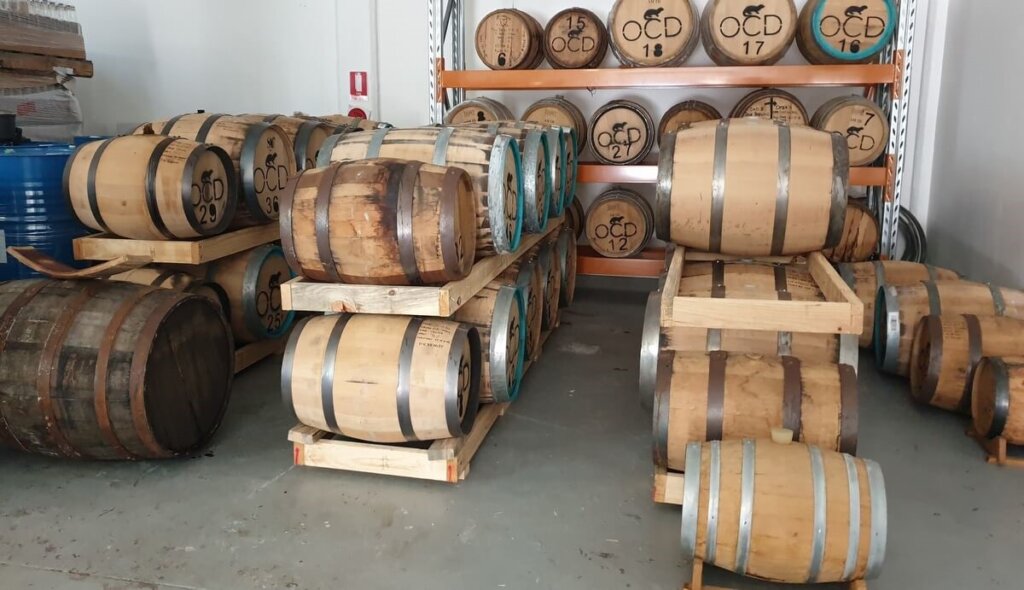 Since our last visit, the Distillery has increased the number of barrels quietly ageing their new-make spirit to 56. Covid-19 had slowed down production but Eduard's back on track now working his self-designed 'Bain Marie' still to its limits, producing the nutty and fresh new-make spirit that is distinctly OCD. Plans are also in place to purchase another still with a much larger capacity with more exciting news that will be shared in due time.
To find out more about Ed's self-designed Baine Marie still, click HERE! to read our original article on OCD from October last year (2019)
The distillery has also won 5 awards in the past year. Two Silver medals in the 2020 International Australian Spirits Competition (AUISC) for their Port Cask Third Release Single Malt Whiskey and Bourbon Cask Fourth Release Single Malt Whiskey. And three awards in the same competition for their Vodka range including Gold medals for their Vodka 'Lemon Drop' and Vodka 'Pure' and Silver for their Vodka #23. Some well earned recognition  for a young distillery.
A closer look at one of our favourite OCD whiskey expressions.
OCD Bourbon Cask Fourth Release Single Malt Whiskey 500ml 52%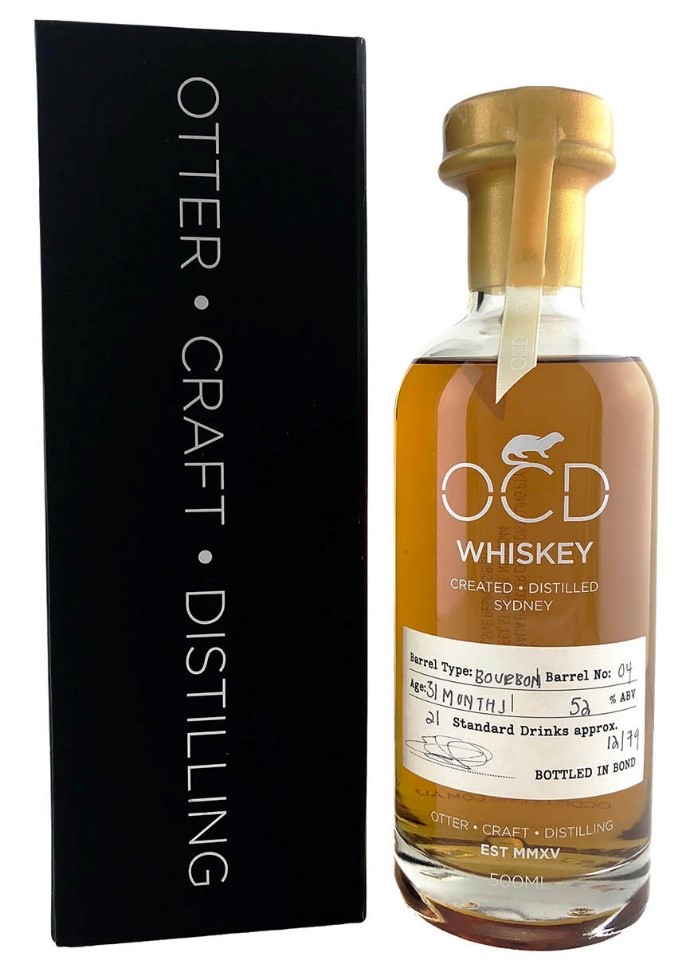 From Otter Craft Distillery that yielded 79 bottles. There's now only 4 bottles left in the country. 2 on OCD's virtual shelves, and 2 on our virtual shelves!

Hot off the barrel comes Release 4 from Otter Craft Distilling that was age for 31 months in an ex-bourbon cask that was re-coopered to 50 litres with a mid to heavy char. When initially tasting the barrel, Distiller Eduard Otter was struck with the subtleties of flavour profiles apparent, leading him to decide to do no filtration at all. The normal process of running the whiskey through a small filter pad to remove leftover bits of char from the barrel, was abandoned. Instead the whiskey was allowed to settle before being bottled with most of the char remaining in the vessel. As such, some small carbon particulates may still be seen in some bottles, this will not influence the taste in any way and are just a sign of how untouched this liquid is.
Our tasting thoughts.
Nose: Fresh floral aromas with waves of citrus, sweet vanilla and 3-milk-cake swirl into notes of crisp coconut, orange peel and spiced apple.
Palate: Honey-drizzled ripe banana and tropical stone fruits join the sweet vanilla from the nosing, bringing nuanced flavours of lemon, eucalyptus and cinnamon.
Finish: Lingering –  lemon biscuits and white pepper, followed by a pinch of brown sugar and oak.
OCD's Latest Whiskey Release
OCD Pinot Cask Fifth Release Single Malt Whiskey 500ml 53.2%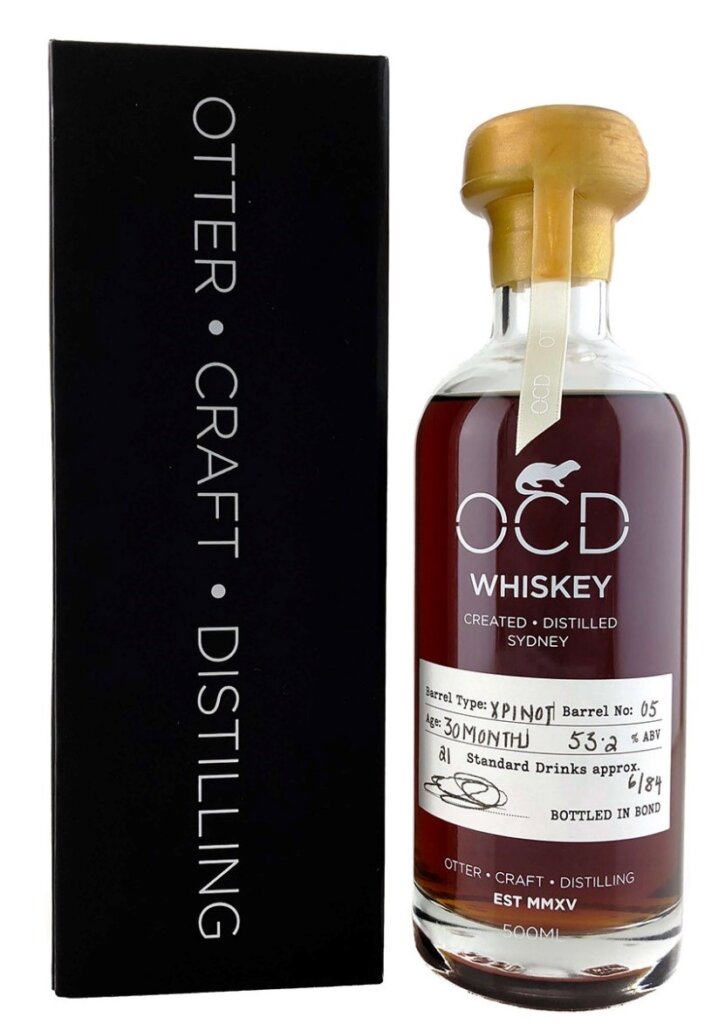 From Otter Craft Distillery that yielded 84 bottles.
Here's release 5 from Otter Craft Distilling that was age for 30 months in an ex-pinot cask and bottled at 53.2% alc. It' collectable and absolutely delicious.
Our tasting thoughts.
Nose: Honey-dipped milk biscuits, crushed almonds and dried apricots share the bouquet with late aromas of red currents, fresh berry compote with vanilla bean and the faintest hint of cola and old wood-cellar at the cusp.
Palate: Strawberry shortcake and sweet vanilla arrive first before the fruitiness of the pinot bursts on to the palate with the addition of sunflower seeds, wet tobacco leaf and cracked pepper.
Finish: Dry, nutty and lingering with a little citrus and lovely toffee note.
Head distiller Eduard Otter comments:
"Ex Pinot Cask re coopered to 50 litres with a mid to heavy charring from Tasmanian Cask Company, the new make in this barrel was the first time that Eduard had converted from his small (90 litre) individual mashing at home to a larger format.
 Joining forces with Dad and Dave brewing, Eduard met with Dave very early one morning to mash in and produce 1000 litres of un-fermented mash before driving it home to pitch, little did Eduard realise that this was the start of how things would be moving forward. Sitting for 2 weeks patiently fermenting so started the process of distilling the 1000 litres, 70 litres at a time, 16 of these strip runs and 2 spirit runs is how this cask was conceived – and now some 30 months later born"
SUPPORT AUSTRALIA – BUY AUSTRALIAN
Tours, Tastings and Cocktails.

Before Covid-19, the Distillery and cellar door were open for tours and tastings. Although NSW restrictions have eased, the last 3 months of lockdown has kept tourists and enthusiasts away from the distillery. So, if you're looking for a great experience with friends, throw some support behind your local small business because Otter Craft Distilling is once again open for business with all the Governments safety guidelines in place. Simply email sales@ocdistilling.com and book (by appointment only)
OCD's website also has a fantastic variety of hand made whiskies and vodkas available including delicious cocktail sets.
As of next week (6th of July 2020), OCD will be running cocktail session with tickets costing $80 per table of four with 4 cocktails included. The sessions will be limited to one hour in length on Thursday and Friday afternoon/night. There will only be 3 tables available during the Covid period and four sessions at a time. If there's demand for more sessions, Saturday and Sunday appointments will be included as well. Cocktails will include Espresso Martini, Valentino, Lemon Drops, Vodka Martini, Chocolate Maple, Spritz and Bloody Mary made the OCD way.