Where History and Single Malt Whisky Collide.
"Ordinary people, doing extraordinary things"
We're delighted to announce that Anne and David Kernke, owners and operators of the Shene Estate and Distillery have given us access to their award-winning single malt whisky, now available on our virtual shelves. As proud supporters of the Australian Whisky industry, our motley team here at The Old Barrelhouse are looking forward to showcasing Mackey whisky and putting it in the hands of as many whisky enthusiasts as possible.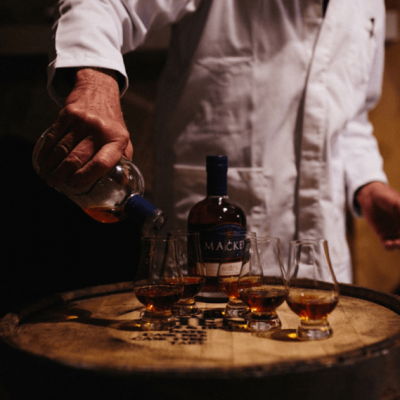 The Past
The story of Shene Estate – located at 76 Shene Road, Pontville in Tasmania began in 1819 with the original land grant of 800 acres by Governor Lachlan Macquaire to Edward Paine, grandson of King George III. Paine then immedialtely returned to London and returned to Van Diemen's Land again in 1822, where he was granted a second land grant of 1,200 acres. Paine was funded by his brother-in-law Gamaliel Butler. In 1824 when Gamaliel Butler, a London lawyer and early colonialist was given control of the property after his brother-in-law, Edward Paine had passed away (from drowning).
After Edward Paine's passing, Gamaliel Butler arrived in Tasmania and planted the roots of the estate and its incredible historical buildings with what would eventually be, his 16 children. The estate itself, originally encompassed 22,000 acres, grazed sheep and cattle with many of the structures built in 1851, largely by convict labour, included a gothic stable for 13 horses, structural improvements, clearing, fencing, dams and more.
The estate was owned by the Paine/Butler family from 1819 to 1874 and then was purchased by the Weston family at auction. The Weston family would go on to own the estate for a further 80 years (until 1954) with Shene been the cornerstone of their family land holding empire.

The Present.
Now fast forward some 52 years later when the Kernke family purchased the Estate and surrounding property in 2006. Owners Anne and David Kernke, their daughters Myfanwy and Ceridwen and their beloved westie pooch Gillie (Scottish for gamekeeper), have been working tirelessly for over a decade now to conserve the historic site with passion, sharing the stories of Shene's rich and colourful past.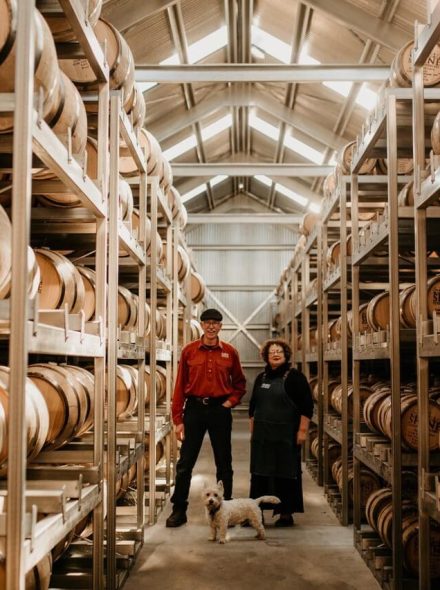 Now days, the Estate & Distillery prides itself on being a historic site with modern ideas and the Kernke's have well and truly thrown open the doors, breathing life into the entire property, conducting tours and chatting about what daily life is like living and working amongst so much history in a living museum. The family has taken great care to ensure that the building's original purpose is reflected in the restoration as well as bringing the gothic stables back to their former glory, hence, the Hobart Polo Club taking up residence at the estate.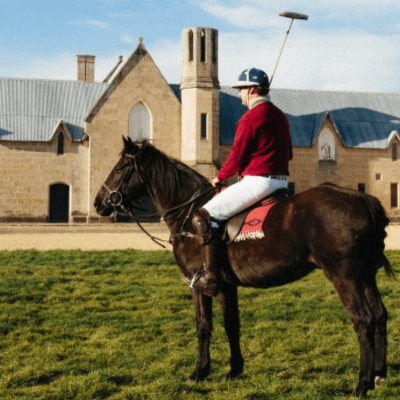 The inspiration for the creation of the distillery came from the fact that the property once cultivated wheat and barley and from some fragments of very old gin bottles and even a tonic bottle found on the site. Then during the course of 2015, life on the farm was once again transformed as the distillery was constructed and fitted out. The current building is a replica of a derelict 1800's timber structure that was demolished as it was deemed to have deteriorated beyond repair. The cladding of the distillery is split timber, reflecting the original cladding of the 1800's building.
The distillery also includes a working, convict-picked sandstone fireplace with a working 19th century fireplace crane. From a historical context, it was essential that the design and construction of the Distillery sit in harmony with the adjacent Gothic Revival stables and Shene's collection of convict-built structures.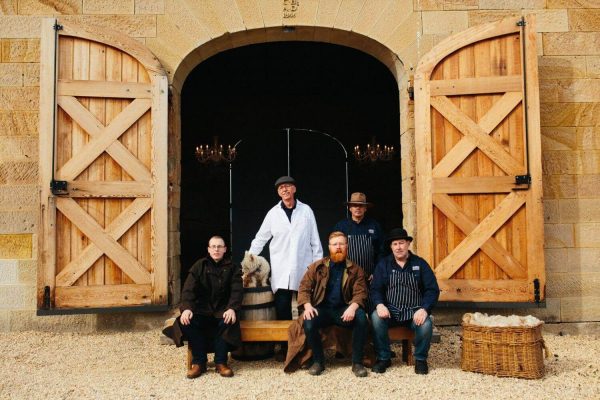 Shene is currently at the top of their game in both their conservation prowess and distilling practices. David Kernke prides himself on sourcing the very finest of ingredients to create double and triple distilled single malt whisky and gin. The distillery is home to one of Tasmania's largest copper pot stills, creates its own wash, daily mashing in 1,250 kilograms of Tasmanian grown and malted barley. The distillery has its own fermentation brew house and each week produces over 38,500 litres of wash. This ensures that whisky produced and distilled at Shene has its own unique flavour profile.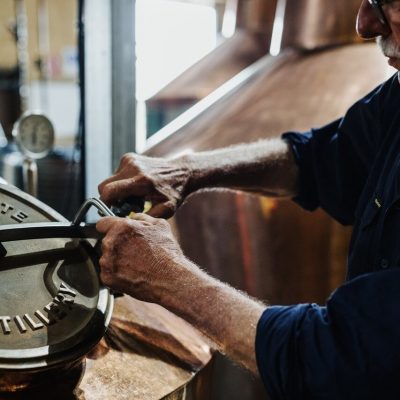 Meet Head Distiller David Kernke, an old soul at heart, nicknamed 'Rudd' by his family after Steel Rudd's "On Our Selection".  Each morning, before the sun rises, David and his beloved pooch Gillie clicks shut the door of Shene's Georgian farmhouse as they head for the old hayshed in the quest for making the finest Tasmanian Single Malt Whisky.
David spent his teenage years in country Queensland unearthing old bottles and artefacts from gullies and creeks cultivating a keen appreciation of the past. Family road trips in his youth began a lifelong affinity with the Australian landscape, a great love and admiration of Australian history and early Australian architecture. To this day, David still unearths broken bottles and artefacts found around the historic estate. Only now he spends his days distilling, creating and bottling Mackey Tasmanian Single Malt Whisky and Poltergeist Gin.
Technical stuff for the whisky tragic.
The distillery has a brewing section incorporating 8 x 7,500 litre stainless steel fermenters, a 5,000-litre mash tun and 4 copper pot stills – a 4,500 litre wash still; 2,000 litre first spirit still, 1,100 litre 2nd spirit still and a small 300 litre gin still.  Ancillary equipment includes a 50-ton grain silo, a chiller unit, a state of the art QTON water heater which uses compressed Co2 as fuel, 8,000 litre stainless steel insulated heat recovery tank, 7,000 litre stainless steel insulated hot water tank, 2 x 20,000 litre waste water treatment tanks and associated equipment.   Other buildings on site associated with the distillery include 2 bond stores, one large bottling building, Cooperage and Cooperage support buildings.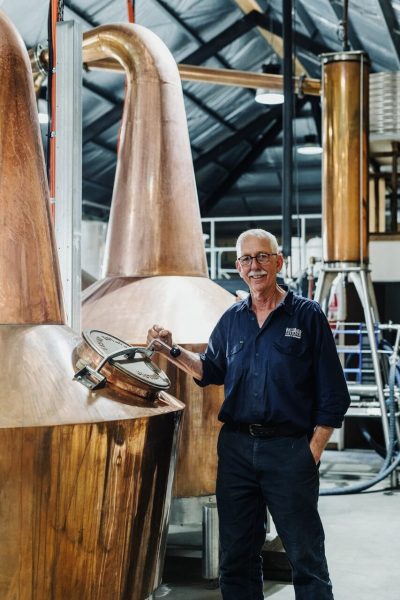 "Get by with a little help from my friends"
The Beatles understood the deal in 1967 and it definitely still applies today.
With limited state and federal Government funding for the upkeep and maintenance of heritage properties such as Shene, the success and conservation of this truly unique property is contingent upon the financial support that visitation brings. So next time you're in beautiful Tasmania, book a behind the scenes tour or a tasting tour, a Butler's Bounty tour or be sure to visit their roadside stall and cellar door. Not only will you be greeted like one of the family, you'll also get great bang for your buck whilst doing your small part in ensuring this historical site endures, for future generations to enjoy.
For more information click here: https://www.shene.com.au/shene-tours/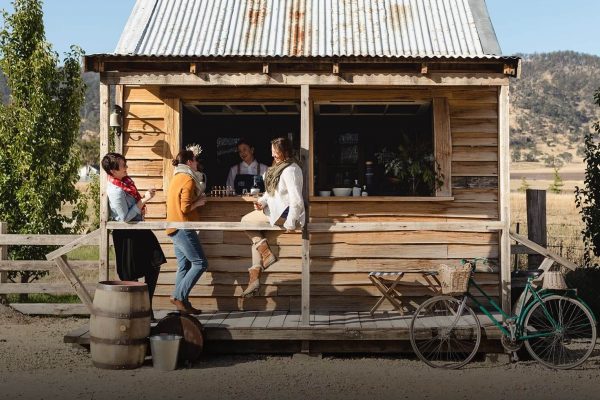 "A melding of passions – heritage conservation and good spirits"
After researching, reading, sampling Mackey whisky and chatting with David Kernke for this blog entry, I think the introductory quote for this piece would be more fitting if it said:
"Extraordinary people, doing extraordinary things"
David MK.
Thanks for reading – Now go and drink some Amazing Australian whisky! (In moderation of course) 😉