There's no rest for the wicked, but there's always time for good whisky and the Hibiki 21-year-old is the perfect companion for a sneaky evening pour. Hibiki is a Japanese blended whisky and a relatively young brand first released in 1989, owned and distilled by the house of Suntory which has become one of the most sort after award winning whisky blends in the world.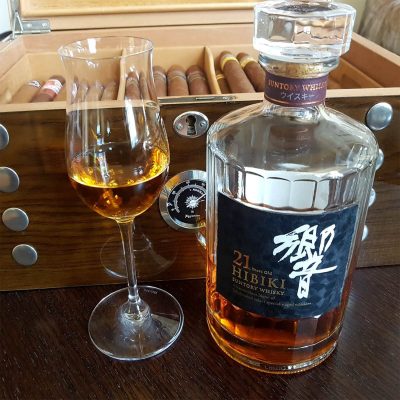 This gorgeous 21-year-old's rich and complex character is born from using single malts from Hakushu and Yamazaki and grain whisky from Chita that were aged in a combination of American (ex-bourbon), European (ex-Sherry) and Japanese (Mizunara) Oak. Each been aged for at least 21 years before being carefully selected and blended together to create this masterpiece. It's amazing how the flavour profile of the Hibiki 21 always seems to change whenever I revisit her. Sure, it's full of sherry spice, dark fruits and toffee, but this time I'm getting sweet lemon on the nose followed by candy apples and a real fruity mouthfeel.  I remember reading that a whisky flavour profile can change depending on mood and other factors and I'm starting to really believe that, but that's a discussion for another day. 😉
Such a seductive pour – One of our favourites here at The Old Barrelhouse.
Kanpai
David K.