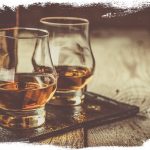 My name's David, and along with Ross and our small crew of whisky and bourbon acolytes, we'd like to welcome you to The Old Barrelhouse.
We're delighted to have finally launched our website and look forward to not only providing you with top shelf whisky and unique content, but also getting to know a little about you as well. All our whiskies are carefully selected to reflect our commitment to antique, rare and limited edition bottles. As mentioned in our bio, we're all at different stages of our whisky journey and it's a process that we take very seriously. We're looking forward to working with you in a highly personalised environment to provide you with the perfect bottle of whisky, whether it be for your collection, for drinking, as an investment or for that special gift.
Although we deal in premium, high end whisky and bourbon, we try not to take life too seriously as you will see by our Instagram account. We enjoy running competitions and giveaways which means you'll have to check our Facebook page and Instagram account as well as keeping an eye on our blog. We're also pretty spontaneous here at The Old Barrelhouse – we revel in cracking the proverbial seals of unique bottles – sending random samples to our unassuming subscribers and just pretty much having a damn good time so be sure to subscribe so you don't miss out.
Our whisky portfolio has its own heartbeat and will be growing and growing so check back from time to time to see what's new at the Old Barrelhouse. If you have any questions or just want to say hi, drop us an email at contact@theoldbarrelhouse.com.au, no question is off limits and we love to chat.
I hope you enjoy our website as much as we did in creating it.
Until next time, be well, and as always – respect the whisky.