Chapter 6 in our weekly series of celebrating Australian whisky takes us to a distillery in central-western New South Wales that is a real fan favourite in Australian whisky circles.

The Black Gate Distillery is the first distillery to be built in the central-west of New South Wales, located at 72 Forrest Road Mendooran, (population 400) about 45 minutes from Dubbo. The distillery was established in 2009 by husband and wife team Brian and Genise Hollingworth, and then opened in 2012. They learnt their craft by travelling throughout Scotland, Ireland, Tasmania and NSW researching, and gaining knowledge in the art of distilling high-quality spirits.
Brian and Genise are incredibly humble and have a deep sense of terroir; an absolute love of the rural environment that surrounds them, qualities that shine through in the spirits they produce. They're an independent, hands-on distillery who have made a habit of producing fantastic whisky that has whisky acolytes (us included) literally chomping at the bit to try every new release they create.
Rural – Authentic – Agile


The distillery currently operates with two copper pot stills and produces small batch single malt whisky and dark rum which are brewed and distilled on-site, with the hotter climate in Mendooran conductive to aggressive spirit maturation and cask influence. Brian looks after the whisky, produces his own wash and ages his new-make spirit in a variety of casks including sherry, port, rum and hybrid barrels with past non-peated expressions, and now predominantly peated expression. There's also a Solera cask whisky available, with Black Gate been one of the first Australian distilleries to use the Solera system that provides added complexity to their juice and, (a 'godly' word in the Australian whisky industry), consistency.
Genise is in charge of the rum distilling and is one of only a handful of female distillers across the country who has shattered the glass ceiling with her skill, prowess and technical nous, paving the way for others to join her ranks.
 The distillery has a capacity upward of around 3000 litres of whisky and about 1000 litres of rum annually and use direct fired copper pot stills of 630 litres and 300 litres capacity, that produce spirit on the richer end of the flavour spectrum. They adhere to traditional methods and use the highest quality ingredients and casks available.  There was a move to heavily peated spirit production a few years ago that has proven to be very successful as Brian has mastered the art of peated whisky and carved out a real niche in the smoky flavour profile. The distillery is now including 200L ex-bourbon casks in their portfolio and it's an expression we're super keen to try.
"We've devoted our lives to making booze, so we may as well make the best we possibly can" Brian Hollingworth
A closer look at one of our favourites Black Gate expressions.
Black Gate Peated Sherry Cask #BG054 Australian Single Malt Whisky 500ml 63.7%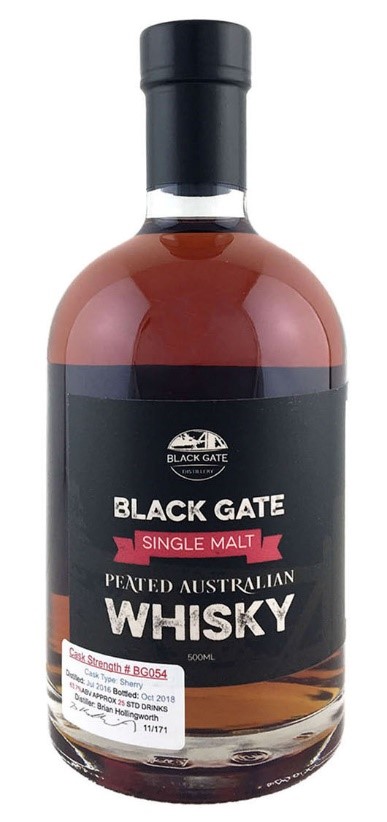 Cask strength whisky release yielding 171 bottles

500ml: 63.7%alc
Region: Mendooran, NSW
Cask type: 100L Sherry Cask
Cask No: BG054
Distilled: July 2016
Bottled: October 2018
Individually numbered.

Our Tasting Thoughts
Sweet and aromatic on the nose with subtle wafts of peat smoke that really comes to bear on the palate in between hints of sticky dates, Turkish delight and toffee. The finish is long and creamy with a serious smoky tale.
It's big and bold, a take-no-prisoners whisky, absolutely everything we love about Black Gate, wrapped up in a sherry bow.
Support Australia – Buy Australian Whisky
Cellar Door and World Whisky Day
Before the world went crazy, Brian and Genise offered a unique tasting experience as part of their cellar door with a generous line up of single malt whisky and dark rum. They also have a small licensed bar on-site specialising in craft beer, cider and malt whisky. These experiences and services are now on pause, along with the steady income stream that is vital to their distillery, a stream that helps them continue creating glorious whisky for us all to enjoy.
In the cooler months, Black Gate hosts Aussie camp experiences, oven dinner and cooked breakfast on site at the Distillery. Along with these closures, Brian and Genise have also had no choice but to cancel one of the coolest events on the Australian whisky calendar, the World Whisky Day celebrations 'camp-out' that they host on their grounds in May each year. The festivities include live music, smoked meats, craft beers, ciders and plenty of whisky flights. Bookings are essential and the numbers always fill up quickly. It's an event that is certainly a bucket list occasion for us here at The Old Barrelhouse having heard the "stories" seen the pictures and even video (hehe!) of the fun had by all and it's an understandable shame that it will not go ahead this year.
So, if you're looking for a bottle or two of deliciously bold whisky, jump on to the Black Gate website and have a look at their newly released whisky and dark rum expressions, there's also some great looking apparel available.
Where to purchase
Access Black Gate's website HERE!
You can also view our selection of some older Black Gate expression, sold out at the distillery HERE!
The Old Barrelhouse