Chapter 7 in our weekly series of celebrating Australian whisky takes us back to Tasmania to the one-and-only 'master of all trades', Peter Bignell – Owner and Distiller of the Belgrove Distillery.
The Belgrove Distillery is the first Rye Distillery to open in Australia. Located at 3121 Midland Highway in Kempton-Tasmania, just North of Hobart. It's one of the only self-sustaining distilleries in Australia.

Farmer, coppersmith, engineer, sculptor, environmentalist, bio-fuel chemist and "Distiller of Australia's first 100% Rye Whisky"
Peter Bignell is a man of many talents, he came to whisky-making by an agricultural mishap. Back in 2008, his farm in Kempton yielded a bumper crop of rye which was one of the best Peter had experienced in his 40-odd years growing grain. Faced with all that extra rye, Peter did the obvious thing, he applied his sculpting and engineering nous to build his own 500 litre copper pot still which he directly fires with biofuel (used cooking oil) from a roadhouse next to his farm. It also powers his farm machinery and heats his house.
The rye used in the whisky is grown a couple hundred metres from the distillery on his family farm and the grain is malted on site as well which saves on having to transport it. Once all the sugar has been extracted from the grain, Peter uses the spent mash to feed his sheep and pigs hence ensuring every bit of waste is utilised. Peter's rye whisky has now spent several years in barrels ranging in size from 50 litres to 200 litres, (amongst other sizes).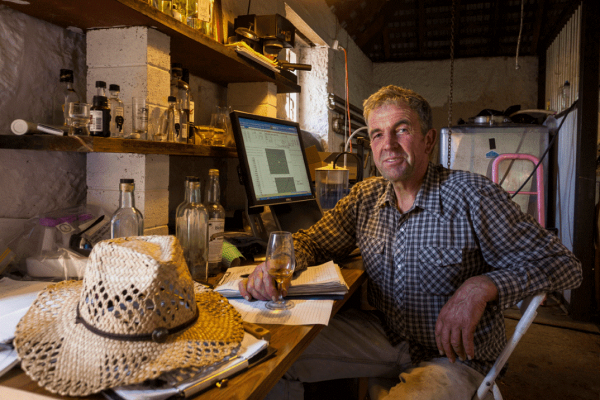 Peter Bignell describes his ethos best:
"At Belgrove all our grain is grown just near the distillery. It is harvested and stored late in the summer. The grain is then malted, mashed, fermented, double distilled in stills built by hand at the distillery. Each of those steps is monitored and tweaked by eye, nose and taste".
"The decisions about where to make the "cuts" from fores to heart to feints are done only by nose and taste, no instruments used. The spirit is filled into barrels that are re-coopered and re-fired at the distillery. As the various barrel types mature over the years they are regularly sampled and are not bottled until our noses and taste buds say the whisky is ready………… …… Every stage of the whisky making at Belgrove is guided by our noses and taste buds. We are aiming to produce great flavours; alcohol is treated as if it is a by-product. The only instrument we rely on is a thermometer during mashing. Alcohol is measured at various stages of production but it is for record keeping only, not for decision making".
To call Peter an 'alchemist' is a betrayal of his aptitude, because he's so much more than that, his creativity is on another level!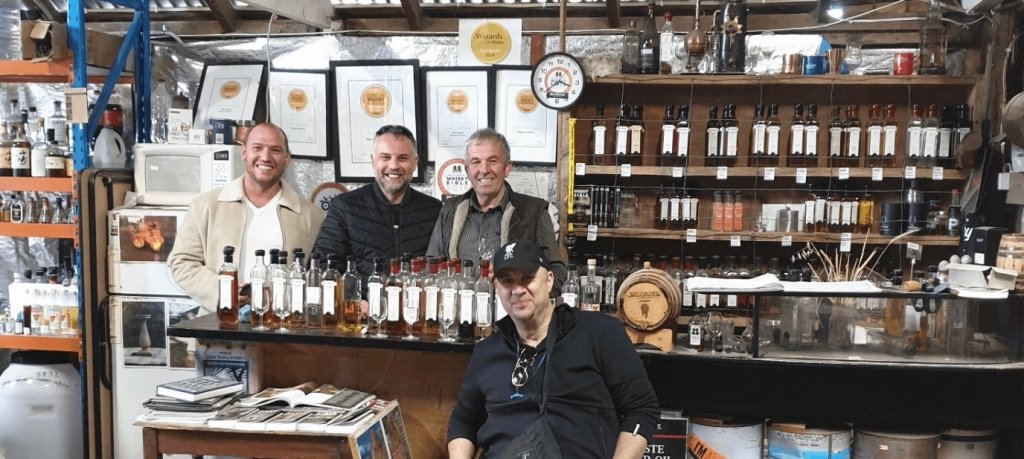 We visited the distillery in December 2019, and although we had heard stories about Peter and his Belgrove operation, nothing really prepared us for the sheer magnitude of his passion, talent and skillset – Every square inch of his operation has been designed, tweaked, tested and built by his own two hands. Calling him an 'alchemist' is a betrayal of his aptitude because Peter is so much more than that, his creativity is on another level – His core range of Rye whiskies are a delight, winning multiple awards from all sections of the whisky industry, and then there are his 'left field' expressions…. From producing whisky smoked with sheep's manure (from his own property) aptly named 'Wholly Shit Rye' to his heavily peated, pedal to the metal, spawned in Hades, new-make rye 'Bogan Burnout', there's nothing Peter won't experiment with, which leads us to his long sold out, 'Kissing a Stanger' expression.
'Kissing a Stranger' was borne from his commitment to sustainable living and reducing waste. A spirit produced from 500 litres of red and white wine (among other things) swilled and spat out by guests at a two-day tasting. Peter then formulated a plan to re-use liquid from the spittoons used at the event to create a new spirit.
Peter told ABC radio in Hobart……. "I hate waste, absolutely hate waste. That bucket in the middle of the room with all the dregs of the wine and everyone's spit in it, that's a waste, that's going to get tipped down the drain. I said 'If I took that [spit bucket] home and distilled it and brought it back next year, who would drink it?' and I think everybody's hands went up."
Twelve months later, Peter Bignell converted the contents from the wine spittoons into 'Kissing a Stranger', a 40% ABV clear spirit that tastes similar to brandy or grappa. It's pure Belgrove, bending convention and testing boundaries with a keen eye on the environment.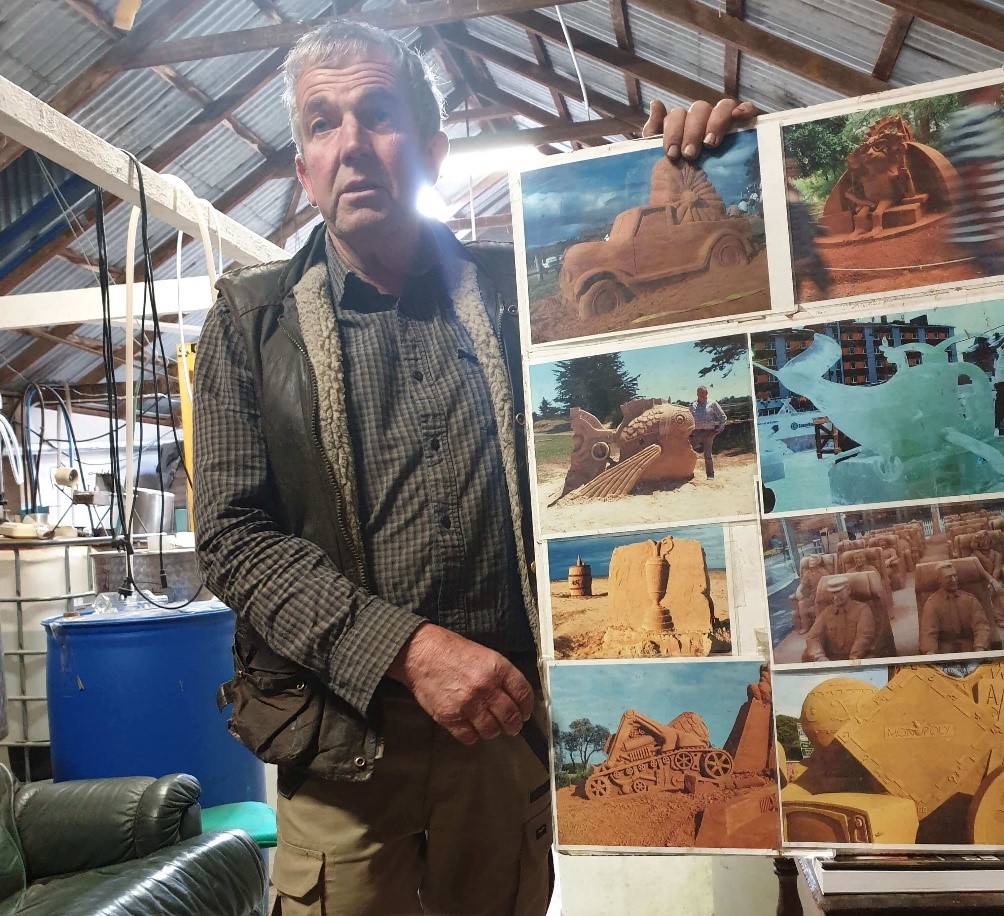 A closer look at one of our favourites Belgrove expressions.
Belgrove 'Any Port in a Storm' Heartwood Cask, Rye Whisky 500ml 62.7%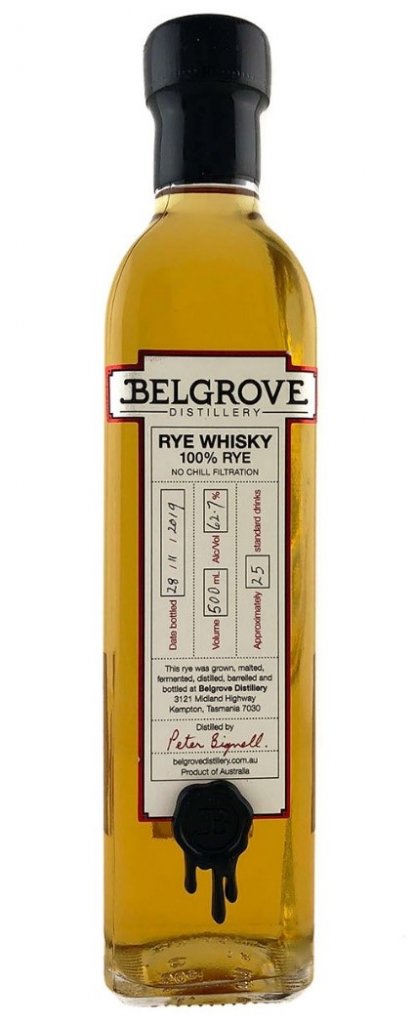 A limited cask-strength Rye with Heartwood Cask Maturation.
500ml: 62.7%alc
Country: Australia
Region: Kempton, Tasmania
Cask type: Heartwood, Port
Bottler: Belgrove Distillery
Bottled: 28th November 2019
Peter Bignell's creation is borne from a Heartwood port-cask that Tim Duckett used to age his version of 'Any Port in a Storm' that was bottled in September 2015. This Belgrove Rye whisky was grown, malted, fermented, distilled, barrelled and bottled at Belgrove Distillery.


Our Tasting Thoughts
Think hot cross buns, orange chocolate, maple syrup and mandarin flesh cloaked in a halo of spice and light smoke.
Support Australia – Buy Australian Whisky
Cellar Door
Peter runs a unique cellar door that includes an up close and personal tour of his distillery culminating in a tasting soirée of all his amazing creations, this part of his business is temporarily closed down, so jump on his website and show some support if you're after delicious rye whisky, and have a look at his other liqueurs and spirits as well – There's definitely something there for everyone. Peter's offering 15% Off Your Entire Order! Enter Code ISOLATION During Checkout on his website.
Where to purchase
Access Belgrove's website HERE!
You can also view our Belgrove selection  HERE!
The Old Barrelhouse