Chapter 18 in our weekly series of celebrating Australian whisky takes us to the Mornington Peninsula in Somerville Victoria, where award-winning, single malt whisky is produced by the McIntosh family, who's lineage dates back 900 years to the fabled clans of Scotland.
Chief's Son Distillery is located at 25/50 Guelph Street Somerville, Victoria and is a family owned and operated small batch distillery, who hand craft Single Malt Whisky by utilising the very best of artisan ingredients, small batch processes, hand selected barrels and a totally manual system. Owned by the McIntosh family ('Mhic an Tòisich' in Scottish Gaelic), their surname literally means 'Son of the Chief'. They are passionate about the intergenerational meaning of their name, so they simply flipped their surname around and locked in 'Chiefs Son Distillery'.
"My Grandparents passed the love of whisky through my parents to me and I want to make sure my children pass it onto their children".   Stuart McIntosh – Distiller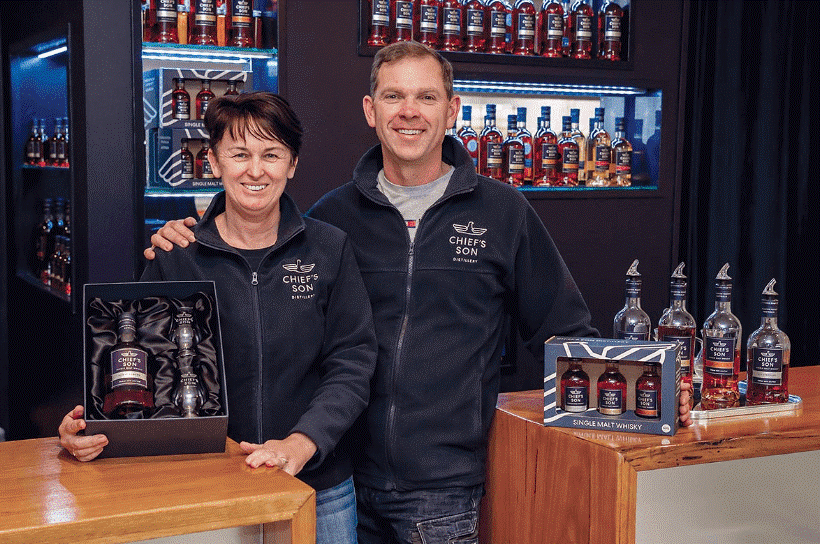 Owners Stuart and Naomi McIntosh comment:
"Whisky is a powerful spirit that connects people, connects families and connects generations. In our family, as in so many others, whisky has been a common thread throughout the ages. For the past centuries of our family's long history, whisky has been at the epicentre of love and laughter, life and death, tears and triumphs. Our ancestors transformed exactly the same ingredients, utilised the same ancient craft and derived the same level of enjoyment as we do today. And going forward… it reaches so far forward past our future, connecting through the generations"
You will see the number '900' adorning all the front labels of their core range of whisky and it's a number that pays homage to the significance and establishment of the McIntosh family name, some 900 years ago in Scotland. During those years, each generation has passed knowledge, experience, passion, and even some whisky nous to successive generations.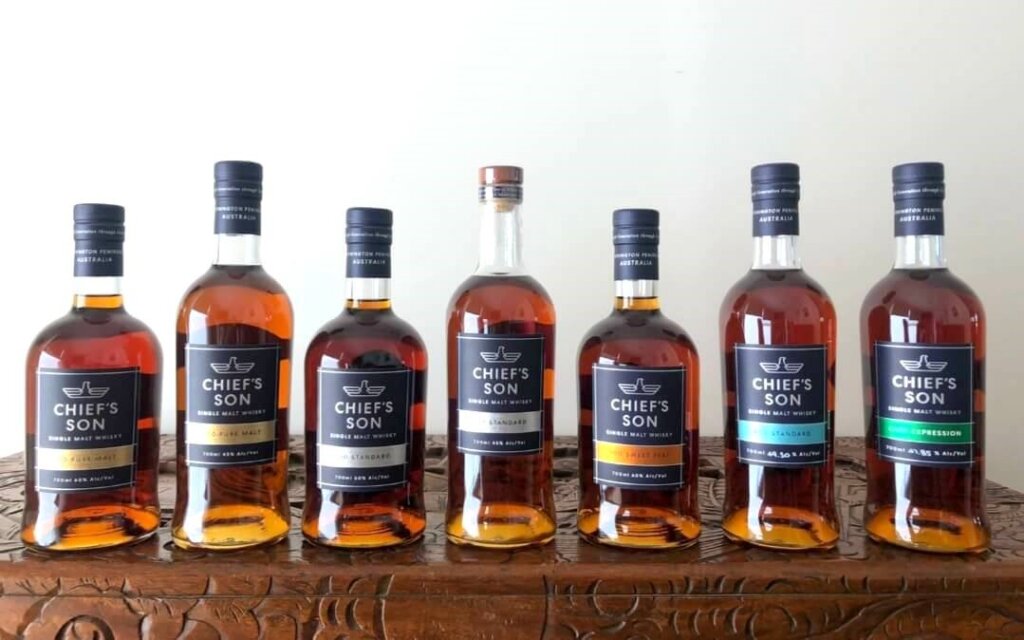 "We create very authentic, traditional styles of whisky and you're sure to discover that they are all unashamedly big, bold and very flavoursome" Stuart McIntosh
Chief's Son whisky wash is hand crafted with great care by their sister brewery, the 'Mornington Peninsula Brewery' and long fermentation times ensure exact quality and constancy. Their beautiful hand-made copper still was manufactured by Burns Fabrication of Griffith NSW, and put to work with each batch compromising of two long, slow days of stripping (or low wine runs), followed by their magical spirit run day. The resulting new make spirit is an intense concentration of alcohol, esters, oils and flavours that really hit the mark in raw flavour and uniqueness.
The 'New Make' is then transferred to traditionally hand coopered French Oak, ex Sherry barrels (Seppeltsfield fortified wine casks) and some American Oak. The barrels go to work immediately, transforming the spirit slowly into beautiful whisky.
A closer look at one of our favourite Chief's Son whisky expressions.
Chief's Son '900 Pure Malt' Cask Strength Single Malt Whisky 700ml 60%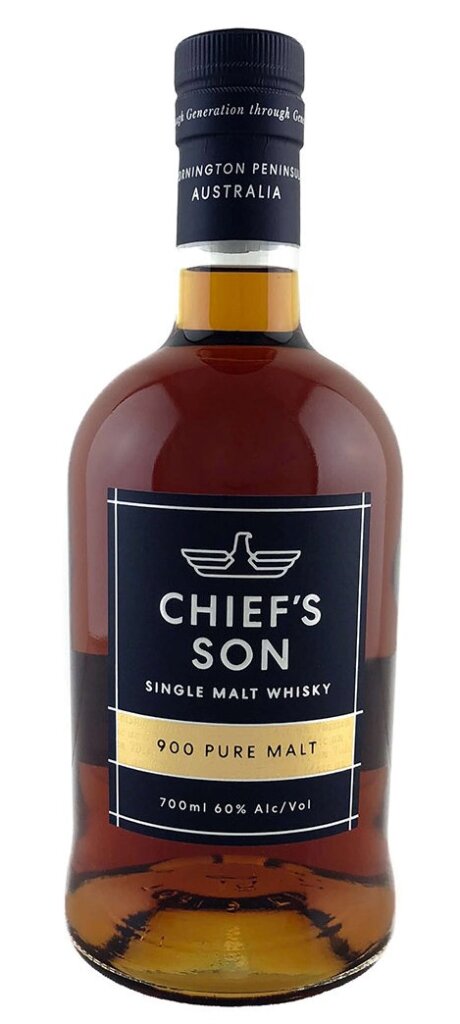 A limited release from Barrel 88 that yielded 25 bottles.
Cask type: French Oak – Ex-fortified
The distillery says that "You won't taste this style of Single Malt from any other distillery in the world".
The label says 'Pure Malt', but the whisky isn't a pure malt like once attributed to the whiskies of Scotland and Japan in the early years, this is definitely a single-malt whisky in all its glory. The expression switches out the peat for some darker specialty malt and is distilled using a very unique process where foreshots and feints (the undesirable last running's) of the distillation from previous runs are not married with the low wines to be recharged like standard practice, instead, only the hearts of the run are kept barrelled for ageing. Chief's son is one of the only distilleries in the world who have turned convention on its head in this respect.
Awards
• Master – Nov 2019 – Luxury World Whisky Masters
• Gold – Nov 2019 – World Whisky Masters, Asia
Our tasting thoughts
A fresh, robust, deep malt explosion of toffee apple, cinnamon sugar, oven-baked fruits and candy cane that finishes sweet and slightly savoury with a hint of eucalyptus at the tale
Distillery Tours, Tastings, and Cellar Door
Since Covid-19 reared its ugly head and with the re-emergence of the virus in Melbourne locking down most the state once again, the distillery's tasting room is closed and tours are currently suspended. But the good news is, the distillery is OPEN for take-away sales (with all government safety guidelines in place), and online orders. Supporting local small business is more important than ever in this current economic climate, so pop into the Distillery and pick up some delicious single malt whisky, or order through their online store where you'll also find gift packs, lock-down tasting packs, hand-sanitiser and branded apparel.
You can access Chief's Son web shop HERE!
You can view our Chief's Son collection that include some older releases sold out at the distillery HERE!
The distillery is usually open Mon – Fri 10am-4pm and offer a Standard and Premium Tastings of 4 whiskies $10 & $15 respectively. The tasting fee is redeemable on all 700ml bottles purchased. Tours are normally available Wed – Sun @ 11am (minimum 2 people) and includes core-range tasting, sampling whisky directly from a Cask, a 100ml cask strength bottle that you can pull straight from the barrel to take home, and an option to include a cheese platter. 
GROUP TOURS/CORPORATE GROUPS are also welcome by appointment.
Contact the distillery's website HERE! to learn more.