Chapter 19 in our weekly series of celebrating Australian whisky takes us back to Tasmania and the birth place of modern-day Australian whisky, the Lark Distillery. It's here where one of our (whisky) founding fathers, Bill Lark, dreamed up a juggernaut in 1989 during a fishing trip in the Highlands of Tasmania, over a dram of Cardhu with his father-in-law. 
The rest, as they say…. is history!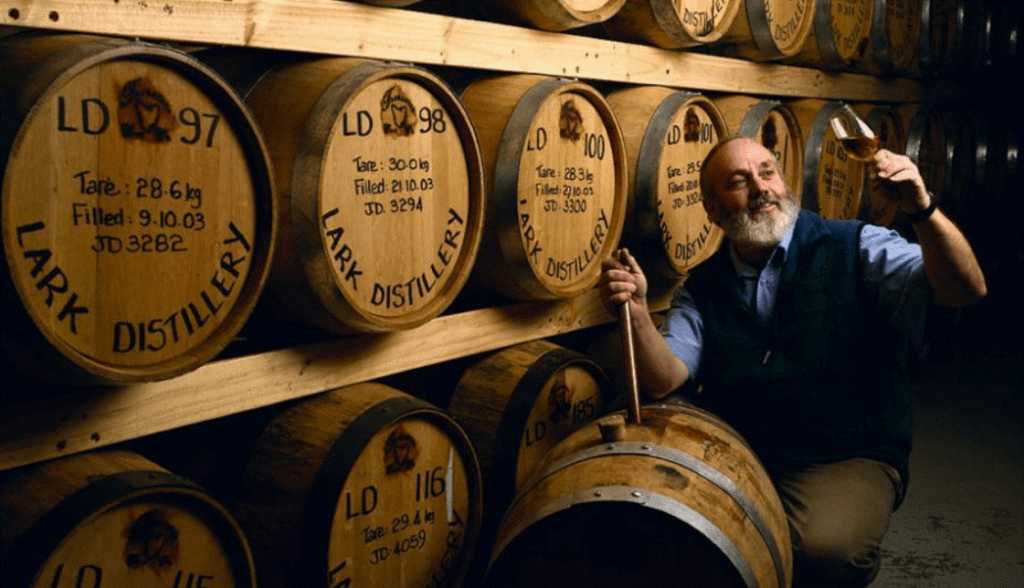 The Lark Distillery is situated in Cambridge, about a 20 minute drive from Hobart in the heart of Coal River Valley, with their cellar door and whisky bar based in the centre of Hobart at 14 Davey Street, a stone's throw away from the iconic Salamanca markets.
Bill Lark, known as 'The Godfather of Australian Whisky', founded the Lark Distillery in 1992 after a vision of producing a Tasmanian malt whisky was born in 1989 on a trout fishing trip in the highlands of Tasmania. Sipping on a whisky with his father-in-law Max, surrounded by thriving barley fields and the gentle flow of the Clyde River, Bill remarked; "I wonder why there isn't anyone making malt whisky in Tasmania".
Soon enough, Bill reached out to the Tasmanian government and successfully campaigned for a change to the archaic distillation laws that ruled the land, leading to the re-introduction of legal distilling. Little did Bill know that those 11 words he whispered to his father-in law in 1989 would form the foundation of modern-day Australian whisky making, stirring the 'distilling beast' that laid dormant in the soil of Van Diemen's land for over 150 years, that would envelope Tasmania and reach all four corners of the mainland, making Lark a household name in the process.
Bill Lark sold the distillery in 2013 after turning it into one of Australia's leading whisky producers and then he was inducted into the Hall of Fame at the World Whisky Awards in London in 2015, becoming the first distiller in the southern hemisphere to ever receive such an honour.
Today, the Lark distillery is owned by Australian Whisky Holding who are continuing Bill's legacy, ramping up production with an ambition to make Lark whisky a globally consumed, recognized and loved Tasmanian brand icon by honoring tradition and community.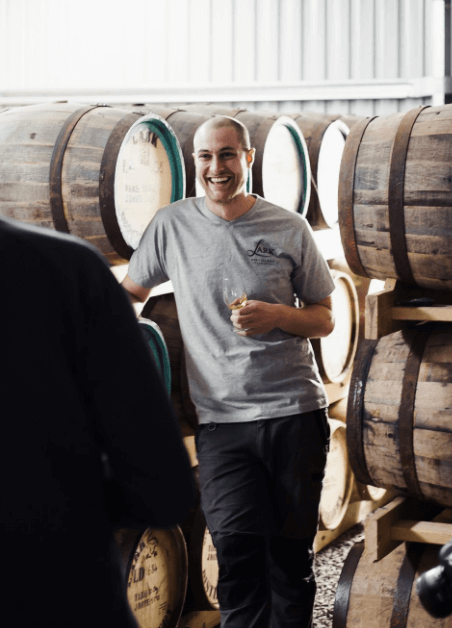 Distilling duties are left to Head Distiller Chris Thomson who has been with Lark for over 13 years starting out in production by bottling whisky as early as cask 21. He has a true love for the industry and a keen desire to share his knowledge, experience and whisky with the world.
He can often be found in the bond store in deep conversation with Bill Lark who continues to visit the distillery as an ambassador of sorts, looking over the legacy he created.
"When I go to a bar, I like to order several single malts and an empty glass. And I blend whiskies from all these different distilleries right there at the table. It feels like I'm painting a picture with a palette of different colours"
Chris Thomson – Head Distiller at Lark
The Peat Smoker and the Distillery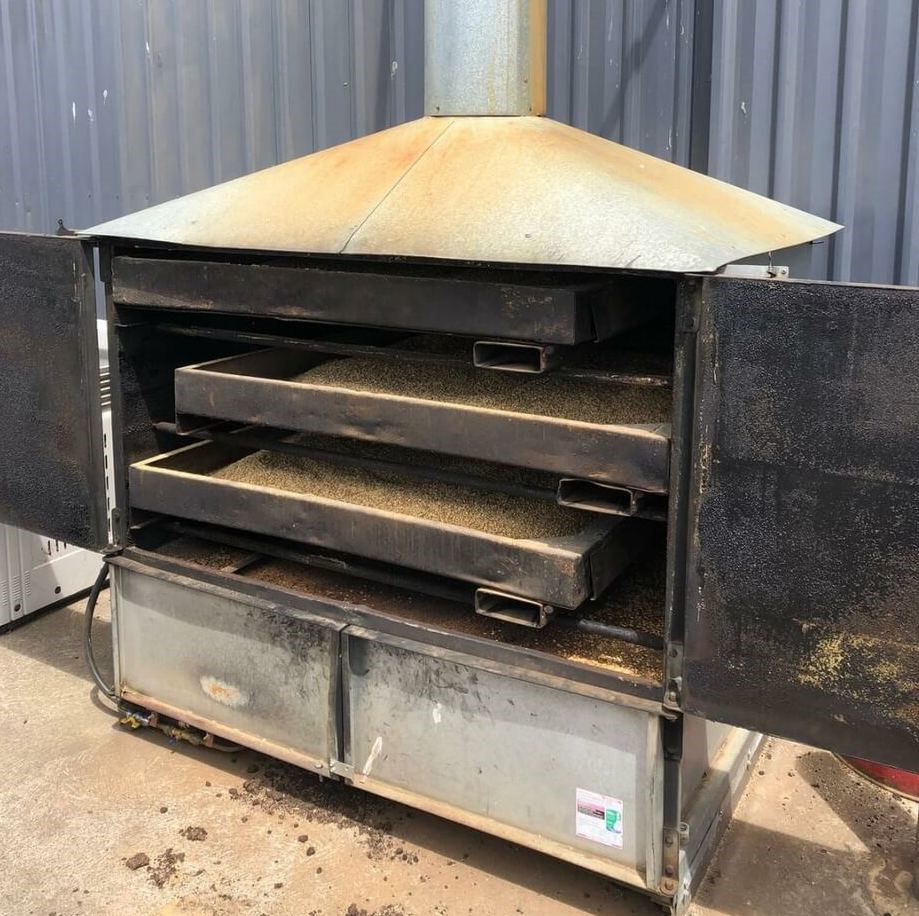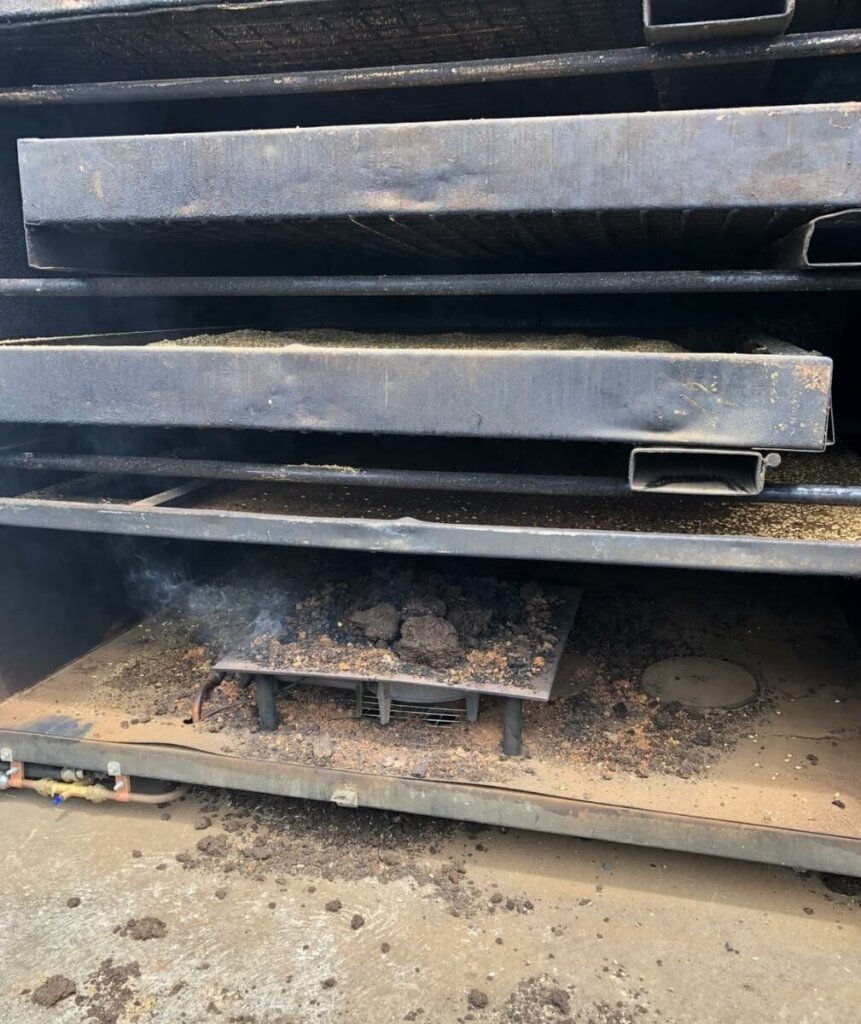 It was the perfect November afternoon last year when we visited the distillery and were met by Jodie, one of the junior distillers at Lark for a private tour. Her knowledge and passion for whisky was second to none and infectious. She introduced us to the Peat Smoker, designed by Bill Lark that sits guard just outside the distillery doors, quietly drying the grain.
Fresh water sphagnum peat is mined from Lark's very own peat bog in the Tasmanian Highland's, transported to the distillery, and used to smoke Lark's Australian sourced malted barley. Each tray in the smoker holds about 45kg of wet malt that is smoked by a gas looking element underneath a four-legged peat plate, imparting peat phenols into the drying barley for flavour and complexity that will be used to brew Lark's wash on site.
Jodie then took us to the 1800L wash still and 500L spirit still and through the mashing, fermentation and distillation process where we sampled the sweet barley wort, the wash/beer at different stages of fermentation and the new-make spirit, which was delicious in its unrested form.
"Lark Distillery: Tasmania's First Single Malt Whisky since 1839"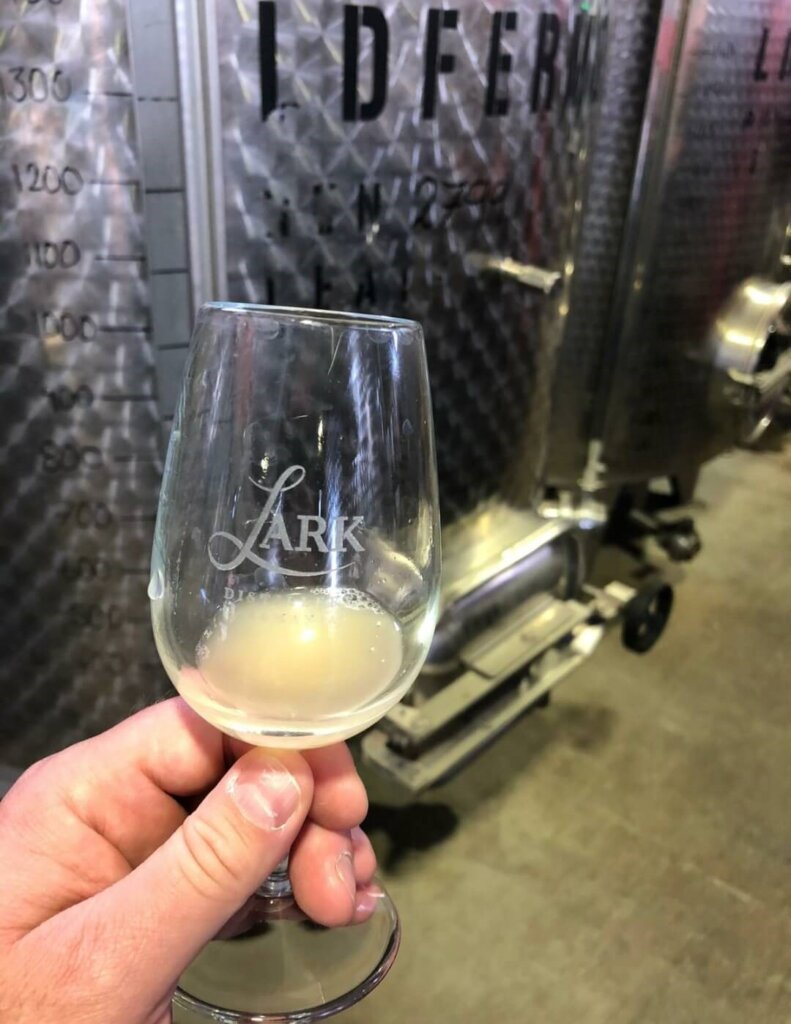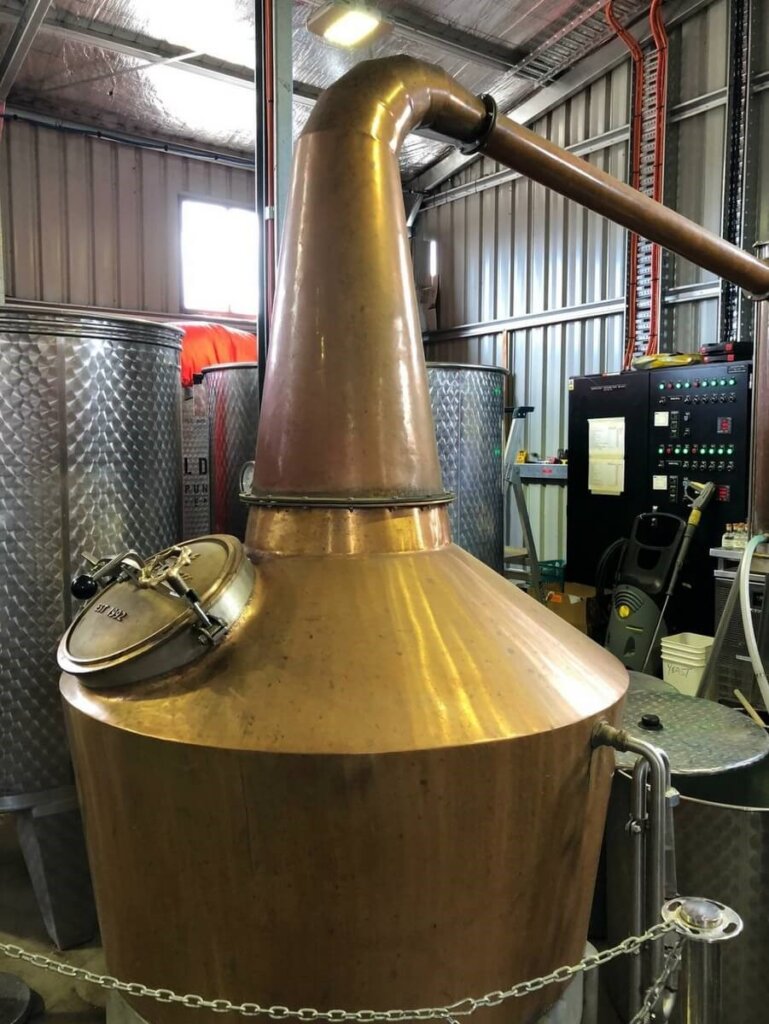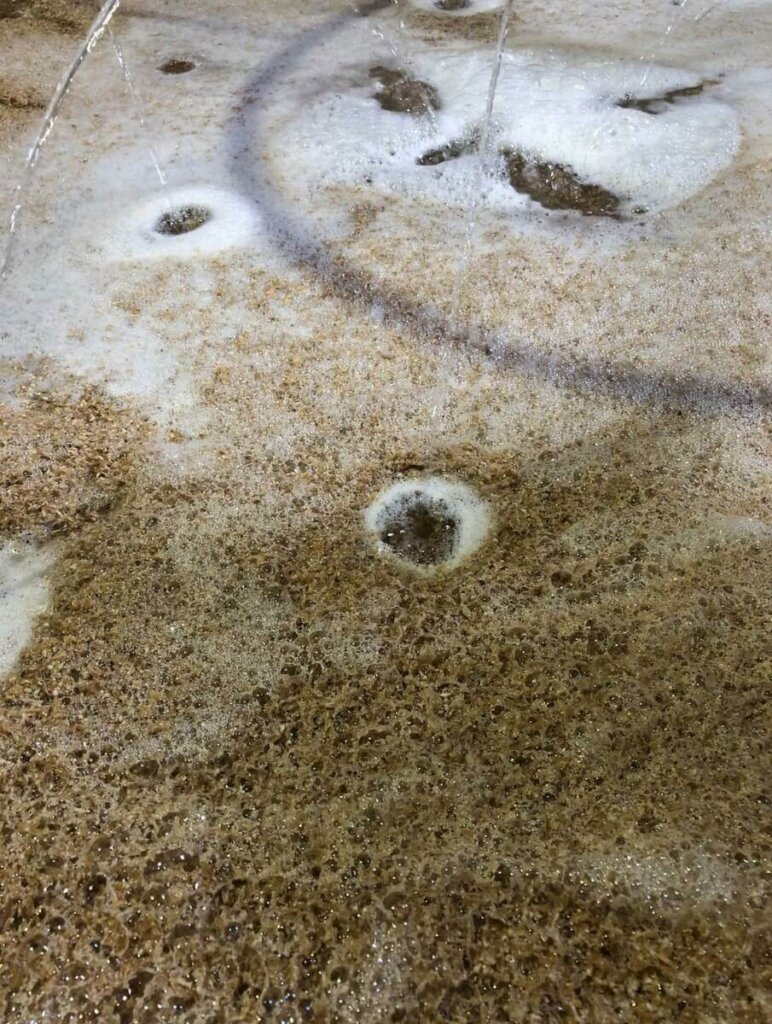 We then joined Jodie in the bond store and sampled many Lark varieties straight from the barrels, siphoned meticulously with the help of her spirit thief. It struck us how incredibly textured, rich and oily some of the 'not-yet-whiskies' were on the palate, a great sign of things to come. We settled on a Lark Shiraz cask whisky at 55% ABV ageing in a Barossa Valley barrel as our favourite of the day. It was big and juicy with the classic red fruit aromas sitting harmoniously with the Lark spirit.
On a personal note, I have a real affinity towards barrelhouses, the eerie ambience accompanied by the comforting aromas of wood and spirit can be quite reflective, but after spending a significant time imbibing – the ambience was replaced with a carnival atmosphere of joyous glee (the beauty of whisky right!). We thanked Jodi for the brilliant tour and then chewed the ear off our poor, unassuming cab driver all the way back to Hobart. Happy & content. 😉
A closer look at one of our favourite Lark whisky expressions.
Lark Sherry aged and Finished Single Malt Whisky 500ml 50.8%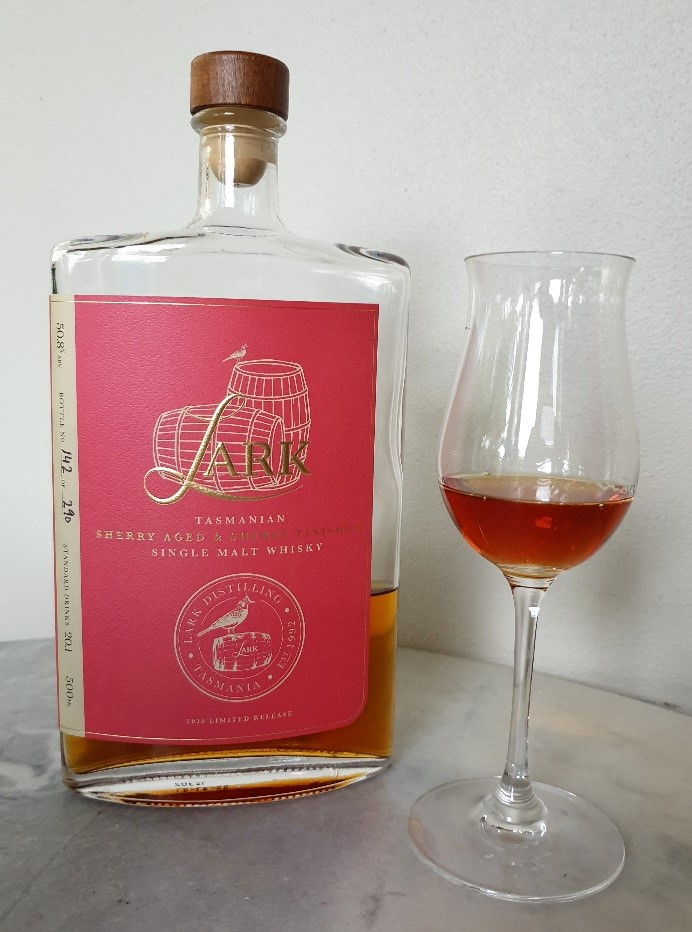 Released in July 2020, This sherry-cask delight was a limited release of 290 bottles, matured in 100L sherry casks before finishing in an extremely old, oak sherry butt from South Australia.
The expression sold out in under 24 hours. So fast in fact, they didn't make it on to our virtual shelves – we were fast enough just to grab a bottle for our drinking stock.
There's no doubting the collector appeal of this expression, but we'd like to imagine this one been savoured for what's inside the bottle – you won't be sorry!
Head distiller, Chris Thomson comments "This might be one of the most loved whiskies that Lark will ever produce. It's impossible not to have a connection with this whisky"
And it's hard to disagree!
This is one addictive dram at an ABV that nails the oily Lark spirit.
Our tasting thoughts
It starts all (strawberries and cream) fresh, fruity and dainty, then lurches towards the dark side, with aromas and flavours of ripened tobacco, suede-leather boots, sour-cherry koutaliou (spoon sweet) and lashings of juicy sherry. The finish is a fusion of crushed hazelnuts and bush berries dripping in dark Manuka-gooey-goodness, followed by the slightest lick of toasted oak and sweet cola.
Releases to look out for in 2020
Lark 'Wolf of the Willows' Edition 3 – 500ml, 49% ABV

Only a limited number of this release will ever be made. Follow Larks website and our virtual shelves to find out when The Wolf No.3 will be available for sale.
This is Lark's third collaboration with Wolf of the Willows brewery, and this year, the single malt chosen was from AWH's Bothwell Distillery, home of Nant Single Malt Whisky. Selected for its freshness and tropical notes, Lark says: "the spirit highlights the hop and roasted malt characters left in the casks by the beer, resulting in our Third Edition Wolf Release: a unique whisky that reflects a collaborative journey".
"The Wolf Limited Release tends to be our most anticipated whisky. Everyone keeps on asking me when Wolf's coming. The good news is this: it's been worth the wait. You've never had a whisky like this before."
CHRIS THOMSON, HEAD DISTILLER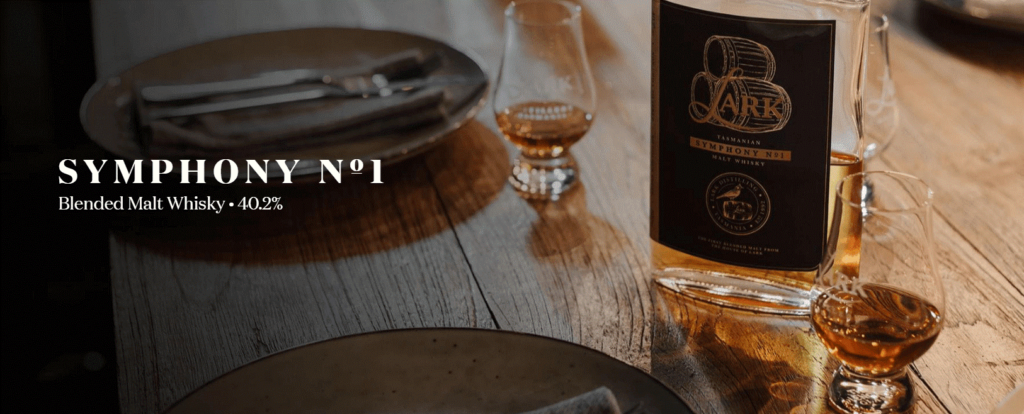 From the Lark press release…
SYMPHONY Nº1 is the first blended malt from the House of Lark, representing a composition of exceptional Tasmanian single malt whiskies. Crafted from a symphony of complementary casks, Head Distiller Chris Thomson has expertly woven the complexity of American oak bourbon with the balance of sherry and heavier depth of port to form a creamy, oily melody of flavours; a malt whisky that's full of life from start to finish and carries the uncompromised signature of Lark Whisky—a Tasmanian icon.
The 40.2% low ABV is proving to be a little contentious amongst Lark acolytes and wider whisky drinkers, with mixed reviews regarding the $139 price-point. No matter where you stand on the issue and marketing strategy, one thing is for certain – The expression will sell out, such is the reach and popularity of the Lark spirit.
Once the location of the distillery and bond store, the Lark cellar door is quite unique as it is not incorporated within the distillery grounds but located off site about 20 minutes away on the Hobart waterfront. The cellar door doubles as a fully stocked, bespoke whisky bar showcasing a selection of over 250 Tasmanian and international whiskies with a tidy range of Tasmanian beers, wine and cider. The space is adorned with Lark memorabilia, old school whisky antiques and a speakeasy vibe with a reputation as a 'must visit' part of Hobart's vibrant social scene. We were treated to whisky flights and great conversation with a knowledgeable staff in a warm and inviting atmosphere, the pure definition of Tasmanian hospitality and the perfect way to end our Tasmanian adventure!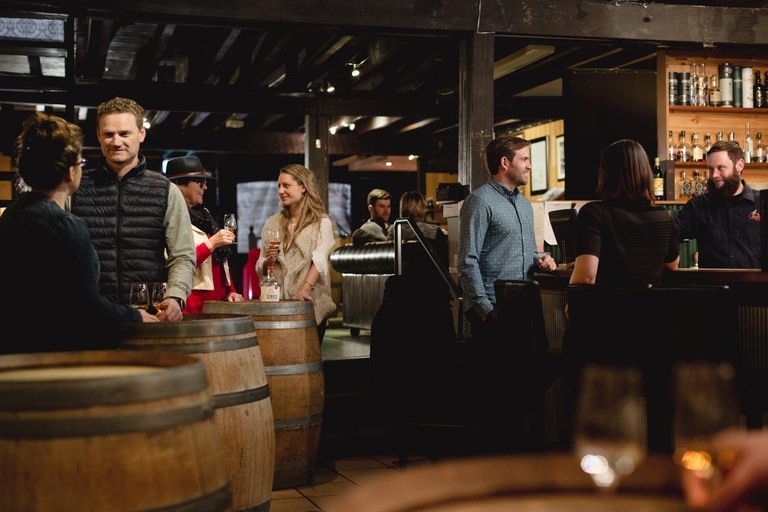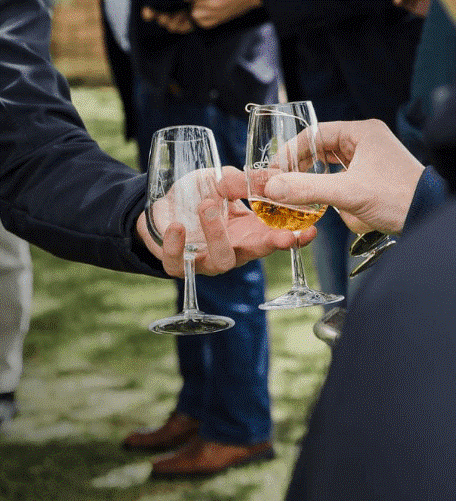 Due to the rapidly-changing circumstances surrounding COVID-19, distillery tours are currently suspended until further notice. But once safe to re-open, it's an experience that will definitely stay with you.

Experience a comprehensive, half-day journey through Tasmania's oldest operating single malt whisky distillery where you'll witness the science, art and passion that goes into making award-winning Lark Single Malt Whisky. Meet the distillers, see production close up and sample spirits every step of the way, including tour-exclusive tasting of Lark whiskies straight from the cask, surrounded by future releases in their bond store.
COST – $99.00 per person
RUN TIME: 10:30am – 1:00pm Friday – Sunday
Bookings must be made in advance once tours re-open again.