Chapter 4 in our weekly series of highlighting Australian whisky, takes us to a city boy, gone country in Capertee.
Craft Works Distillery is located at 67 Castlereagh Highway Capertee, about 45km north of Lithgow, NSW behind the Royal Hotel. It's where Craig Field, affectionately known as 'Crafty' methodically plies his trade in his custom-built shed. His distillery is quite unique amongst other Australian whisky distilleries as it has a two-arm approach to the whisky industry; one for independent bottlings, and the other for distilling and maturing his own single malt whisky and other spirits.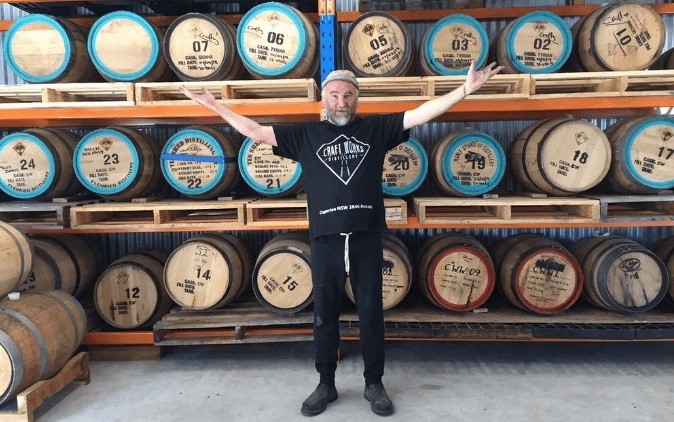 "Humanising the Art of Whisky"
Creative, fair-dinkum and full of life, Crafty is super passionate about his craft and always finds time to personally connect with whisky enthusiasts and industry folks from all walks of life. A natural orator, he effortlessly shares his knowledge, without any agendas, with a keen thirst to listen and broaden his own expertise in the spirits industry. His ethos is "Humanising the Art of Whisky", a definition that is core of what Craft Works Distillery is, so much so that Crafty just had the five words trademarked for his branding.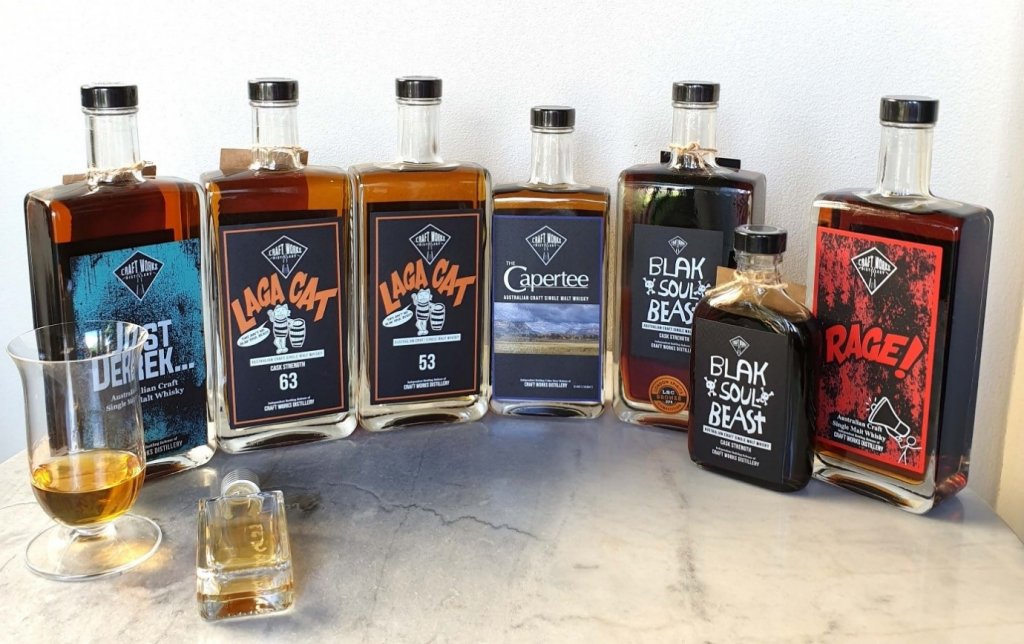 In a few short years, Craft Works Distillery has launched off the proverbial starting block with an arsenal of 7 independent whisky releases already on the market (some sold out) and two non-whisky expressions. They include; Just Derek, Blak Soul Beast, Laga Cat 63 cask-strength, Laga Cat 53, The Capertee, The Capertee 'Heavy Flock', Rage, and a rare tasting kit called Expressions of the Wood. He also has his first 'cellar door only' release ODV 'Eau de Vie' white spirit (distilled apple and feijoa cider) and his delicious New Make Spirit (NMS) 375ml, 55%alc now available for sale on his website. The NMS is his very own distilled spirit that is quietly ageing in a variety of unique casks, to be released as Craft Works single malt whisky once Crafty deems the juice ready.
With so many amazing releases so far, we'll highlight three of our favourites.
RAGE! – Pinot Cask Single Malt Whisky 500ml 59.8%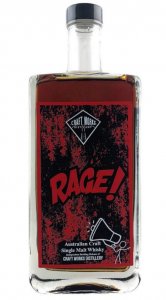 Age: 2 years 6 months | Casked: May 2017 | Bottled: November 2019
This independent bottling used spirit (new-make) distilled from 100% NSW Voyager Craft malted barley that was sourced from an undisclosed distillery in Sydney. The spirit was then laid to rest in a heavy char, 100 litre French oak, ex-pinot cask procured from Tasmania.
Our tasting notes found it to be a rich and crisp whisky bursting with red berries, gummy bears and cigar box flavours – Fresh red roses, spice and woody notes emerge on the back-end, finishing with a sweet and oaky tail. It's still available for sale from Crafty's website and our virtual shelves, but with a yield of only 220 bottles – it won't be long till they're completed sold out.
Blak Soul Beast Cask Strength Single Malt Whisky 500ml and 170ml 61%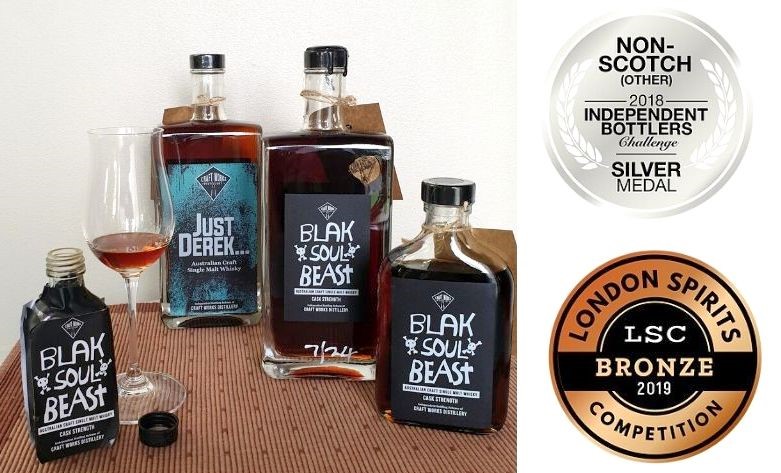 Crafty immediately garnered success with his independent whisky bottling 'BLAK SOUL BEAST' 2yo 61%alc (cask strength) having achieving multiple award status, winning a Silver Medal in the Non-Scotch category at the 2018 Independent Bottlers Challenge and a bronze medal at the 2019 London Spirits Competition.
For this bottling, Crafty sourced a 230 litre Barrique Vintage Port cask from a Mudgee wine-maker and had it reworked down to a deep char 100 Litre cask, a fitting vessel for his 'Sydney-Distillery-sourced' new-make spirit. Crafty named the Whisky 'BLAK SOUL BEAST' because it's dark as a black soul and was an absolute beast to manage during maturation. Keeping it in the family, his 8-year-old daughter designed the font and front label.
Our tasting notes found it to be a decadent whisky with a magical nose brimming with Haigh's dark chocolate and dark fruit notes that blend beautifully with a touch of mint, cloved spice and wood.
Expressions of the Wood – 5 x 50ml Single Malt Whisky Tasting Kit.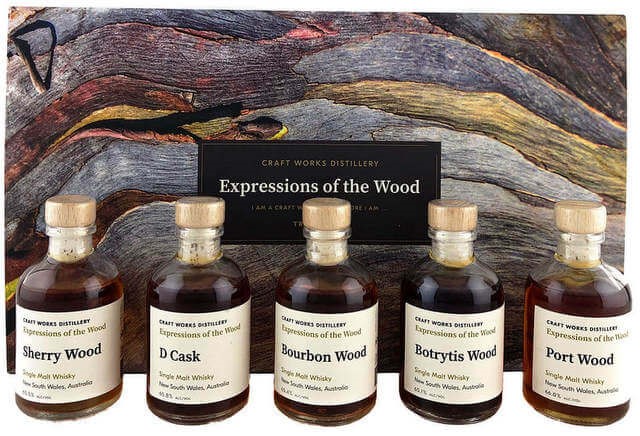 With only 135 tasting kits released, very few sets of this first Independent expression from Craft Works Distillery are left in Australia, and for good reason too, as it's a truly unique tasting journey. It's a collaboration with True North Spirits, produced using five cask wood finishes. Each 20-litre cask was filled and matured simultaneously, unveiling the true expression of each cask wood finish. Prepare to appreciate the nuances that different wood finishes can offer whilst enjoying these whiskies in their purist form: unadulterated, straight from the cask and nurtured from the heart.
The tasting kit consists of five 50ml tastings: Bourbon Wood 65.4 %alc, Sherry Wood 65.5%alc, Port Wood 66.0%alc, Botrytis Wood 65.1%alc, D Cask (Port and Bourbon) 65.8%alc. Our personal favourite was the Botrytis wood that paired beautiful with a cigar as an after dinner mint.
The Immediate future
Not one to rest on his laurels, or lose faith, Crafty has conjured up a few exciting projects, making great use of his time in partial lockdown, so keep an eye out for some very cool announcements coming soon. His very own single malt whisky should be ready for bottling later on in the year as well, and we can't wait to try the fruits of his labour. Craft Works Distillery has only just started their journey into whisky folklore, so let's all support them in any way we can, to make sure their stories are told for many years to come.
We'll leave you with a few words from the man himself.
Craig 'Crafty' Field:
"When I started my whisky journey, I soon realised that I had developed an insatiable appetite to learn, to explore and just to dream all things single malt whisky. As I defined myself further as a craft worker, I developed a mantra that really sums it up for me: "I am a Craft Worker therefore I am …" I am proud of the spirit I produce; I am proud of the connections I have made and I am proud that I have become affectionately known as Crafty"
To view what Craft Works Distillery has available, you can visit his website HERE!
For an in-depth analysis of his various whiskies, you can visit our selection HERE!
The Old Barrelhouse