Chapter 20 in our weekly series of celebrating Australian whisky keeps us in Tasmania, where an independent bottler, lawyer, and all-round gentleman is kicking whisky goals, culminating in winning the "Independent Bottler of the Year" (Non-Scotch category) at the 2019 Independent Bottlers Challenge.
Dark Valley started their operation in 2012 when independent whisky bottler, Alex Moores recognised the Tasmanian whisky industry was gaining great momentum on the world stage and yet the independent bottling scene (other than the iconic Heartwood brand and Trappers Hut) for Tasmanian whisky was virtually non-existent. Since then, Dark Valley has grown to meet their original bottling dream with 19 single cask expressions already bottled which are quick to sell out and very much sought after.
Dark Valley is translated from the Gaelic name Glen Dhu, which is just outside of Hobart where Alex grew up and now the headquarters of Dark Valley Whisky. The name is both a tribute to his Scottish Gaelic roots, and to the Tasmanian natural resources that allow Tasmania to produce world-class whisky. In an effort to maximise the terroir of each very distinct distillery, in almost all cases Dark Valley matures their casks for full term at the distillery from where the spirit is sourced. Through their relationships with multiple Tasmanian cooperages, they use highly custom casks to demonstrate how diverse whisky can be. With eerie labels and thought-provoking names on their releases, Dark Valley has created a brand that is instantly identifiable and definitely bespoke.
In 2019, in recognition of the quality of their maturation regime and commitment to quality expressions, Dark Valley was awarded the title of Independent Bottler of the Year for non-Scotch in the Independent Bottlers Challenge run by the World Whisky Awards, and won medals for every bottle they entered.
"Enemy of Consistency, Friend of Complexity"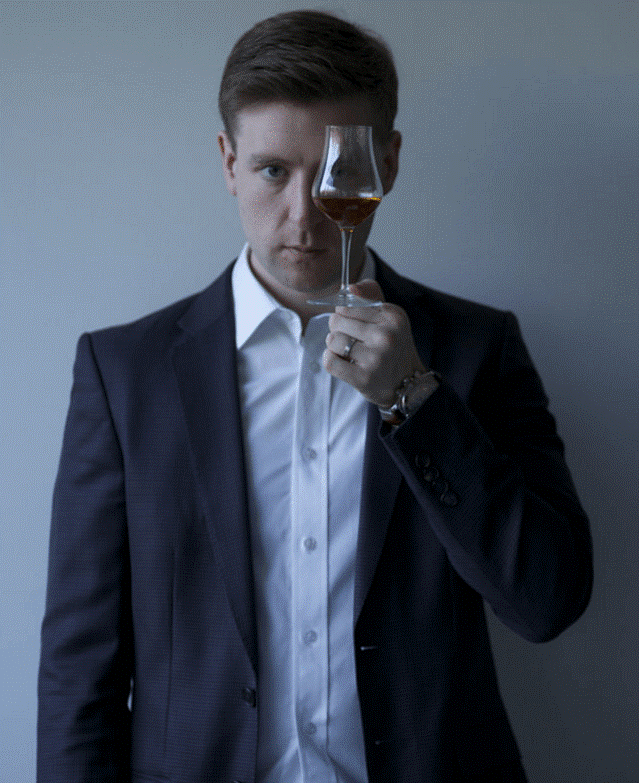 Alex Moores is a full-time solicitor of the law and loves whisky. As a social activity, as a sensory experience, as a conversation topic as an academic exercise. He forges his own path by maturing Tasmanian new-make spirit only and bottling Tasmanian whisky, keeping a keen eye on showcasing the raw and intrinsic qualities of the different distilleries.
There's no blending or marrying of casks, no added colouring or chill filtration and every effort is made to only source the very best distillate and impeccable, varietal casks to create Tasmanian whisky of complexity and choice, something our Scottish friends can be proud of.
"Drinking Dark Valley is as close to drinking from the cask as you can get without visiting a distillery"
Alex Moores, Manager of Dark Valley's maturation program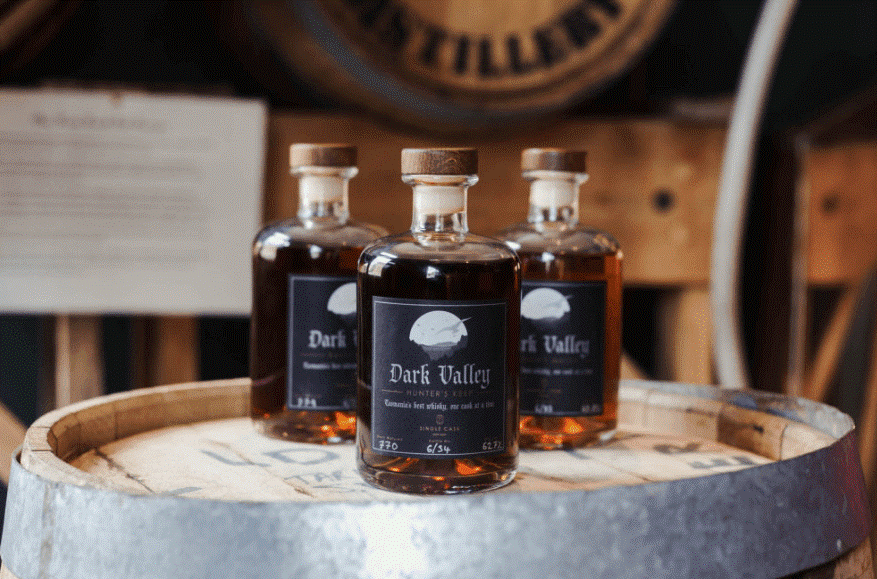 Tasmania is a bountiful environment for rich and nuanced whiskies bottled at cask strength. The atmosphere and fluctuations in climate breathe invigorating life into the ageing spirit. The angels share (evaporation) is sometimes more conservative than in Scotland as our winged friends take more water than alcohol meaning evaporation still occurs, but the remaining spirit becomes stronger.

Dark Valley purposely focuses on small casks, trading off on the fact that a higher amount of evaporation may occur proportionally, in exchange for the high wood contact imparting more intense flavour and spirit quality in the short term, leading to a faster maturation. Using small casks can often be a divisive conversation in whisky circles with words like "overcooked" and "tannic" often heard above the whispers – These are real problems when dealing with small casks and need a deft hand and palate to balance out these issues, something that Alex has mastered over time. Due to the high percentage of evaporation combined with the small cask size, Dark Valley releases are truly small batch averaging just over 30 bottles per cask. The liquid is natural in colour, cask strength, and unfiltered.
Dark Valley has one mission: to showcase Tasmania's best whisky, one cask at a time.
Even in these troubling times, Dark Valley is Taking Care of Business (Jim Belushi style 😉) with a new expression due out in a few weeks just in time for Tasmanian Whisky Week. It will be their 20th release and Alex described it to me as "….something particularly chocolatey with a velvet mouthfeel and matured in a custom-coopered ex-Shiraz cask" More detail will be available on the Dark Valley site and on our website via our mailing lists on 22 August 2020 so make sure you subscribe.
With a special project to be confirmed and announced in 2021 and with many casks of different sizes still in bond in Tasmania, including wood types as diverse as ex-Rum and ex-Muscat, there are only exciting things to come from this award-winning independent bottler
A closer look at one of our favourite Dark Valley whisky expressions.
Dark Valley Peacock's Feather – Sherry Cask Single Malt Whisky 500ml 62.6%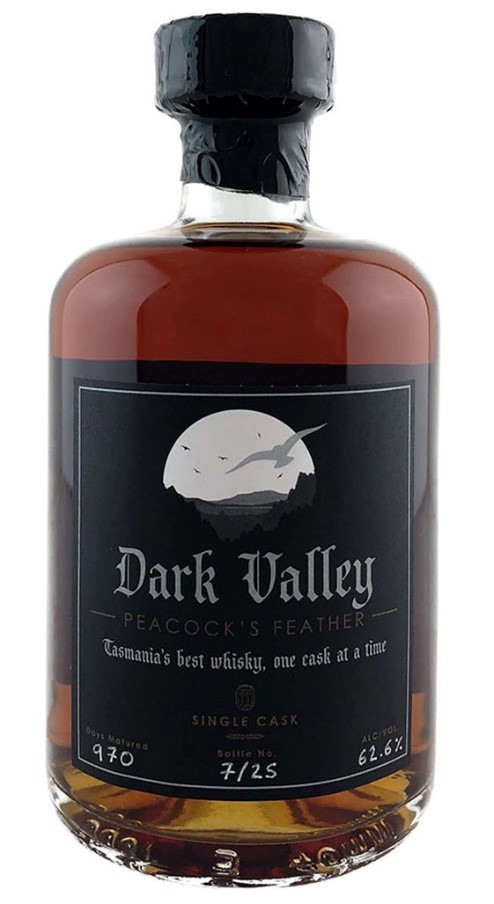 Cask strength release of Killara origin that yielded 25 bottles.
500ml: 62.6%alc
Distillation Date: 17th February 2017
Days Matured: 970 days
Bottling Date: October 2019
Alex Moores and his brain trust have come up with another wonderful whisky, paying respect to the arrogant, male peacocks that flaunt their wares down Cataract Gorge in northern Tasmania. Like Lords ruling over their fiefdoms, they fan their tails with passionate audacity, making it fitting that a whisky with aromas and flavours as complex as all the colours in the peacock's feather be dedicated to this feathered fiend.
Our Tasting thoughts
Think sultana loaf, spiced apricot, sweet cherry and cinnamon sugar, all simmering in a pot of liquid sherry goodness.
At the time of writing this blog, these events are now SOLD OUT.
Congratulations to everyone who managed to snag a ticket, they will be memorable nights for sure!
Whisky Tasting at the Chapel
TUE 11 AUGUST 2020
When: 7:00 pm on Tue 11 August 2020 – Where: The Chapel, 50 Cattley Street Burnie, TAS 7320 –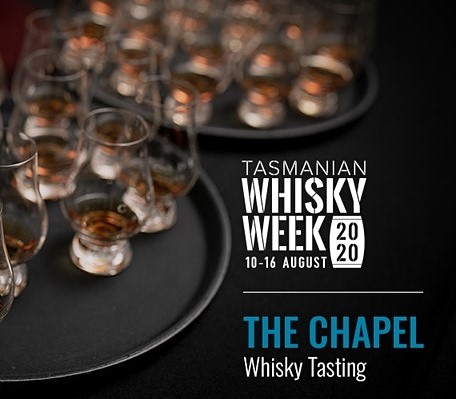 Although Covid-19 has wreaked havoc across the world, Tasmanian Whisky Week is still coming to Burnie, and of course Dark Valley will be there.
Unfortunately, due to travel restrictions, Alex Moores won't be able to attend, but he's left his whisky in the capable hands of the lads at Whisky Waffle who will pour DV whisky and field all your questions.
Tasmanian Whisky Week @Home
When: 5:00 pm on Sat 15 August 2020 – Where: Virtually @Home
The Tasmanian whisky industry has banded together to make sure we can still enjoy whisky week from the comfort of our own homes. There'll be 13 delightful Tasmanian drams on offer from all our favourite TAS producers, with Dark Valley been the only independent bottler in the line-up contributing their 'Guard's Whistle' release, A pinot cask using Adams new-make spirit that was bottled at 66.4% ABV
Tickets are sold through the Tasmanian Whisky Week event and is also SOLD OUT at the time of writing this blog.


Final thought
It's been our pleasure working with Alex these past few years as Dark Valley's official whisky retailer on the mainland and The Old Barrelhouse is looking forward to many more years of delicious Dark Valley releases – the future is bright! (and we'll catch up for that long overdue drink soon enough mate)
Where to purchase Dark Valley Whisky