Chapter 24 in our series of celebrating Australian whisky takes us to Cut Hill Distillery, a 40-acre property nestled in Hindmarsh Valley. Next to Victor Harbour in South Australia, where the whisky is trickling quietly under the watchful eye of the ghost

of Jabez Grimble

!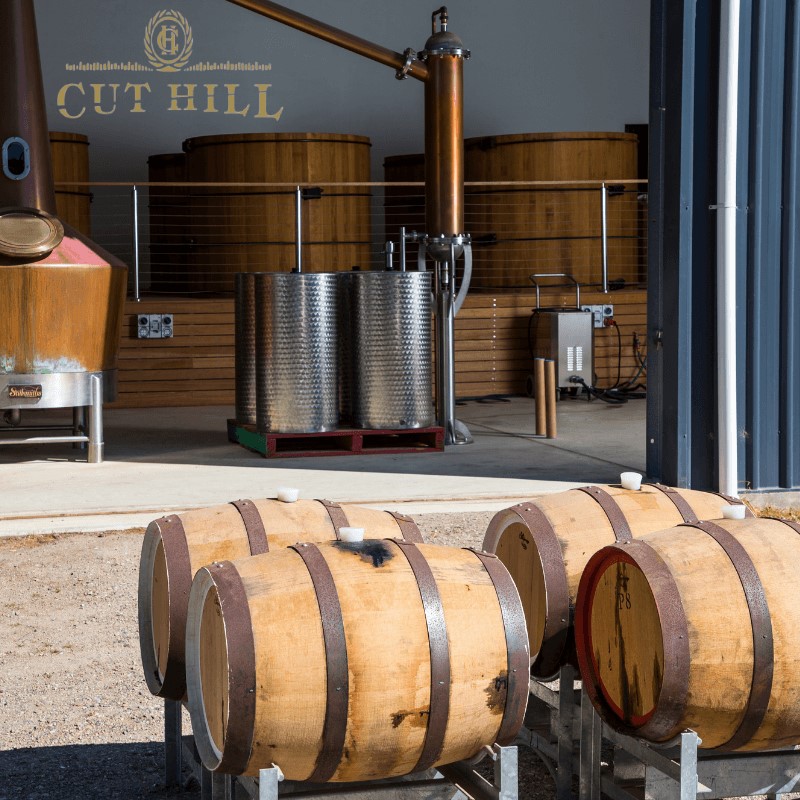 Cut Hill Distillery is located at 34 Mont Rosa Road Hindmarsh Valley, SA about an 8-minute drive from Victor Harbour. The area dates back to 1868 when Jabez Grimble (a bridge and culvert builder) was commissioned for an ambitious project to make the once perilous descent into Victor Harbor more secure via Cut Hill as Bullock carts were inclined to turn over on the steep hillside.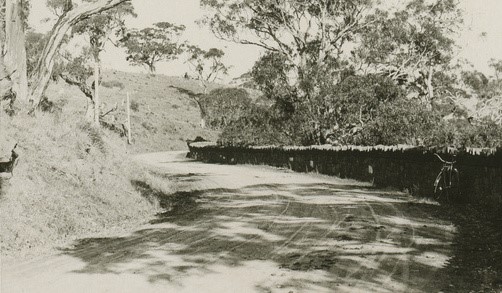 Stone was carved out of Cut Hill and laid to form a retaining wall without the use of lime or mortar, an engineering masterpiece for its time that the 'SA Conservation and The Dry-Stone Wall Association of Australia' commenting that the stone masonry is "of the highest standard", and an exercise of "first-class civil engineering". Fast forward to present day and the road now offers safe passage to Cut Hill Distillery and the harbour.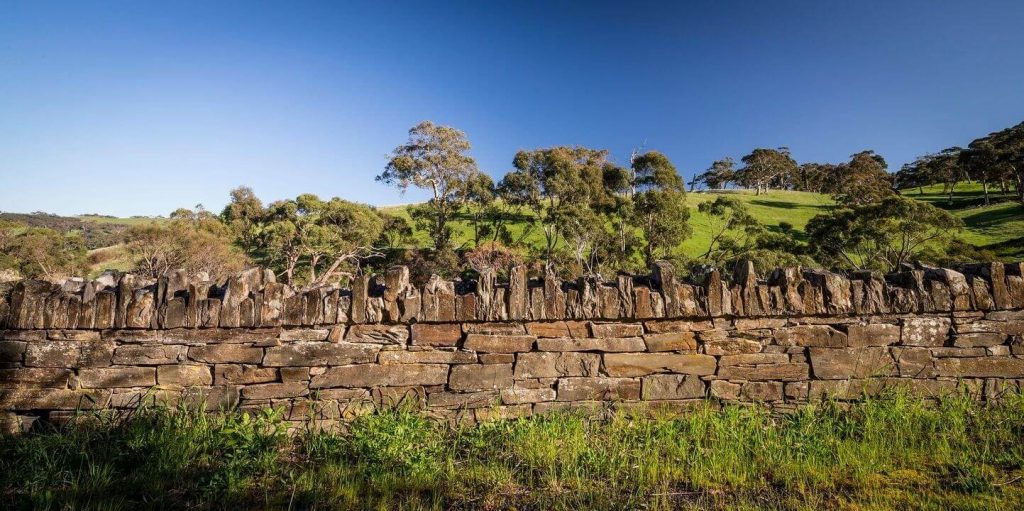 "We're

truly spoiled

with South Australian produce.

Our Planet and Westminster malt is sourced from Kangaroo Island and processed at Coopers Maltings

." Cut Hill Distillery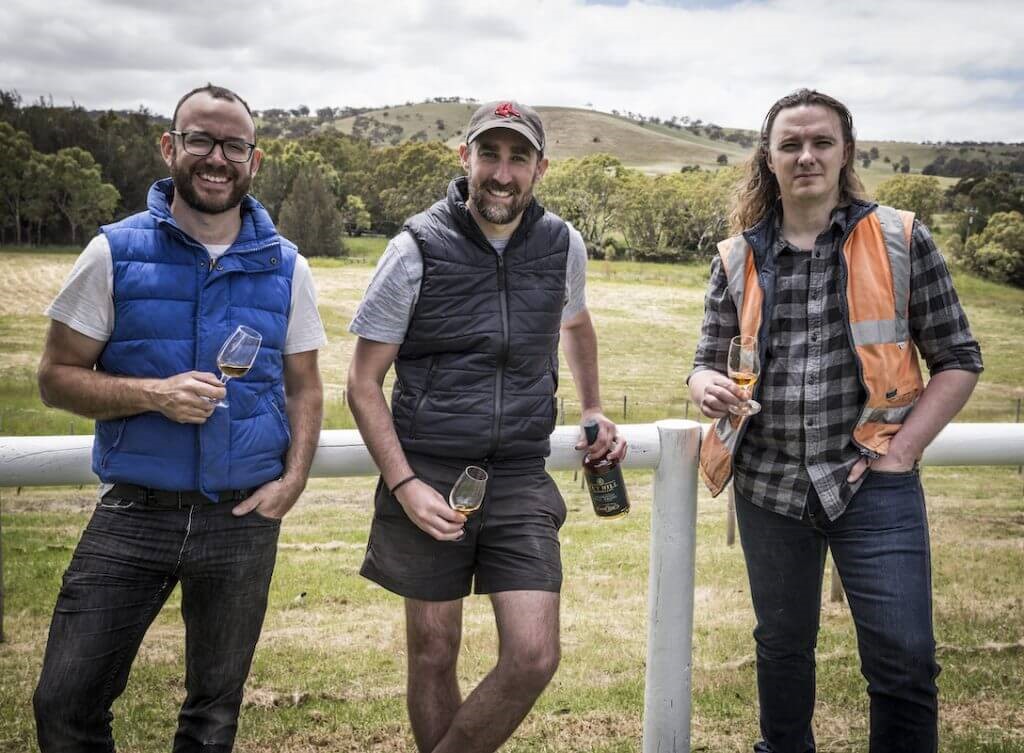 The distillery was founded by Daniel Galanti, Michael Griffiths and Hugh Holds, a crack team of three beverage professionals, taking on the challenges of new business in a baffling world whilst sharing mutual passions, aspirations, and a drive to add their own distinct contribution to the wonderful world of whisky using modern technology to form the basis of their whisky production.
Their initial release program comprises of multiple, private cask bottlings distilled at McLaren Vale Distillery and aged at Cut Hill while they wait for their newly produced spirit to mature.
Cut Hill currently uses multiple 2,000-litre oak washbacks for fermentation, a 2,000-litre wash pot-still and a 900-litre spirit still, both produced by Stillsmiths in Tasmania. They're currently creating around 200L (1 barrique) of new-make spirit a week with plans to ramp up production over time.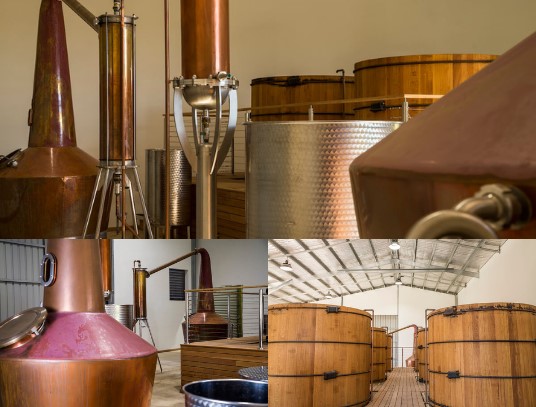 Cut Hill distilled whisky will be available in 2024/2025 with a mash-bill consisting of 100% pale distillers' malt from Coopers maltings, all of KI origin. They're currently trialling some fun yeast variations and will look at a percentage of specialty malts in the blends down the line. The distillery predominantly uses 200L second fill barrels with some wine casks and other profiles in the mix.
The Independent Bottling 'Private Barrel Series'
The gents at Cut Hill aren't ones to rest on their laurels, so while they patiently wait for their whiskies to mature, they've released a trio of bottlings under their 'Private Barrel Series' moniker using whisky distilled by their neighbours at McLaren Vale distillery.

All the barrels for their 'Private Barrel Series' have been maturing at their facility for a number of years, individually benchmarked and thoughtfully vatted together by Cut Hill's head distiller, Hugh Holds. Each expression showcases the diversity and quality that Australian wine, fortified and mead casks have to offer.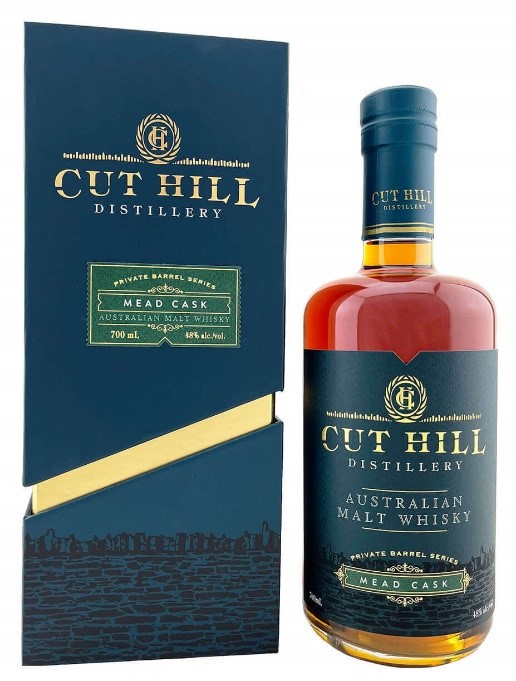 Cut Hill Distillery 'Mead Cask' Australian Malt Whisky 700ml 48%
The second release from Cut Hill's Independent Bottling 'Private Barrel Series' distilled at McLaren Vale Distillery.
Cut Hill comments:
"A truly unique whisky expression. Making wine from honey was first introduced to Australia by Ken Maxell of Maxwell Wines in the 1960's. His devotion to the ancient craft created the benchmark for modern mead-making around the world and allows us to source these distinctive barrels directly from the winery today".


Purchase the Cut Hill Distillery 'Mead Cask' Australian Malt Whisky 700ml 48% from The Old Barrelhouse HERE
Our tasting notes.
The nose brings waves of Galaktoboureko (Greek dessert consisting of semolina-custard baked inside a filo pastry crust), orange syrup, wet gardenias, icing sugar and cinnamon spice followed by an oily palate buzzing in toffee, old leather and a nice balance of young oak and spirit. The finish is soft and sweet with a late kick of honey nut spice.
"We

want to play an important part in raising the tide so that all boats are lifted"
Cut Hill Distillery
Chatting with Michael Griffith, sales and marketing manager at Cut Hill, he comments…. "With aspirations to take Australia's New World Whisky abroad, Cut Hill wants to fly the 'Australian Flag' and spread the word about what is being created in the land of Lamingtons".
Michael and his team are looking to focus on getting their products in to duty free, airlines (first class and lounges), the Northern America's & the UK, as well as continuing talks with potential Asia partners to round out their initial strategy.
The Stonecutters Club allows friends and special patrons of Cut Hill Distillery to be part of their unique Australian whisky brand. Members are rewarded and benefit from having access to the first release of products, allocations of limited releases, invitations to members only events, plus exclusive pricing and offers throughout the year. Benefits increase across three different levels, based on your lifetime interaction with Cut Hill Distillery. As their range and offerings expand, so will your benefits as a Stonecutter. Learn more HERE
Win a Complementary Bottle of Cut Hill 'Wine Cask' Australian Malt Whisky 700ml 43%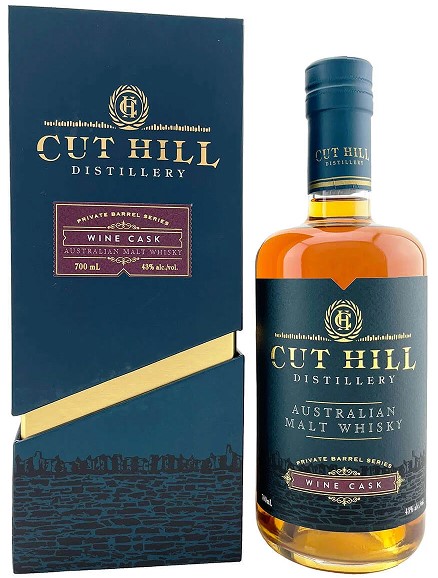 This inaugural expression was distilled at McLaren Vale Distillery and is a marriage of 5 x 100L octave barrels (ex-Shiraz) from Barossa, Eden Valley, McLaren Vale and 1 x 200L hogshead ex-Tawny (originally Bourbon cask).
Details
Simply go to our Facebook Page HERE for further instructions on how to win. The winner will be drawn on Tuesday the 3rd of May at 8pm (AEST)
Please note: This giveaway is available to Australian residents and you must be over 18 to participate. ID will be requested from the winning entry.
The current state of 'whisky' play in Australia has seen distilleries pop up on all four corners of our continent with no end in sight, such is the current popularity of Australian craft whisky. Unfortunately for a handful of start-ups, they may struggle to survive in the long-term with funding, market forces, saturation and quality playing a major role in their evolution.
From what we've seen of Cut Hill thus far, they may be relatively infant in their whisky journey, but their passion, incredible tenacity and vision tells us they'll be a shining light in our Australian whisky industry for many years to come. We're looking forward to sampling all of their original bottlings once ready and we wish them smooth distilling and bright skies moving forward.

Visit the Cut Hill Distillery website HERE