There are few hard and fast rules at the Bruichladdich distillery, the team marches to their own drum-beat providing droves of enthusiasts around the world with glorious, Hebridean, liquid-sunshine, often thinking outside the box while having a firm eye on sustainability and a deep respect for the land that surrounds them, and their place in it.
The distillery is known for bending whisky convention coupled with an underlying spirit of mischief, however, when it comes to their beloved Octomore series' numbering system, Bruichladdich has fallen into a consistent rhythm over recent years and we'll use their 12 series to explain exactly what these numbers represent for any new-comers to whisky wonderland and aficionados that might drink on the fly.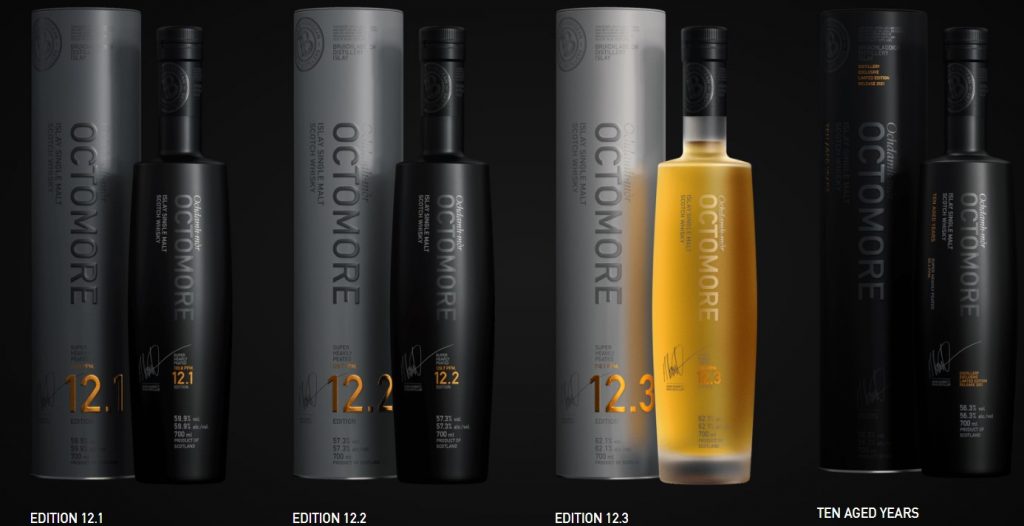 What is Octomore? – Some context.
The Distillery tells us:
"Our Octomore single malts have defied received whisky wisdom since they were first distilled in 2002. Sometimes bottled bold and brazen at 5 years old, always super heavily peated and cask strength, every edition is a liquid embodiment of 'The Impossible Equation'.
We challenge preconceptions of what constitutes quality whisky. In each new set of four we consider the elements that contribute towards the depth and balance of each youthful drop. Is it the sourcing of the raw ingredients? Is it the careful selection of the wood's quality and style? Or is it in the influence of nature; weather, climate, soil?
Polarised opinions… exposure to criticism… we accept the inevitable in the hopes of unlocking new realms of flavour. Those who join us in adopting this mindset, that quiet confidence, will receive organoleptic rewards for risks taken"
The Octomore Numbering System.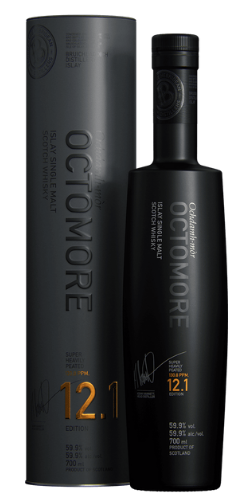 0.1
Every Octomore 0.1 edition forms the foundations of all expressions and is distilled from 100% Scottish barley that have been primarily aged only in first-fill ex-American oak, in varying percentages of either ex-bourbon and/or ex-Tennessee whiskey casks.
They are the backbone of each new series as they demonstrate the raw character of the clean Octomore spirit balanced with the modest American oak influence.
This 12.1 was distilled in 2015 from the 2014 harvest of 100% Scottish grown Concerto barley, the spirit spent its full five-year maturation in first fill American oak whiskey casks resulting in a smoky, vanilla, citrus and fudge profile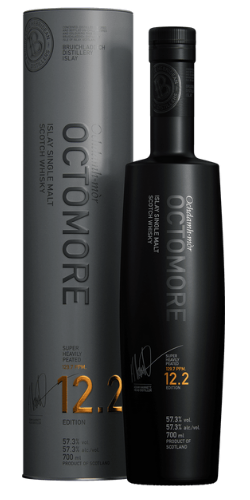 0.2
Every Octomore 0.2 edition is distilled from 100% Scottish barley as per their 0.1 counterpart. Crucially, they are differentiated by a European oak maturation.
Think along the lines of Petrus casks, ex-Amarone, ex-Sauternes (our favourite), ex-Austrian sweet wines and more. Each edition has a different composition of casks, and the decision lies in the fate of head distiller, Adam Hannett. The 0.2's are often only available for travel retail; however, the world-wide pandemic did allow these exclusives to be available in retail stores as well.

This 12.2 was distilled in 2015 from the 2014 harvest of 100% Scottish grown Concerto barley, its maturation featured a 50/50 combination of 1st and 2nd fill American whiskey casks which were vatted together in 2019 and finished in 1st fill French sauterne wine casks.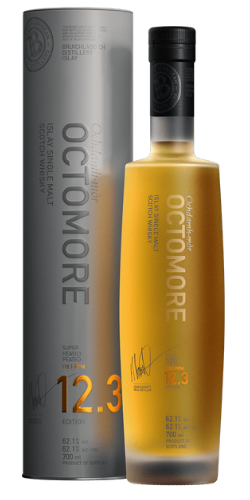 0.3
Every Octomore 0.3 edition is distilled from 100% Islay barley. They are single estate, single vintage bottlings distilled from barley grown on Bruichladdich's friend and farmer, James Brown's land. Octomore farm lies around two miles south of Bruichladdich Distillery. These whiskies are generally matured in a mixture of ex-American and ex-European oak, subject to change for each edition.
Distilled in 2015 from the 2014 harvest of 100% Scottish grown Concerto barley, two parcels of super heavily peated spirit were married together to create this Octomore 12.3. The first parcel (75%) was matured full term in first-fill American whiskey casks, with the second parcel (25%) matured full term in first-fill Pedro Ximenez Solera butts from Jerez bodega Fernando de Castilla.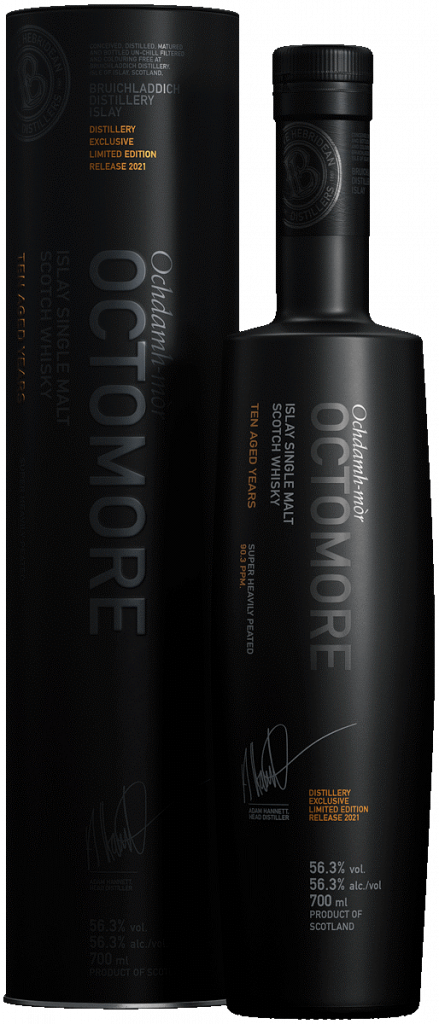 0.4 or 10-Year-Old
The Octomore 0.4 edition was first introduced in Bruichladdich's 7th series of the world's most heavily peated single malt. The 0.4's introduce the influence of the tannic, spicey, brutishness of Virgin Oak. These editions can feature a Virgin Oak maturation that is combined with American oak, or occasionally give a glimpse in to full-term Virgin Oak maturation. Occasionally, just to keep us all on our toes, The Distillery swaps out the 0.4 with a Ten-Year-Old expression.
The latest 12 series is the perfect example of that. A 'Distillery only' release, the Octomore spirit spent five years maturing in first-fill ex-American oak casks before being re-casked into Ribera del Duero wine barriques, hailing from a bodega in northern Spain.
And that's it folks, the Octomore numbering system in a nutshell – If I can be so brash to add a gratuitous plug, you can view our Octomore range  HERE that includes the latest 12 series and a few series 10 and 11 expressions too.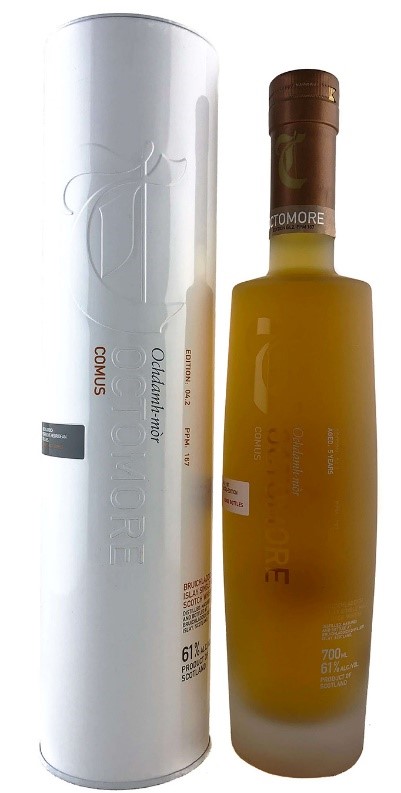 Our all-time favourite Octomore is hands down the Comus 04.2, 5-Year-Old that was released in 2012 and named after the son of Bacchus (God of wine).
 The Comus was matured in ex-bourbon casks followed by a double maturation period in premier 'cru superior' Chateau d'Yquem Sauternes' casks (one of the greatest, sweet, French wines known to man).
We paired the Comus with a bottle of 2010 vintage Chateau d'Yquem and if you're keen to read the results and our tasting notes, head over to our Comus/d'Yquem blog HERE 
For more information, you can access the Bruichladdich Octomore website HERE! 
Thank you for your continued support
The Old Barrelhouse