Our journey into whisky lechery continues with the Octomore Comus Edition 04.2 - 167 PPM / Aged 5 years, paired with the Chateau d'Yquem Sauternes 2010 Vintage.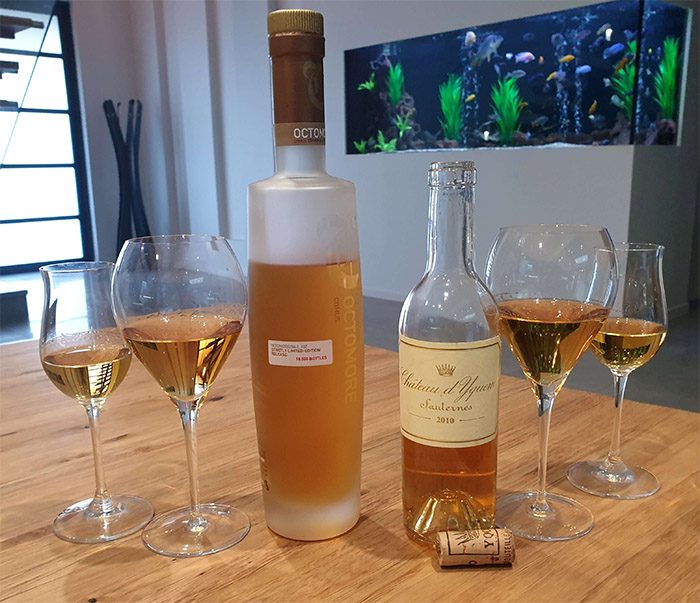 It was a quiet Tuesday afternoon and we were enjoying a little down time sipping on the Octomore Comus Edition 04.2 while watching a replay of Liverpool FC get out of jail against Leicester 2-1 in the English Premier League (in added time of course). Elated with the result, the old light bulb flashed off in our heads, which is happening more often these days to the detriment of our wallets. But still, we hatched a plan…….
Why not pilfer a little something from my quaint, wee, wine cellar going by the name 'Chateau d'Yquem Sauternes 2010 Vintage', to pair with the Octomore Comus 04.2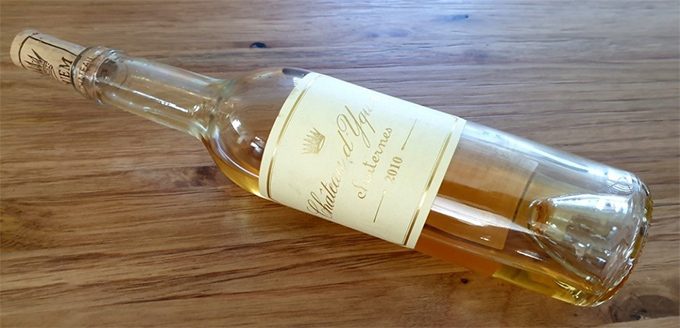 All you French-wine purists are probably shaking your heads right now at our audacity, nauseous on the fact that a 2010 vintage of Chateau d'Yquem Sauternes is way too young to be opened, considering that if cellared correctly, the layers of complexity broaden, even after 50-100 long, sleepy years. But I'll say this…… we have a small collection of older vintages, and just couldn't bring ourselves to opening one (yet) for this pairing, and we're also pretty much wine neophytes, and just like our whisky expressions, bottles tend to get consumed more often than not around here. 😉….. So, the 2010 it was!
A little background on Chateau d'Yquem
Château d'Yquem is a 'Premier cru-superior' wine from the Sauternes, Gironde region in the southern part of the Bordeaux vineyards in France. In the Bordeaux Wine Official Classification of 1855, Château d'Yquem was the only Sauternes given this rating, an acknowledgment of the prestige over all other wines of its type. Its success is part geographical from the site's susceptibility to attack by 'Noble Rot', which is better known in wine circles as Botrytis cinerea (a mold that causes fruit rot in many fruit plants including grapes, which is responsible for the production of some of the world's finest, sweet white wines). Wines from Château d'Yquem are identified for their concentration, complexity and sweetness, which is balanced by relatively high acidity. Under proper conditions, a bottle can keep for over 100 years, where the fruity identity gradually fades and integrates with more complex secondary and tertiary flavours.
Why pair the Octomore Comus with the 'Chateau d'Yquem Sauternes' expression?
That's where it gets interesting, because the Octomore Comus 04.2 by Bruichladdich (released in 2012) and named after the son of Bacchus (God of wine) was matured in ex-bourbon casks followed by a double maturation period in premier cru superior Chateau d'Yquem Sauternes casks. We wanted to nose and taste them side by side to see how much the French Sauternes cask influenced the flavour and smoke of the Comus, especially since the Octomore Comus was the most heavily peated single malt Scotch whisky in the world (at the time) clocking in @ 167 PPM.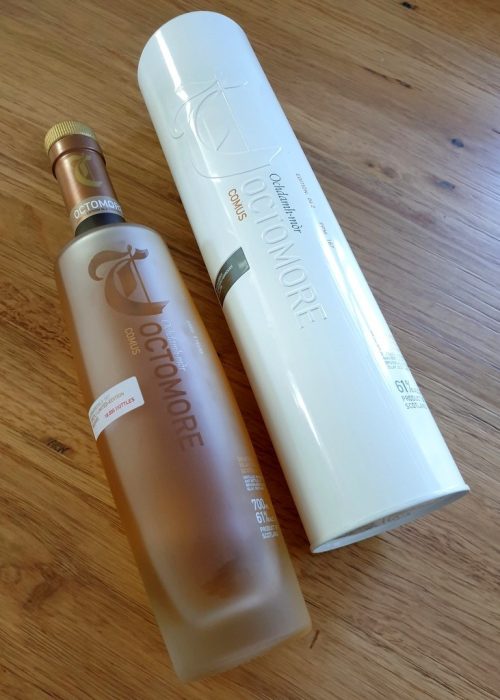 Spellbinding! A match made in the embers of a marshmallow flame.
An experience I'm glad we shared with a few close friends, for to imbibe alone would be a waste of time, because the finer things in life should be shared, and enjoyed, together. So, we sipped, laughed and chatted, formulating some motley tasting notes along the way. I called the pairing "Hot Honeysuckle: The Venom extracted from a lock of Medusas fiery snake hair" which earned me some very, very strange looks. Hehe!
NOSE
Nosing both expressions side by side was the absolute highlight for me. Flavours, layers and colours were waltzing off the Riedel glassware as if the whisky and wine were trying to speak. Starting with the Chateau d'Yquem Sauternes, the bouquet took its time, and then offered up syrupy notes of sun-sweetened grapes, honeysuckle, fragrant white lilies and mandarins, with subtle ripples of pineapple flesh, toasted marshmallow and distant butter menthol lozenges.

Moving on to the Comus, the nosing was not an all-out peat assault, it was more like a gentle nudge of smoke that softly emerged to reveal a candied tail. Would the sweetness have been there if we hadn't nosed the French wine first? I dare say yes, but that will have to wait for another day when the Comus is nosed first. The sweet, smoky bouquet was then followed by the juicy, sugared fruits of the Chateau d'Yquem with wet, ripe tobacco and almond milk.

PALATE
The palate of the d'Yquem was similar to the nose. Crisp and buttery with freshly sliced (granny smith) apples, limes, honeycomb and a little almond - the perfect balance of sweet and slightly sour with the delightful funk of the Botrytis affected grape front and centre – Then, sipping the Comus with the sweetness of the wine still coating the mouth was sheer perfection as far as pairings go. It tempered the Comus' abv and opened up the whisky like a flower, delivering vanilla, fresh pears, peaches and cream, eucalyptus and panned butter, with the peat smoke arriving more as a rehearsal than a final act.

FINISH
The finish of the two: devilishly long in their goodness. The d'Yquem's succulent fruits, so delicate and refined, did not let go, blending beautifully with the sweet, slightly tart flavours of green apple skins. The Comus finish then bit through the sweetness in waves of candied peat smoke from the nosing, with splashes of eucalyptus and cigar leaf making for an elegant farewell.
CONCLUSION
Extraordinary – A whisky and wine pairing that will leave you in reflective pause. An exhibition of how smoked barley, bourbon casks, sweet fruit and Botrytis 'cinerea' can come together to deliver a tour de force that is both unique and delicious. The impression that remained was reminiscent of a quote from Charles Gounod (French composer) describing Mozart:
"Mozart, prodigal heaven gave thee everything, grace and strength, abundance and moderation, perfect equilibrium".
Very much like this pairing.

David MK