When it comes to inclusion, excellence, pedigree and legacy, there's simply one Australian Whisky distillery 'To Rule Them All'… Sullivans Cove!
Established in 1994 on the shores of the River Derwent in Hobart, Sullivans Cove is the second oldest whisky distillery in Tasmania and the first Australian whisky distillery to win 'Best Single Malt Whisky in the World' at the World Whiskies Awards in 2014 for their French Oak cask HH0525 single malt. The magnitude of this award caused a ripple, that in turn formed a tidal wave of activity carrying the distillery and arguably the entire Australian whisky industry to international acclaim.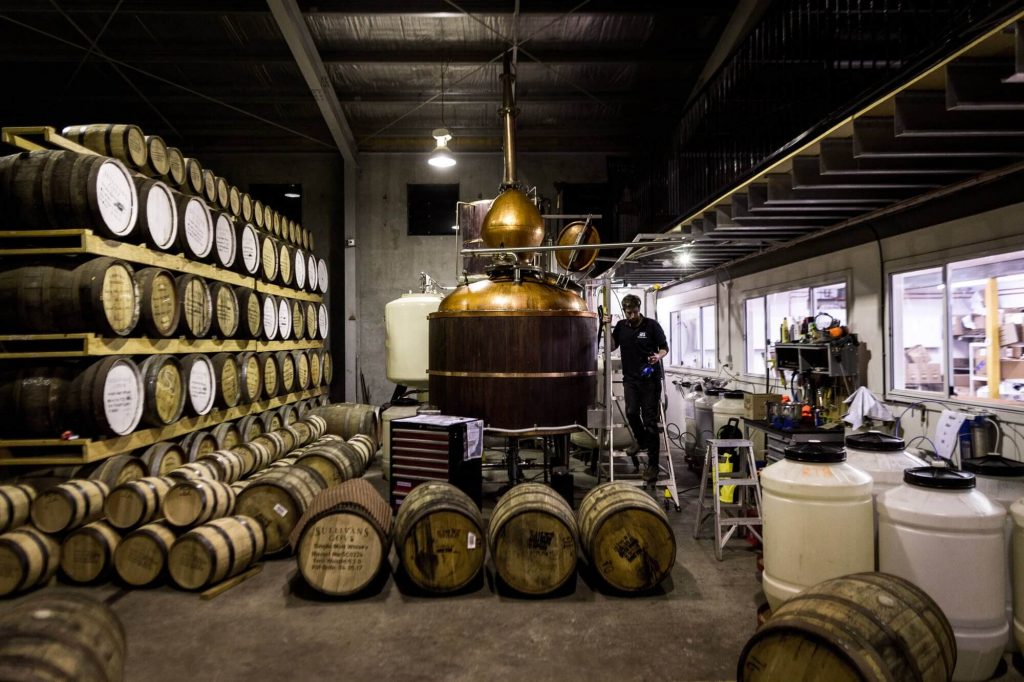 Navigating the distillery's origins isn't without its twists and turns, but with such heritance and youthful history, we thought it would be a fun idea to research the distillery's evolution through the looking-glass of their different generational shaped bottlings from inception to present day, including deciphering their bottling codes and 'eras of ownership'.
You can also visit our Sullivans Cove Whisky Museum on our website HERE. It showcases the rare Sullivans Cove expressions we have sold throughout the years. It's designed to be informative, with bottling and tasting notes as well as visual, with high resolution images of the bottles.
So, without further ado – pour yourself a whisky and let's dig in!
SULLIVANS COVE DISTILLERY – ERAS OF OWNERSHIP
Rob (Robert) Hosken: 1994 to 1999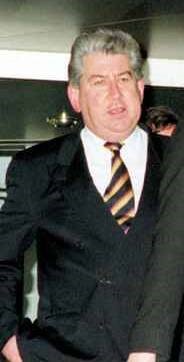 Robert Hosken founded the Sullivans Cove Distillery in 1994 at the waterfront dock area in Hobart, Tasmania.
His era of ownership was clouded in controversy and is a contentious chapter in Tasmania's modern-day whisky history as legal issues would finally catch up with Hosken culminating in court orders by the ACCC on the 23rd of July 1997 over his 'Pre-Release Sullivans Cove Premium Whisky' for "making certain misrepresentations concerning the maker, the origin of the ingredients, and the place and method of manufactured……". His fall came full circle in 1998 and we'll leave it at that, as this piece is a celebration of Sullivans Cove whisky.
It is important to note that Sullivans Cove has always been 100% transparent regarding their early years, which is pretty damn refreshing in the current state of the world.
It's also only fair to point out that without Robert Hosken's ambitious dive in to Tasmanian whisky, the Sullivans Cove Distillery may not exist today. His forward thinking had Lyn Lark working as a distiller and he also employed Patrick Maguire as a still worker who would go on to be head distiller and eventually part owner of the distillery.              
Highland Holdings: 1999 to 2004
The distillery was purchased by Highland Holdings in 1999 when Sullivans Cove was still located at Hobart's waterfront. The new owners ramped up production during their 5 years releasing various iterations of Sullivans Cove whisky. (These will be covered a little later). The new owners hired Bill Lark, founder of the modern Australian whisky industry, to take over as distillery manager and help turn Sullivans Cove into a quality single malt whisky. Unfortunately, the company also fell on hard times and liquidated their assets in 2003 due to unpaid debts.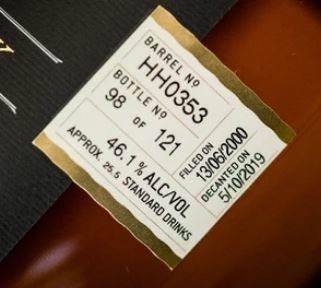 When you see the code HH on the sticker labels of your bottle and display box, it simply stands for 'Highland Holdings' meaning the expression was distilled and filled into barrels between 1999 and 2003/2004 when Highland Holdings were the owners. There were approx. 600 casks filled during this time with the majority of the HH era casks released years ago, however a handful of exceptional casks remain that have leant themselves to extended maturation.
Tasmania Distillery: 2004 to 2016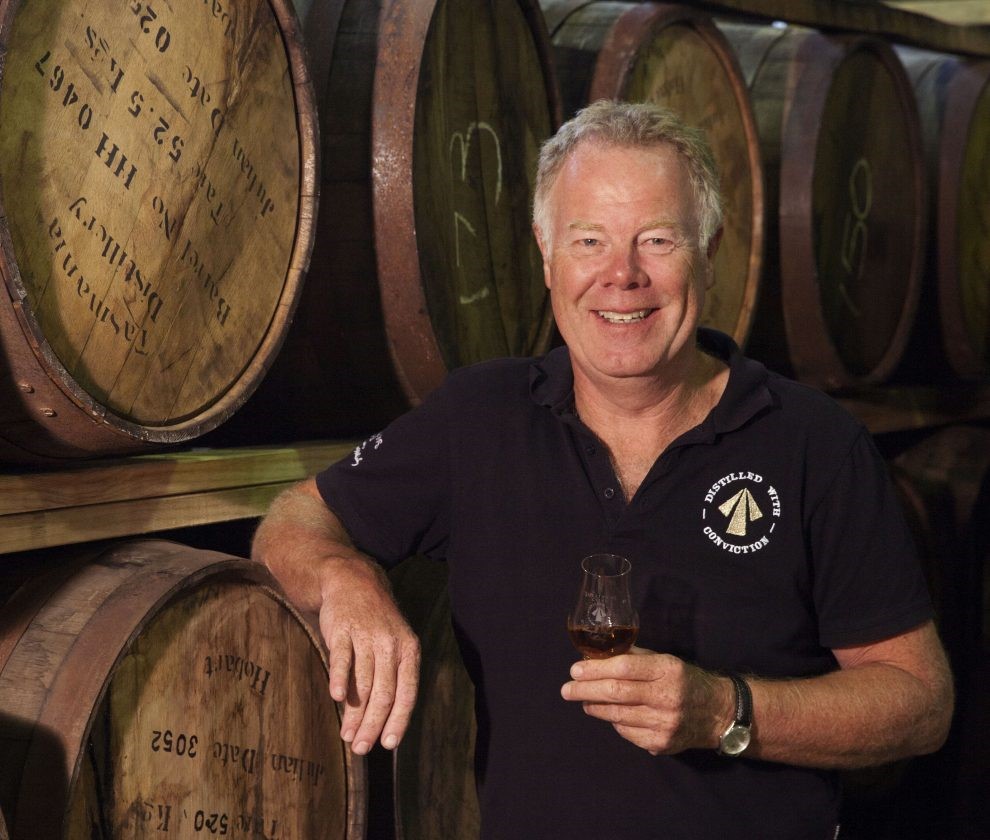 In 2004, the Distillery including all the equipment and barrel-stock was purchased by future Icons of Whisky Hall of Famer Patrick Maguire and a coterie of investors, who moved the distillery from the Hobart waterfront to an industrial property in Cambridge Tasmania. The distillery was known as 'Tasmania Distillery' with 'Sullivans Cove' being the brand name only for the whisky produced there. It was under Maguire's reign that Sullivans Cove's branding was completely overhauled to the rounder, shorter-squat style bottles with the introduction of a trio of core expressions. The bottles were also the first to feature a side tag (which the distillery affectionately calls a "birth certificate for your whisky") with unique cask and bottle information for each batch.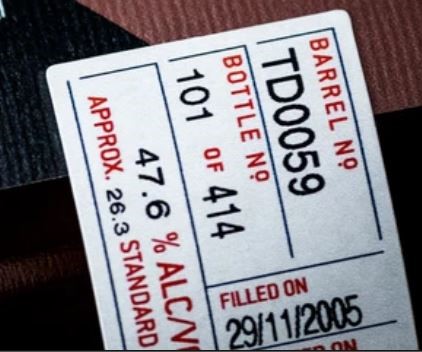 When you see the more frequent TD code on your sticker labels, it simply stands for 'Tasmanian Distillery' meaning the expression was distilled and filled into barrels between 2004 and 2016 when Tasmanian Distillery were the owners of Sullivan Cove.
Keen eyes and whisky fans will also notice that the whiskies released under Patrick Maguire's 12-year tenure has 'Produced by Tasmania Distillery' printed on the back of the bottle and box.
Then from 2016 to today, both the distillery and the whisky are called Sullivans Cove, so you'll see 'Produced by Sullivans Cove Distillery' printed on the rear of the bottle and box.
2015 – Trailblazer Heather Tillott Joins Sullivans Cove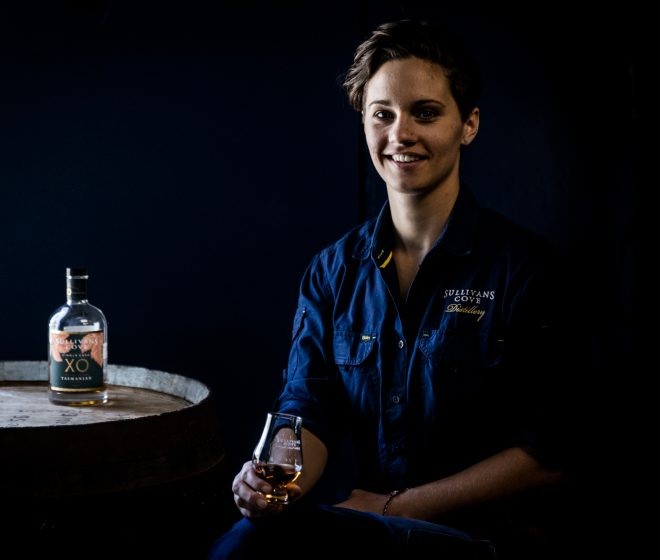 In 2015, Heather Tillott started working at Sullivans Cove Distillery as a still hand, (following a similar path as Patrick Maguire in the early years). It wasn't long until her sheer talent was recognised, and rewarded with Mr Maguire taking her under his wing as a protégé of sorts. Then, approx. 12 months up to Patrick Maguire taking his hiatus, Heather became an assistant production manager. As Patrick's role slowly diminished, Heather's responsibilities were brough front and centre with her official title change to 'Head Distiller' happening towards the end of 2019. As well as Head Distiller, Heather is also the Distillery manager and oversees much of the day-to-day operations of the distillery.
With a background in winemaking, it was no surprise that Heather would progress to the heights of head distiller in just 4 short years. Armed with a palate and technical nous to rival any world distiller, her passion for Tasmanian whisky is unrivalled.
Sullivans Cove Distillery Pty. Ltd.
2016 to present day.
In 2016, the Distillery was sold to Melbourne based company, Sullivans Cove Distillery Pty Ltd who arrived with a background already rich in Scottish whisky knowledge with company head, Adam, once the general manager of Scottish distillery Bladnoch.
Under the new ownership, the distillery is all about the team rather than an individual, an ethos that has them firing on all cylinders in their quest for whisky perfection. Sullivans Cove has exponentially added to their selection of whiskies with their Old & Rare range of age statements, a swath of limited releases, Special Casks and a 21-year-old Anniversary expression which is plausibly the oldest Australian whisky ever produced.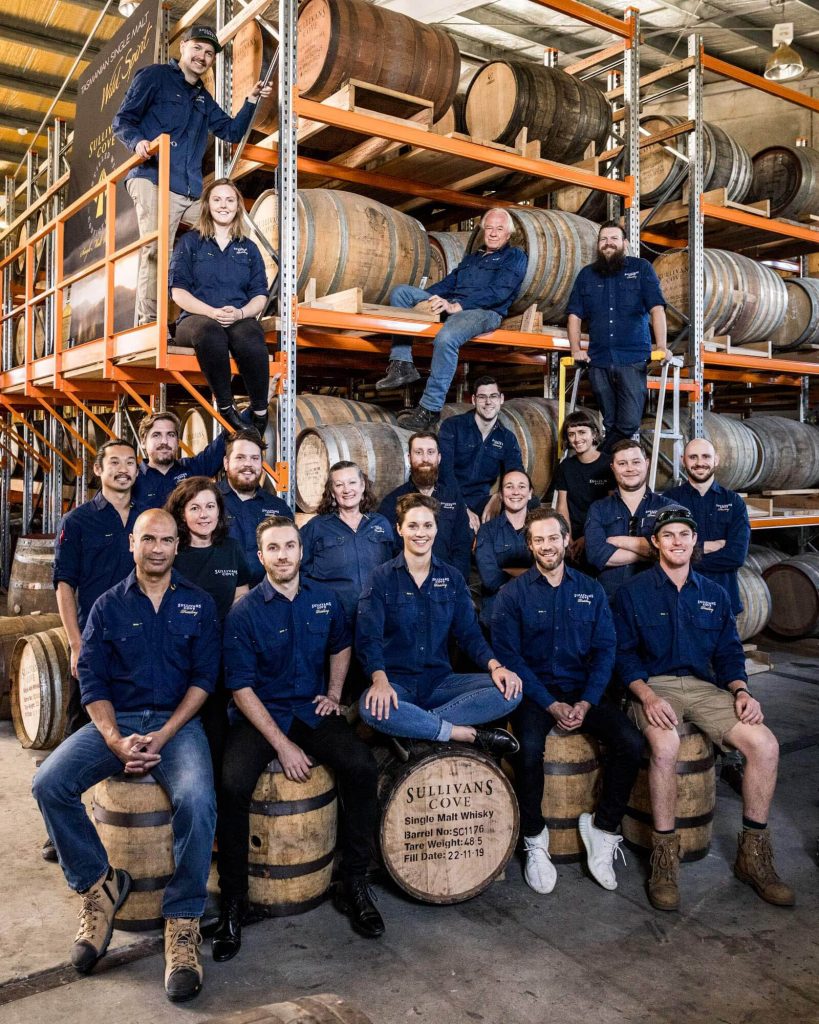 THE DIFFERENT GENERATIONS OF SULLIVANS COVE WHISKY
SULLIVANS COVE PRE-RELEASE BOTTLING
Robert Hosken era
Year: 1994-1997
40% ALC/VOL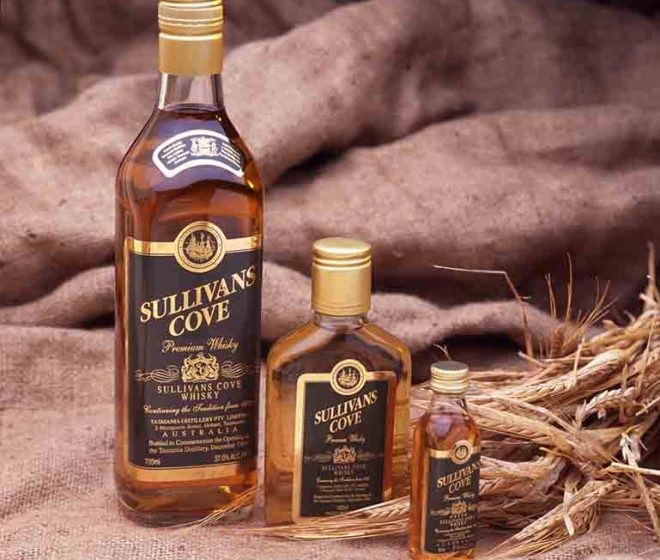 Although some Sullivans Cove whisky may have been sold and used in independent bottlings as early as 1992 under various labels, there's so much conjecture regarding the who, when and what, that we'll leave that conversation for another day, over some Sullivans Cove whisky, possibly off the record, when these lockdowns end. 😉
So, we'll kick off with this pre-release bottling, the first ever release of whisky under the Sullivans Cove name. It's interesting to note that this first bottling of Sullivans Cove whisky wasn't produced by the distillery, but was in fact an independent bottling of whisky containing blended Scotch whisky that was allegedly purchased from the Invergordon Distillery in Scotland and then imported to Australia to provide some much-needed income relief while the distillery's first batch of whisky reached its minimum two years of maturity.
The distillery tells us: "There are no remaining records on where exactly it came from or what it was comprised of, but it was not a single malt, and it was not produced in Australia. The original owners of Sullivans Cove got themselves into a spot of hot water by not being clear enough on the label about the providence of this whisky, but by 1997 they had their own whisky to bottle anyway. Although the labels in this old picture (taken from 25yo slides we found in storage) look black, they were actually dark green"
FIRST RELEASE SULLIVANS COVE DECANTER
Robert Hosken era
Year: 1997
700ml – 40% ALC/VOL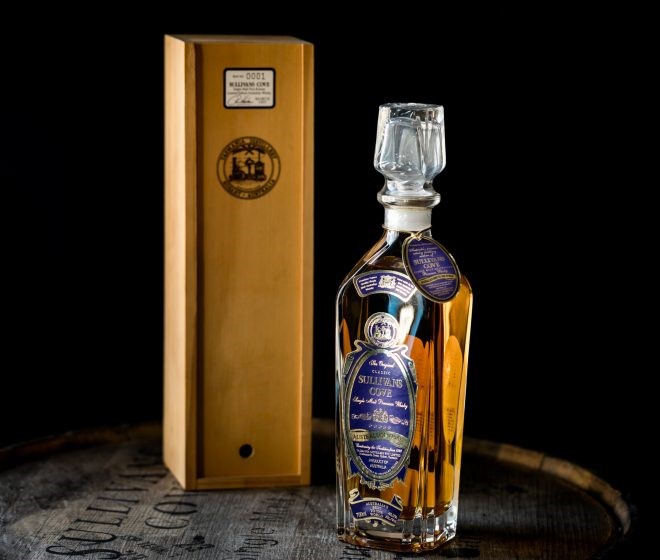 The significance of this first release decanter and how it paved the way to the reawakening of our modern day, Australian whisky industry should not be underestimated. The whisky was the first example of genuine Tasmanian single malt whisky in over 150 years and the first ever release of single malt whisky distilled, aged and bottled by Sullivans Cove.
Distilled in March 1995 and bottled in March of 1997, the new-make spirit was aged in a medium toasted, 300L, virgin American Oak cask coopered especially for Sullivans Cove. The front panel of the timber box is signed by Rob (Robert) Hosken, the original owner of Sullivans Cove whisky who ended up selling in 1999. Off the back of this iconic expression and almost 25 years later, we have a thriving Australian whisky industry with distilleries popping up in all corners of our sunburnt land.  
SULLIVANS COVE FIRST GENERATION STANDARD RELEASE
Robert Hosken era
Year: 1997-1999 
700ml – 40% ALC/VOL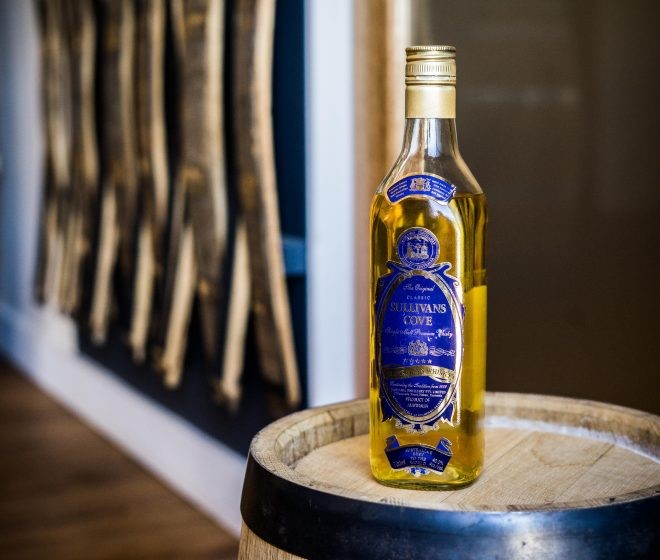 After the first release decanter, this expression was the standard release of whisky produced by Sullivans Cove. Laid to rest in 300L, un-charred virgin American oak casks, the distillery tells us it would have been somewhere between two and five years old. The whisky was created under the original owners of the brand, well before Patrick Maguire took over as head distiller in 1999.
The 'Water of Life' in these bottles is quite unique in style compared to modern-day Sullivans Cove whisky that only the lucky few can enjoy, even though it was distilled using the very same equipment the distillery uses to this day. This tells us that the raw bones of modern day Sullivans Cove whisky, although different, still shares the same DNA of the very first expressions ever produced.
MILLENNIUM GOLD
Highland Holdings era
Year: 2000
700ml – 40% ALC/VOL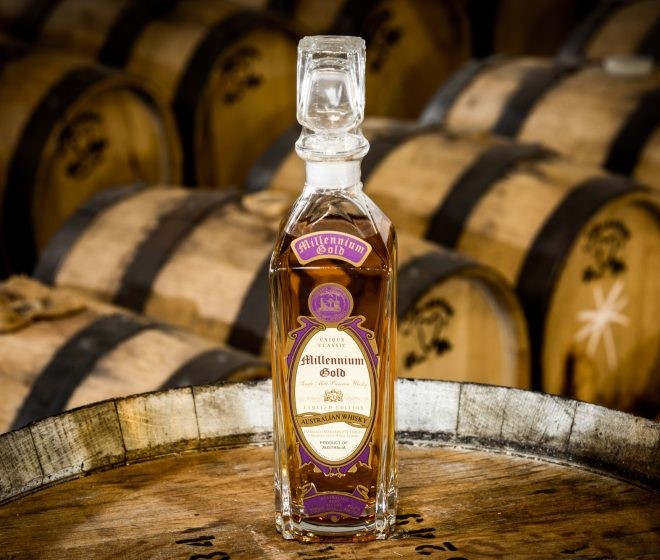 There's not much information available on this expression except that it was released in 2000 to celebrate the turn of the millennium and to commemorate the Sydney 2000 Olympic games. 'Millennium Gold' would have been aged for no more than three years in either an un-charred 300L virgin American Oak barrel, or a 300L ex-bourbon barrel. A rare whisky, barely seen in the wild these days.
SULLIVANS COVE SECOND GENERATION
Highland Holdings era
Year: 2000
375ml – 40% ALC/VOL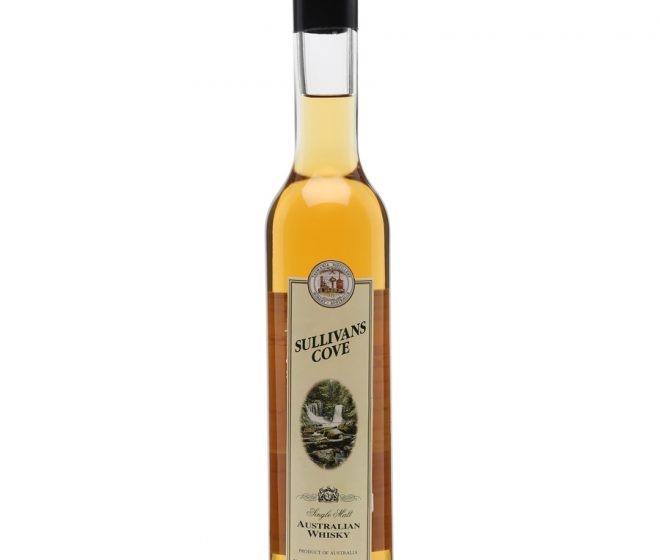 This whisky was distilled by the original owners of Sullivans Cove at the Gasworks site, and the liquid would have been very similar to the 1st generation Sullivans Cove. It was aged in American oak for 2-3 years, and bottled one cask at a time as a single cask expression by Highland Holdings who took over in 1999. The whisky was slow on the sales front, so, after Patrick took over in 2003, all of the remaining bottles were decanted and the liquid used to make whisky liqueur or sold to food manufacturers for whisky flavouring.
OLD HOBART CASK STRENGTH
Highland Holdings era
Year: 2000-2003 
500ml – 60% ALC/VOL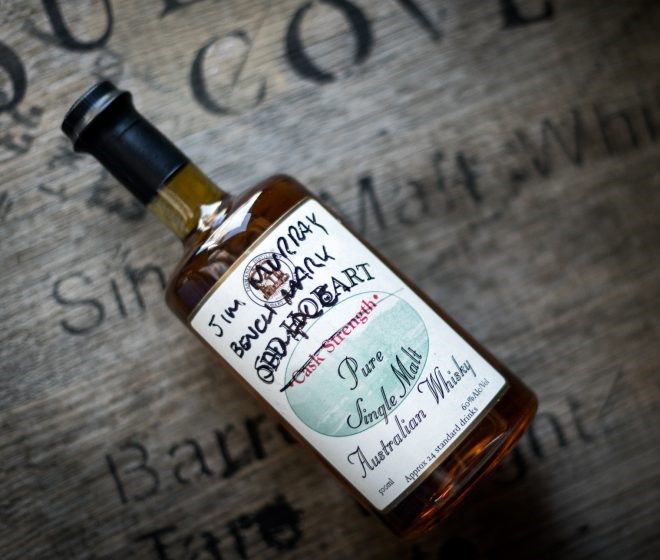 Old Hobart was a high-proof, single cask version of Sullivans Cove whisky distilled at the original gasworks distillery site in the late 1990s under Robert Hosken.
The distillery tells us that "the whisky would have been between 3-5 years old and aged in American oak casks. It was not actually cask strength, but diluted to 60% from a cask strength of at least 65%. When Jim Murray visited the distillery in 2004, this was the first whisky he tried that he really liked, telling Patrick he should focus on that style".
His assessment resonated with the distillery making this Old Hobart expression the "bench mark" helping them develop their American oak aged whiskies with a defining tasting style that would lay the flavour foundations for Sullivans Cove's whisky to this very day.
FRANKLIN RIVER
Tasmania Distillery era under Patrick Maguire
 Year: 2004
700ml – 40% ALC/VOL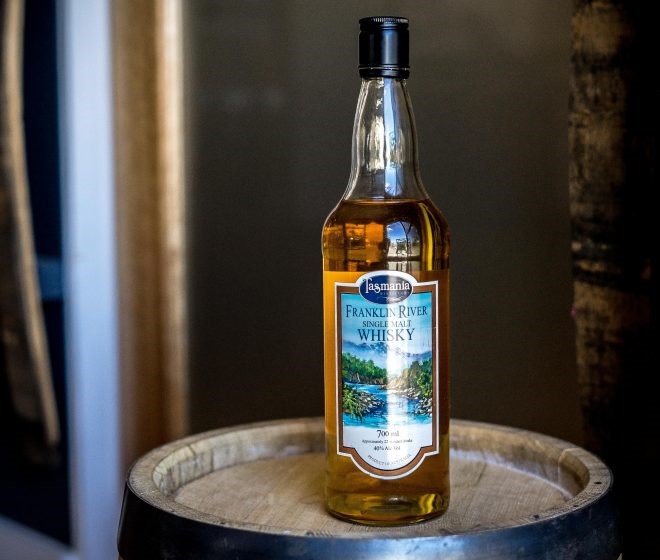 A very limited release from the third group of owners, including Patrick Maguire, who took over the business in 2004 and raised it to its current standards. Franklin River Single Malt was a bottling of the only leftover whiskies from the original ownership that was of acceptable quality to Patrick and his team. Reminiscent of a young Sullivans Cove Double Cask, the whisky received positive reviews and has become a real collectable amongst the Sullivans Cove faithful.
SULLIVANS COVE THIRD GENERATION
Tasmania Distillery era under Patrick Maguire
Year: 2004-2007
700ml – 40% ALC/VOL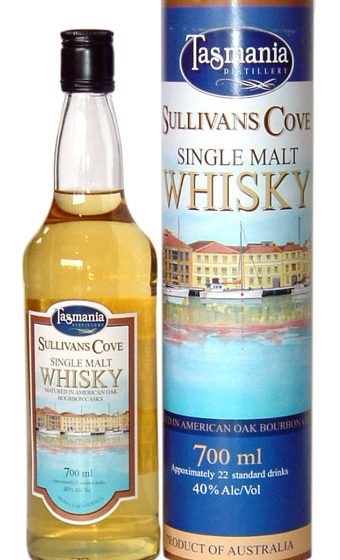 This was the American oak-ex bourbon version of the second generation of Sullivans Cove single malt whisky, distilled at the original Gasworks site by the second group of owners (1999-2003) and released by Patrick Maguire in the early days of the Cambridge distillery. Probably a 5 to 6 years old single cask, Patrick wasn't a big fan of the branding so he replaced it with the modern bottle shape and design soon after taking over.
SULLIVANS COVE THIRD GENERATION CASK STRENGTH
Tasmania Distillery era under Patrick Maguire
Year: 2004-2007
500ml – 60% ALC/VOL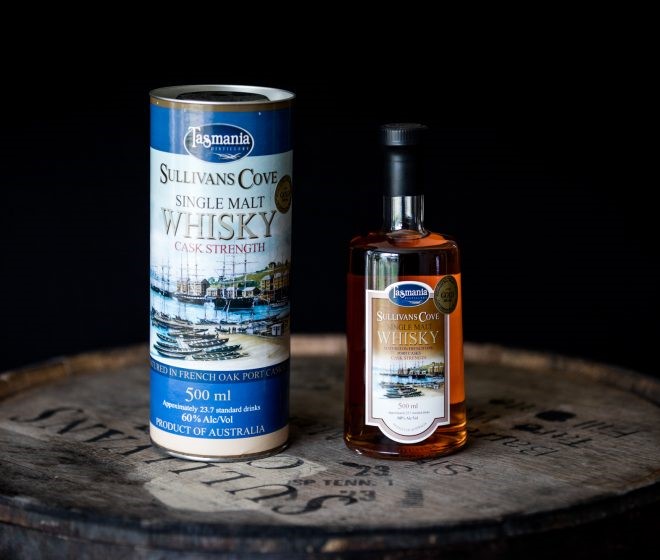 This was the 'cask strength' bottling of 3rd Generation Sullivans Cove, released from 2004 until 2007 before the modern branding came in. These were single cask bottlings with both 'French Oak Port' (pictured) and 'American Oak Bourbon' styles. While the labels say 'Cask Strength' the ABV on these releases were actually standardised to 60% ABV, a practice the distillery no longer engages in. These whiskies were sold in 500ml bottles in order to keep the taxes down because of the high ABV. This was at a time when consumers were still wary of Aussie whisky, so price was a major factor.
FOURTH GENERATION SULLIVANS COVE
Tasmania Distillery era under Patrick Maguire
Year: 2008-2016
700ml – 40% to 48% ABV/VOL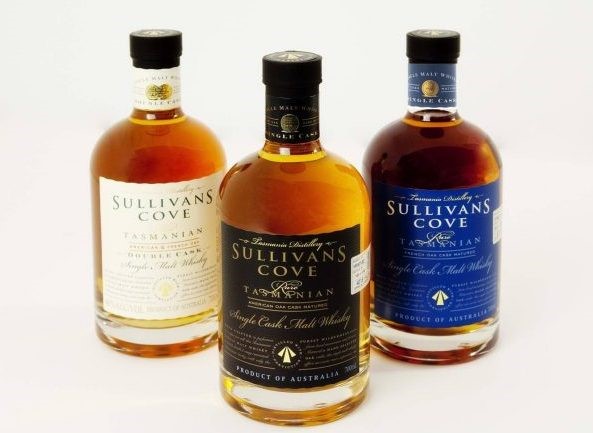 This is the first modern version of the standard Sullivans Cove range. These labels finally gave Sullivans Cove a unique identity that would become an Australian institution and is the basis for the branding the distillery uses to this day. Like the current Sullivans Cove offerings, this range featured French and American Oak single cask bottlings at 47.5% abv and the vatted Double Cask, a new idea at that time, at 40% abv. These bottles were also the first to feature the side tag with unique cask and bottle information for each batch.
FOURTH GENERATION CASK STRENGTH
Tasmania Distillery era under Patrick Maguire
Year: 2008-2016
700ml – 60% ABV/VOL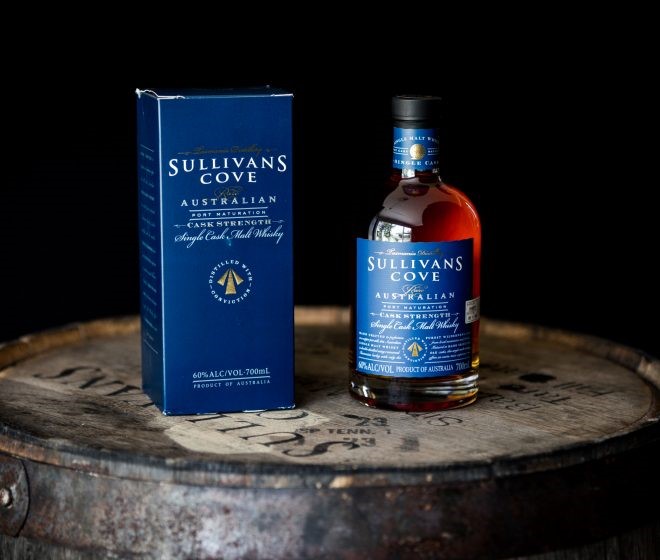 These cask strength, single cask French and American Oak bottlings were an evolution of the cask strength Sullivans Cove style from 500ml bottles to 700ml with the modern branding and the ABV still standardised to 60% at the time. Patrick Maguire found that after talking to whisky enthusiasts at trade shows, they were more concerned about quality and provenance than price and they expected 700ml bottles at natural cask strength, so he started to move in that direction.
A FEW EXAMPLES OF SPECIAL COMMISIONED CASKS
Tasmania Distillery era under Patrick Maguire
Year: 2008 – 2009 – 2015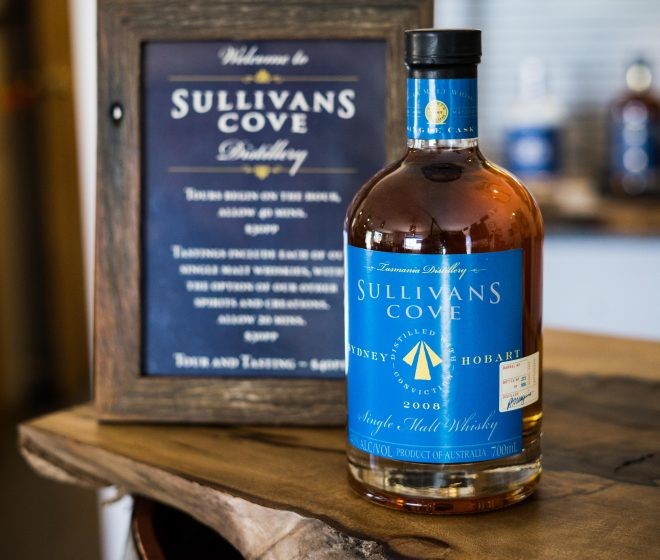 SYDNEY TO HOBART: 2008
936 bottles: 700ml – 43%alc
An 8-year-old bottled specially for the Rolex Sydney to Hobart yacht race. A 500-litre barrel was filled with matured 8YO American Oak & French Oak Sullivans Cove whisky. Then a 15-litre barrel was filled from the 500L barrel, taken to Sydney and bolted into the hull of Scandia; a maxi competing in the race that year.
On arrival at Hobart, the Distillery folks were waiting at Constitution dock where they removed the barrel, took it back to the distillery, added it back into the 500-litre barrel and bottled it on the spot. It was sold around the dock and through the distillery over the following weeks. Sullivans Cove tried the same thing over the next two years however Scandia did not make it to Hobart either time, a broken canting keel stopped it the second race and a broken mast the third race, making the 2008 edition the only successful version of this bottling, and a real collector's item.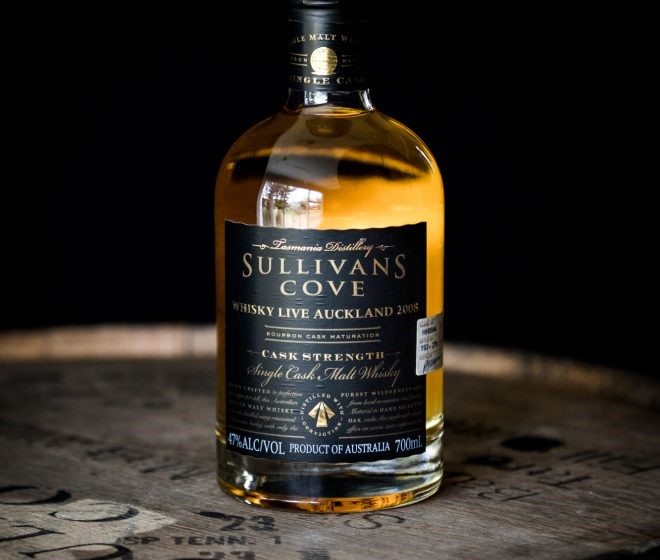 AUCKLAND WHISKY LIVE: 2008
276 bottles: 700ml – 47%alc
 This was a single American oak ex-bourbon cask (HH0044) bottled especially for the first ever Auckland Whisky Live. It was produced on request of Malts of Distinction who were the distillery's distributor in New Zealand at the time.
Distilled in 1999 at the Gasworks site and bottled in 2008. Although the label says "cask strength" the distillery believe this was a mistake in the printing of the special Whisky Live label, and that this was in fact bottled at 47%, as is also stated on the label.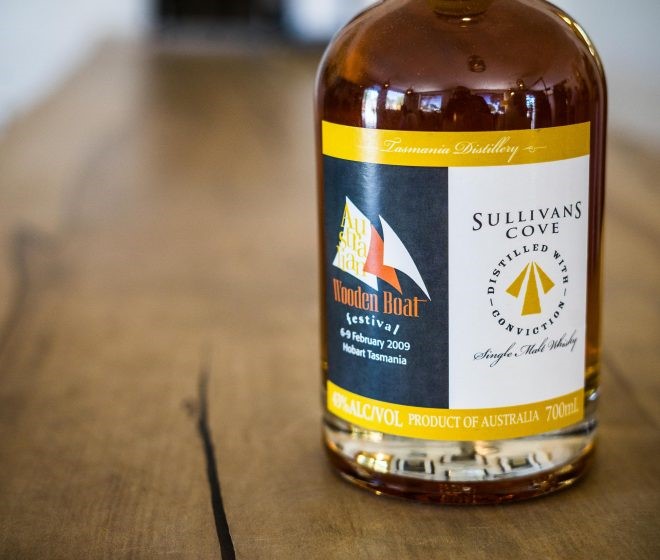 WOODEN BOAT FESTIVAL
2009
312 bottles – 700ml – 43%alc
Bottled as a special release for the Hobart Wooden Boat Festival in 2009, this bottling was made up of various 8yo casks and cask samples.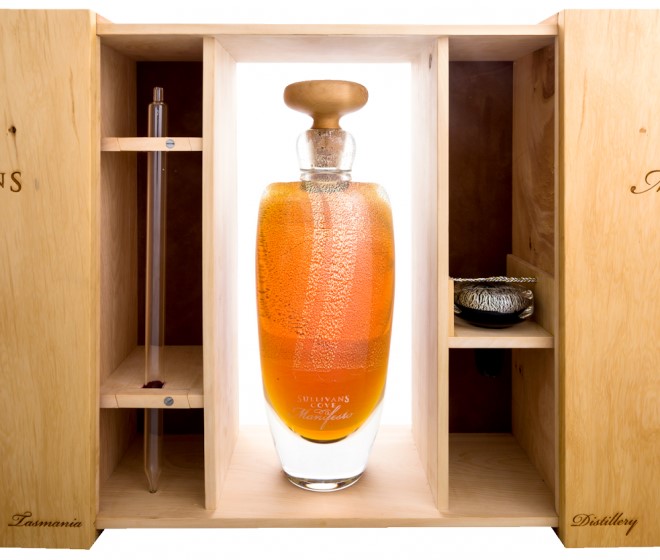 MANIFESTO: 2015
2 Decanters produced
1.8L – 47.9%alc
Arguably the rarest unicorn of the entire Sullivans Cove arsenal of whisky. It's a very special release that produced only two x 1.8 litre decanters containing a mixture of Sullivans Cove's most highly awarded whiskies, including a portion of cask HH0525, winner of the World's Best Single Malt Whisky award in 2014.
The decanter's themselves were hand-blown by a Tasmanian glass artist, and presented in a locally hand-crafted Huon Pine presentation box lined with doe skin. Sold for $10,000 each, that would have been unheard of 6 years ago, but seems like a real bargain now.
PRIVATELY OWNED CASKS
Both Tasmania Distillery era and Sable Family
Year: 2008-2019
Varied ALC/VOL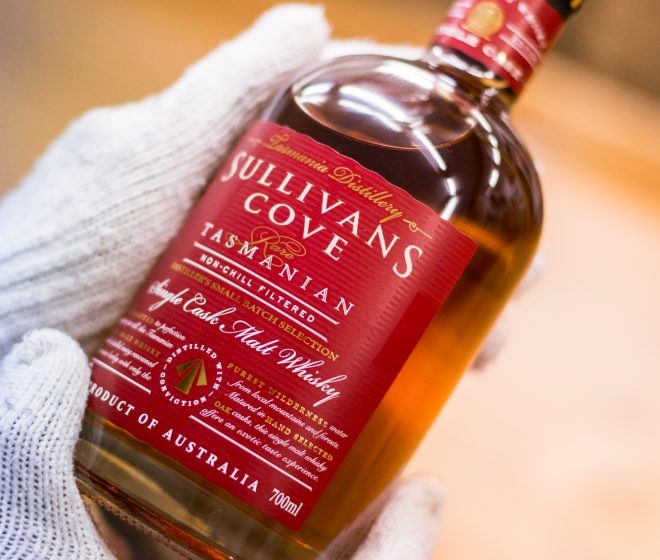 Whenever you see a dark red label like this, you're looking at a bottle of Sullivans Cove whisky that came from a privately owned cask. The majority of these were bottled as part of the distillery's Cellarmaster programme (no longer running), during which fans of Sullivans Cove whisky were invited to purchase a 20L cask that would age for 2 years and then bottle for them. These casks cost between $4,250 to $4,800 and produced approximately 25 bottles each.
While these smaller casks have produced some cracking whisky, they are quite different to their usual releases, which are aged for between 9 and 18 years in 200 and 300 litre casks. Also, because these casks are privately owned, they have not been through the usual tasting evaluation prior to bottling and were not authorised by Sullivans Cove for retail sale, although, what the owners decided to do with their bottles was up to them.
CASK STRENGTH AMERICAN OAK
Sullivans Cove Distillery Pty. Ltd. – Possibly ongoing
Year: 2018
700ml – 69.1% ALC/VOL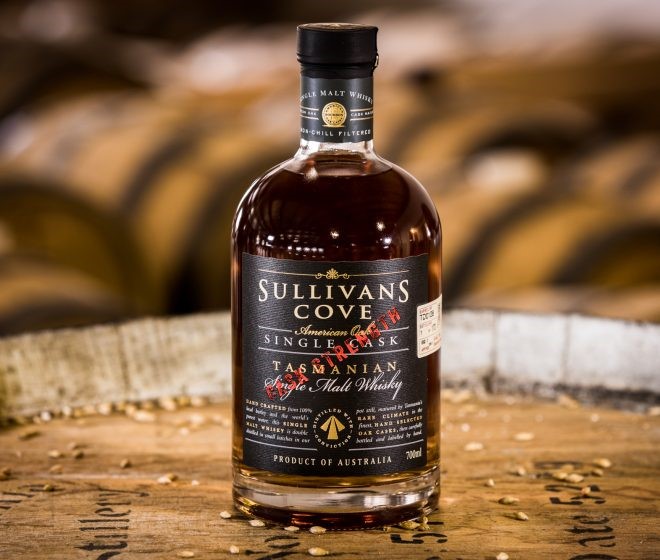 While technically a current label, Sullivans Cove haven't released a cask strength whisky since early 2018. The reason being their natural cask strength tends to be well in excess of 70% ABV these days, which they think is just too hot to drink. But the distillery isn't opposed to the idea of bottling cask strength whiskies if they find an exceptional cask that is easy on the palate without dilution, similar to this expression. Cask number TD0126 was released in early 2018 at a natural cask strength of 69.1% ABV and sold out in the blink of an eye.
WINTER FEAST (DARK MOFO) EXPRESSIONS
Both Tasmania Distillery era and Sullivans Cove Distillery Pty. Ltd.
Year: 2014 – Ongoing
700ml – Varied ALC/VOL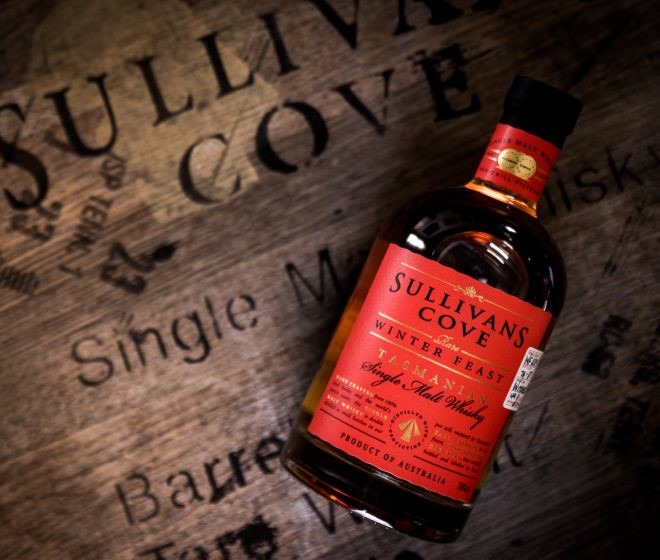 Every year since 2014, Sullivans Cove do an extremely limited run of bottles for the Dark Mofo festival, available exclusively at the Winter Feast festivities. Known locally as the 'Witches Brew' it's a chance for the distillery to flex their knowledge, using their best blending palates to have some fun, armed with the full arsenal of liquid stored in Sullivans Cove warehouse to create a truly unique single malt whisky.
Winter Feast 2021 Edition: 110 bottles at 52.3% abv
Winter Feast 2020 Edition: 79 bottles at 50.2% abv
Winter Feast 2019 Edition: 87 bottles at 49.8% abv
Winter Feast 2018 Edition: 82 bottles at 55.9% abv
Winter Feast 2017 Edition: 80 bottles at 47.1% abv
Winter Feast 2016 Edition: 30 bottles at 50.6% abv
Winter Feast 2015 Edition: 54 bottles at 48% abv
The MONA Blend 2014 Edition: 48 bottles at 45.6% abv
TWENTY FIFTH ANNIVERSARY 21-YEAR-OLD
Sullivans Cove Distillery Pty. Ltd. Year: 2019
770ml – 49.6% ALC/VOL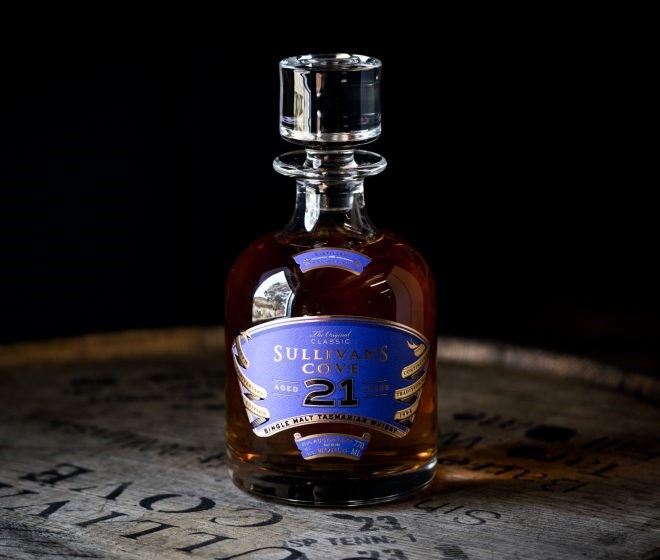 Sullivans Cove 25th Anniversary expression was aged for an incredible 21 years; the whisky was distilled in the very early days of Sullivans Cove (in the late 90's) under the founding owner (Hosken era) and is a marriage of four x 200L ex-bourbon casks. There were only 162 casks ever produced in that era, most of which were bottled and sold years ago. It's both the oldest Sullivans Cove whisky the distillery has ever released and, as far as we're aware, the oldest official distillery release of Australian single malt whisky in modern history. Considering the advanced age and resulting low volume of these casks, the small amount of remaining whisky in each was married together to create this special release, yielding a total of 502 bottles at 49.6% abv.
The expression came with a hand numbered certificate of authenticity signed by Production Manager, Heather Tillott and Head Distiller, Patrick Maguire. The label design pays tribute to the packaging of Sullivans Cove's first release of Tasmanian single malt from the late 1990s.
TODAY'S CORE RANGE TRIO
Both Tasmania Distillery era and Sullivans Cove Distillery Pty. Ltd.
2008 to 2016 – Ongoing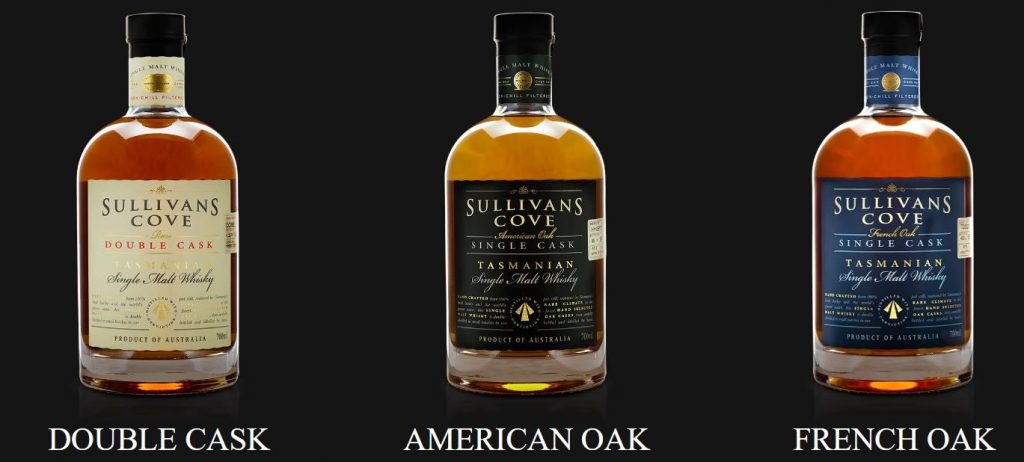 Sullivans Cove Core Range single malt Tasmanian whiskies are their flagship labels. They have produced these three expressions consistently for over 12 years and plan to continue releasing whiskies under these labels well into the future.
DOUBLE CASK
All Sullivans Cove Double Cask single malt whiskies are identified by the cream label on the bottle and a cream display box. They're aged in a combination of French and American oak casks, with the distillery commenting that "every tiny batch expresses the unique characteristics of both styles. With incredible complexity and length, Double Cask has a rich palate of sweet malt, dried apricots, honey and freshly baked bread". Double Cask is always non-chill filtered and additive free. Winner of Best Australian Single Malt at the World Whiskies Awards 2018
AMERICAN OAK
All Sullivans Cove American Oak single malt whiskies are identified by a black label on the bottle and a black display box. They are all ex-bourbon single casks and they're overall the most award-winning Australian whisky expression of all time. Aged in 200L casks previously used to mature bourbon in the USA, the distillery tells us that "this whisky represents the defining style of Sullivans Cove, with a strong malt backbone and flavours of vanilla, caramel, stone fruit, white flowers and powerful oak. As a single cask bottling, every release is different, expressing the unique characteristics of each barrel".
FRENCH OAK
Sullivans Cove French Oak single malt whisky is identified by the dark blue label on the bottle and a dark blue display box. The expression has become a legend in its own right, re-defining what an Australian whisky can be and thus, one of the most sought-after whiskies in the world. It's the bottle that put the Australian whisky industry on the map after winning World's Best Single Malt at the World Whiskies Awards in 2014.
Aged in 300L French oak casks previously used to mature Australian tawny port-style fortified wine, the distillery tells us "This whisky has rich flavours of Christmas spice, chocolate, dried fruit and complex oak". As a single cask bottling, each limited batch has a variety of small nuances, showcasing the unique attributes of each individual barrel.
TODAY'S LIMITED RELEASES
Sullivans Cove Distillery Pty. Ltd. – Ongoing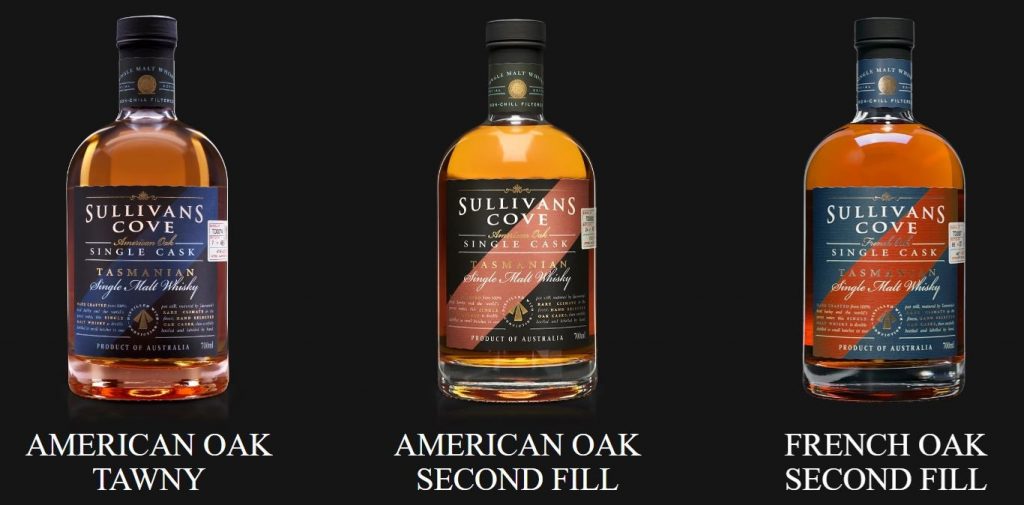 These limited release whiskies sit outside of the Sullivans Cove core range and are sporadically released as a result of their own popularity and scarcity. They may include the distillery's Special Cask label, an expression from their Cask Variations series (launched in 2018), their annual Winter Feast releases, special occasion whiskies and collaboration bottlings. These whiskies are generally identified by the sash like faux-ribbon that sits diagonally across the front label of the bottle and display box.
AMERICAN OAK TAWNY
With this bottling, the distillery puts a twist on their core range American Oak Single Cask which is aged in ex-bourbon barrels by maturing this single cask whisky in American oak casks previously used to mature Australian tawny port-style fortified wine. The distillery comments that; "The result is a flavour profile combining aspects of both our French and American oak styles, with the caramel, vanilla and bright woodiness of American oak combining with the rich dried fruit and molasses character of fortified wine".
AMERICAN OAK SECOND FILL
Unlike the distillery's core range American Oak single casks, which are aged in ex-Bourbon barrels, these single cask whiskies were laid to rest in casks previously used to age an older batch of Sullivans Cove single malt. Originally commissioned in the mid-1990s as virgin casks under the founding owners, they were first filled with Sullivans Cove single malt, then decanted, re-charred and refilled. Over a decade later, this whisky is the result, with the distillery commenting that it's the "unique flavour profile of soft oak that really allows Sullivans Cove's unique spirit character to shine through.
FRENCH OAK SECOND FILL
This limited release sees Sullivans Cove divert from their core range French Oak expression by ageing this whisky in French oak casks previously used to mature an earlier batch of Sullivans Cove French Oak whisky. The distillery comments that "Second Fill whiskies require a truly exceptional cask, showcasing the rich spice from the French oak timber" and this whisky is a personal favourite of ours at The Old Barrelhouse.
CURRENT 'SPECIAL CASK' LABEL
Sullivans Cove Distillery Pty. Ltd.
2017 – Ongoing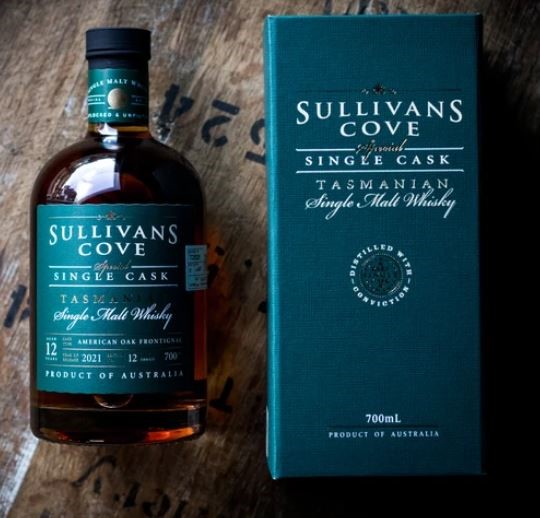 The Special Cask program was launched in 2017 using whisky distilled and barrelled in the 'Tasmanian Distillery', Patrick Maguire era with the release of a 9-year-old, 300L first fill French oak ex-chardonnay cask that was bottled at 47.5% abv yielding 449 bottles. Fast forward to present day and the distillery is now up to its 12th Special Cask release, with the first ever 12-year-old, Ex-Frontignac cask expression that saw Sullivans Cove move to a ballot system at 1 per person for a more even and fair distribution; such is the popularity of their whiskies!
Special Cask Edition #12, TD0325, aged for 12 years in a single 200-litre, American Oak ex Frontignac cask. This is the first time the distillery has matured their spirit in an American Oak cask previously used to age Frontignac, a highly aromatic style of fortified wine. TD0325 yielded only 447 bottles, at 47% abv.
The Special Cask label is identified by the green label on the bottle and a green display box. The label is reserved for the distillery's one-of-a-kind releases that don't fall into their usual French or American Oak styles. They represent the very best of Sullivans Cove whisky-making with only a few single barrel expressions released each year.
'OLD & RARE' LABELS
Sullivans Cove Distillery Pty. Ltd.
2018 – Ongoing
Sullivans Cove Old & Rare single cask bottlings are a new designation reserved for the very few casks that are allowed to age for at least sixteen years that show incredible length and breadth of palate. With the 10-to-12-year mark seemingly the distillery's sweet spot, on rare occasions, their skilled distillers identify a cask with specific characteristics that allow for extended maturation. The result is some of the oldest and rarest Australian whiskies ever released.
Each bottle is presented in a unique, hand-made, solid wood presentation box and includes a letter of authenticity hand signed by Head Distiller, Heather Tillott. These whiskies are a snapshot of the past and proof that the Sullivans Cove Distillery truly sits at the very top of our industry.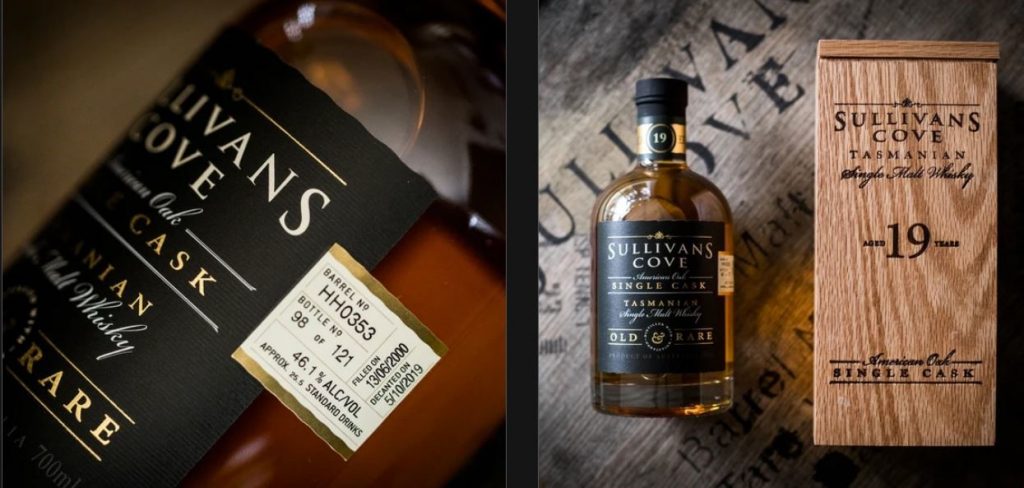 Old & Rare American Oak is matured for a minimum of sixteen years in American oak casks previously used to age bourbon. Winner of "World's Best Single Cask Single Malt" at the World Whiskies Awards in 2018.
This particular American Oak, ex-bourbon Single Cask HH0607 was filled on the 9th of May 2001 and decanted 19 years later on the 18th of November 2020. As one of the oldest Australian single malt whiskies ever released, Sullivans Cove only have a finite supply of the HH (Highland Holdings) designated casks left and when they're gone, they'll be gone for good!  The good news is distillery is expecting to see a few exceptional TD barrels start hitting their peak at 16+ in the near future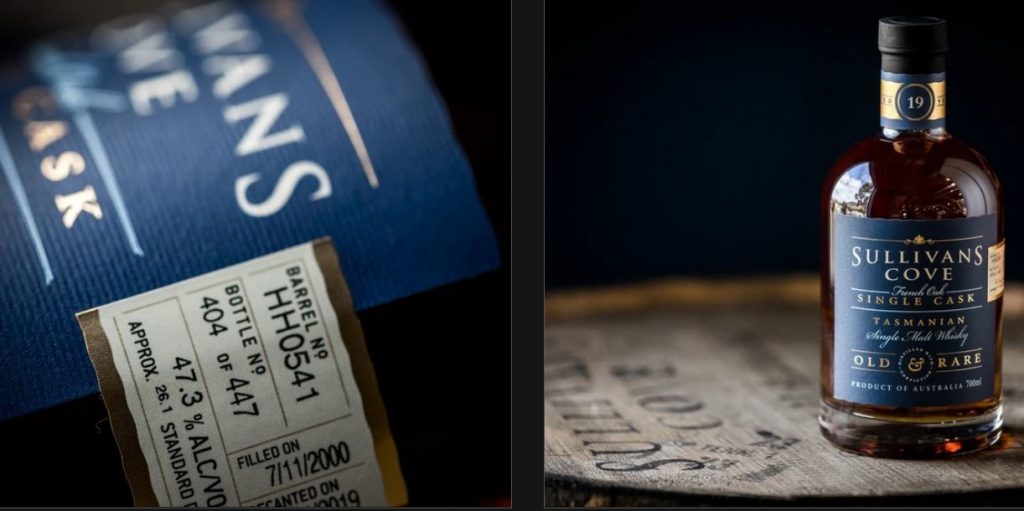 Old & Rare French Oak is also matured for a minimum of sixteen years, but this time in French oak casks previously used to age Australian tawny port-style fortified wine. The distillery tells us that; "this single cask whisky displays incredible complexity and length of palate; rich, oaky and hugely textural while still retaining the unmistakable brightness and character of Sullivans Cove's unique spirit".
PILOT CASK PROGRAM
Sullivans Cove Distillery Pty. Ltd.
2016 – Super rare and ongoing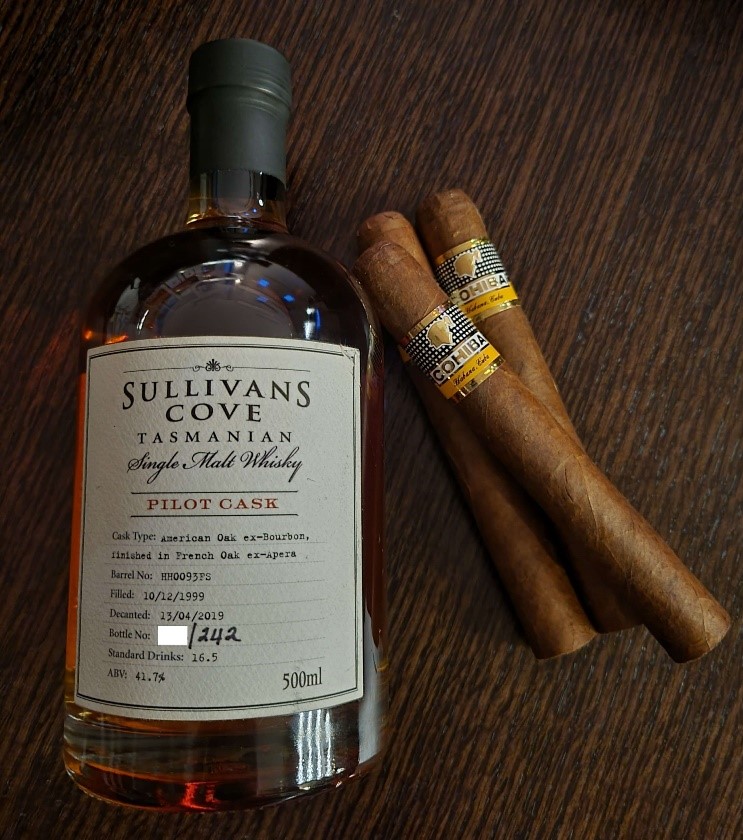 The Sullivans Cove Pilot Cask program started in 2016 and consists of 500ml bottlings that allows the distillery to experiment with different casks and finishes. The very first release, (HH-385) was distilled during the Highland Holdings era and was a French Oak ex-Tawny that had orange liqueur in the cask before-hand which earned rave reviews for its flavour profile.
As far as we're aware, only 12 editions have ever been released so far in the Pilot Cask Program with one of them (pictured above) being an 18-year-old that was matured in an American Oak ex-Bourbon cask and finished in a French Oak ex-Apera (sherry) cask. It was filled in 1999 and decanted in 2019 with a yield of 242 bottles. These highly sort after bottles are only ever available at Sullivans Cove cellar door when in stock and immediately sell out if you're lucky enough to visit when they're on offer.
From arduous beginnings, Sullivans Cove has grown to be one of the most influential and recognisable brands in Australian whisky. With names like Patrick Maguire and Bill Lark paving the way for modern day powerhouses such as Heather Tillott and her crew, there's simply no telling how many more frontiers the distillery will conquer and where their story may lead. The distillery will also be returning to its spiritual home on the Hobart waterfront with the construction of a new sustainable building for production that will also include the restoration of a 100-year-old Drill Hall that will serve as a museum and cellar door. The future is certainly bright.
On a personal note, not only is Sullivans Cove now pushing the boundaries of cask composition, the team is humble, accessible and passionate about their craft, often popping in to their cellar door to welcome guests and share their knowledge. So, if you find yourself in our great Southern land, head straight to the Sullivans Cove distillery and discover your own small piece of Tasmania, in a barrel of course!
– – – – – – – – – – – – – – – – – – – – – – – – – – – – – – – – – – – – – – – – – – – – – – – – – – – – – – – – – – – – – – – –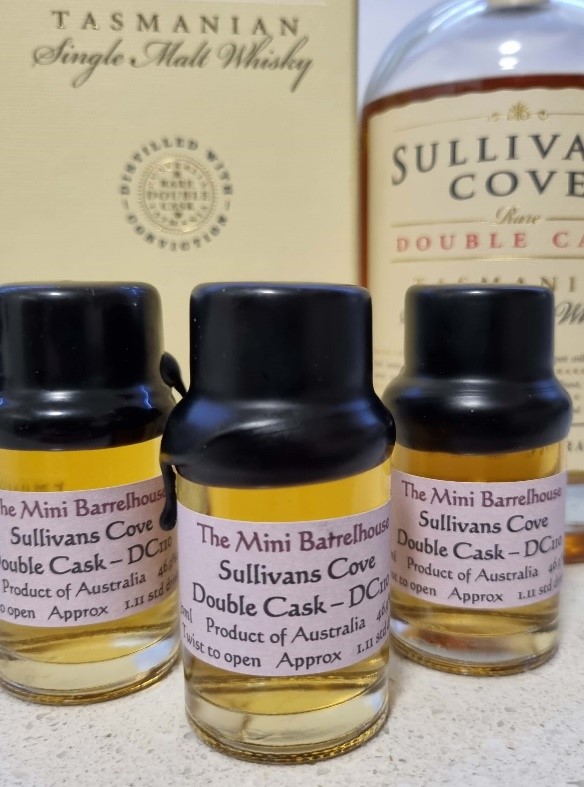 If you're still reading, you've now official joined our whisky geek family and this writer thanks you for going the distance.
We're actually that impressed you got to the end of this piece that the first 3 readers who shoot us an email have earned themselves a 30ml sample of Sullivans whisky.
WOW – THIS OFFER IS NOW CLOSED. That didn't last long. Congratulations to Lucas, Mark and Preet who were the first 3 to shoot us an email – Your samples are on their way.
Hit us up at: contact@theoldbarrelhouse.com.au
Open to Australian residents only. 18+ 
We will ask for age verification.
We practice and support the responsible sale and enjoyment of alcohol
NSW Liquor Licence number: LIQP770016813