We've restarted our weekly series of celebrating Australian whisky distilleries from our portfolio and we're now up to Chapter 21 – Kinglake Distillery; a place of infinite beauty, located in Victoria and hidden amongst the ruins of the first European settlers who arrived in 1835.
Kinglake Distillery is located at 410 O'Grady's Road, Kinglake in central Victoria close to the Yarra Valley and about 55km northeast of Melbourne City. The area is home to approx. 2000 residents and is as geographically diverse as the distillery's whisky making process, being part National Park, farmland and dense forest.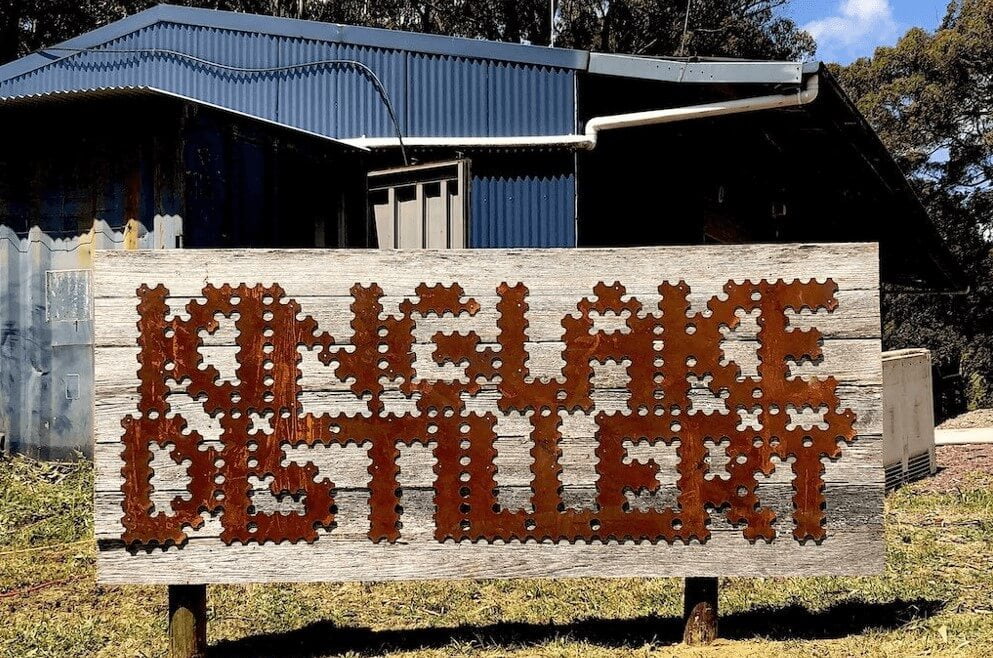 "Kinglake was always a strange and wild place. Steep muddy roads and dense, towering gum-trees made it all but impossible to reach"
Kinglake Distillery
The area is steeped in history, from the first European settlers in 1835 who could easily see Kinglake away to the north, but proved extremely difficult to reach with the bush proving virtually impenetrable. It would be 20 years before explorers ventured into the forest with gold prospectors living in shacks around the mountain creeks followed by the lumberjacks tearing into the forests in search of the giant Mountain Ashes. These days, the goldmines and diggings, sawmills and tramways have all been swallowed back up into the forest and only the old-timers remember where they're found.

"I'm a 3rd generation Kinglaker and I wanted to make a spirit that truly takes on the character of my home. Single malt is perfect for that

"
Chantal Daniels
Kinglake Distillery was established in 2018 by co-founders Chantal Daniels and Sam Lowe. Chantal is a third generation Kinglaker who grew up on the family's flower farm in Kinglake. Her grandfather laid early roots in the area, with her parents and extended family also living in Kinglake. After receiving a Master's in Applied Science, Chantal took off to see the world, working hospitality in various countries to pay for her travels.
Chantal met Sam, her eventual partner in life (and business) while working at a French ski resort. Sam owned an Apres Ski bar business that by virtue of its name catered for drinks, social activities and entertainment following a day's skiing. Kindred spirits in more ways than one eventually led to the sale of Sam's bar to provide the funding needed to set up their distillery.
"My great grandfather built a family business that lasted generations. I want to do the same and whisky is definitely about thinking long-term"
Sam Lowe

"Our off-grid whisky distillery was specially designed to take advantage of its rural location. Eucalypt-dominated vegetation disperses fine drops of volatile oil into the atmosphere. The oil drops increase the risk of fire, perfume the air and scatter the blue light rays of the spectrum"
The team quietly ply their trade on their 2500 litre copper pot-still that was handmade by Tasmania's premier still-maker Knapp Lewer. Their water source is from a mountain stream rising on the distillery property, it's natural, pure and totally unfiltered with 80% of their barley farmed and malted in New South Wales where each grower is known to them personally.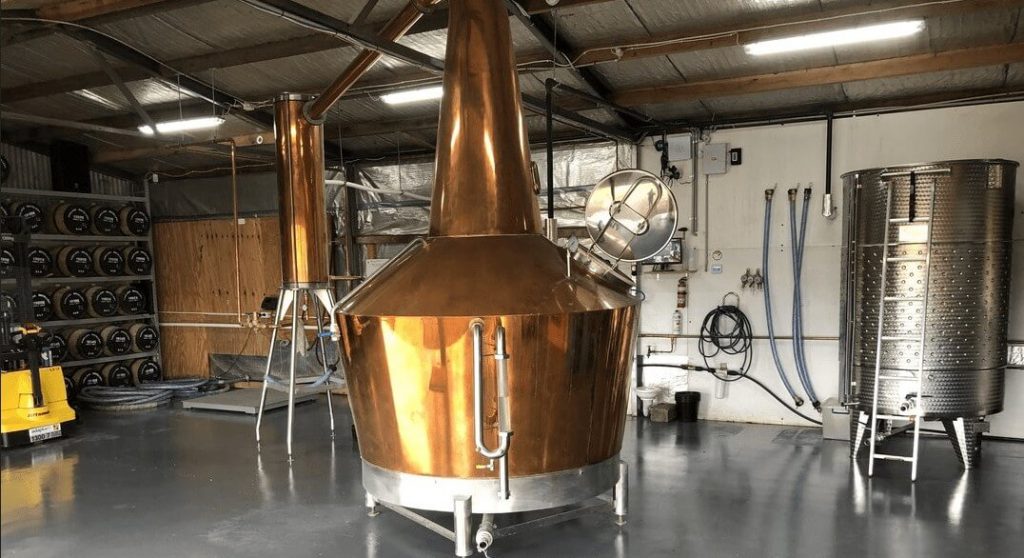 "

A

ll

our whisky is made in Kinglake, by us, from scratch. We're in close contact with the whisky from the moment we grind the malt until the new spirit finally fills the barrel"
Kinglake Distillery
Information for the Whisky Geek – (AKA, The Good Stuff!)
Kinglake's mash bill is a blend of four different malts that took them the better part of two years to nail down. It's a combination they will not waver from as they believe a whisky brand must start at taste with the hope that whisky enthusiasts would be able to pick out their whiskies in blind tastings.

"We loved the richness that comes from adding a small amount of chocolate malt and were blown away by how little needs to be added to come through strongly. Any more than about 4% was, we felt, too much. We also have a heritage barley malt in there as well as the Australian equivalent of a Maris Otter. These three come from Voyager Malts in Griffiths and we know exactly which farmer grew them, and when. The final element of the mash is a heavily peated malt that comes from the English/Scottish borders. We tried various local smoked malts but found that nothing gave us the level of peat we wanted in the background."
Kinglake fermentation times are also long and their washbacks are left open for the local pollens and yeasts to absorb the natural environment that surrounds them, very much like the great Lambic Ale brew houses of Belgium.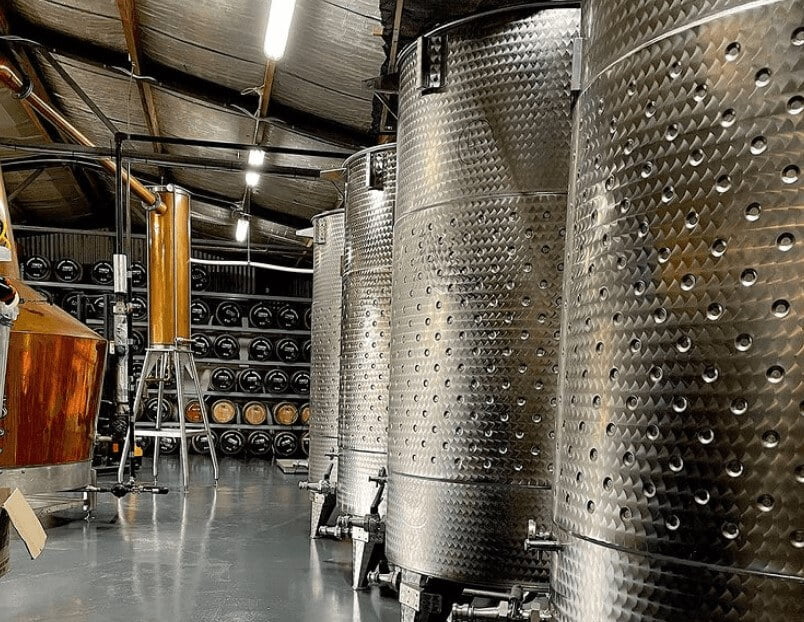 Each of Kinglake's six fermenters hold 1600L of wash with cooling jackets built in to maintain a constant temperature due to yeast creating heat while producing alcohol. The distillery also generates between 450 and 500 litres of new-make spirit a week with the ability to double that production if need be. They currently produce about 12,500 litres a year with the aim to increase this to 20,000 litres a year if demand requires it with the infrastructure already in place to produce a capacity of 50,000 litres a year.
The distillery started by filling a large number of 50 litre ex-bourbon barrels due to their love of ex-bourbon Scotch whisky as they were keen to use casks that were in easy supply. They also filled ex-fortified barrels, but at a lessor frequency as they didn't want to end up struggling to find these fortified casks or inferior quality barrels.
The team believes that 50L barrels provides better synergy of wood and spirit hence producing a delicious whisky to market in a shorter period of time commenting that; "some say using a small format barrel means the whisky is too tannic, too woody. This is sometimes the case using small French oak barrels, as French oak is naturally more tannic, but we don't find this problem using American [barrels] and we're extremely happy with our first whisky"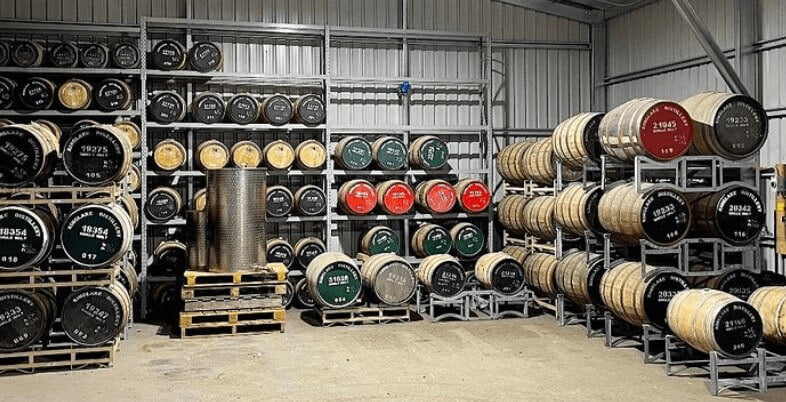 Although Chantal and Sam don't think age is the only factor in producing great whisky, they are maturing whisky in both ex-bourbon and fortified 100L barrels that should be ready in 2022 and 200L barrels that should be ready by 2026. They're also taking a different path to many other young Australian whisky distilleries by steering clear of numerous single cask releases as they believe this is often a strategy for what they call "engineered scarcity." Instead, they're looking in to vatting various barrels to deliver some consistency of taste and hopefully a great level of supply without running out of stock.
The First Batch of Whisky

"The OG2 has some of the heavy, oiliness and slight peatiness of my favourite scotch – Springbank – but with some of the sweetness and more pronounced bourbon characteristics of a Highland whisky"
Kinglake Distillery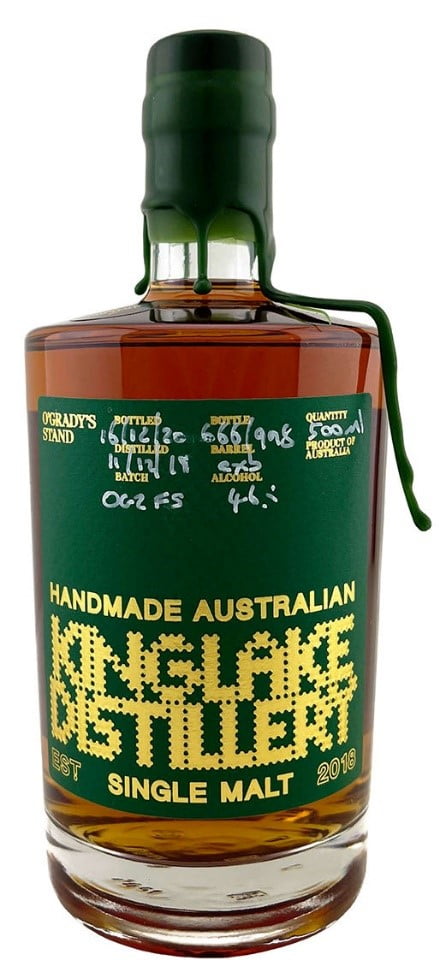 Kinglake O'Grady's Stand Batch OG2/FS Single Malt Whisky 500ml 46%
700ml: 46%alc – Cask type: bourbon
Distilled: 11th of December 2018 – Bottled: 16th of December 2020
Authenticated by the Distiller: 13.02.2021
This Kinglake single malt whisky is named 'O'Grady's Stand' in honour of Ellen O'Grady, the owner of the land in 1906 where the distillery sits today. She was dragged kicking and screaming by parliament protesting that Kinglake should grow agricultural and other natural products, not be hollowed out in the quest for Gold.
This whisky has a mash-bill of four different malts, three from Griffiths NSW, one of which is roasted to chocolate, together with a heavily peated malt from the Scottish borders in the UK. The cuts are deep to create the heavy, oily spirit the distillery desires, before the spirit is laid to rest in a number of ex-bourbon barrels from Kentucky, re-coopered here in Australia.
With O'Grady's Stand single malt, the distillery aims to maintain a continuous stock of this expression as it represents what they love best about the consistent flavour profile of their whisky.
Think Jersey caramels, butter menthols, white honey and wet florist floor on the nose followed by a spiritus palate with nice viscosity offering some raw, youthful heat, buttered scones, hot cigar leaf and charred oak. The finish dials up the complexity somewhat with notes of soft BBQ smoke and spotty salt.
The distillery has a keen eye on sustainability and believe the biggest challenge facing their future is reducing their carbon footprint. The aim is to have their distillery eventually certified as 'Carbon Neutral' meaning that creating and drinking the whisky has a zero negative effect on the natural environment
Chantal and Sam comment; "We will be working through all our processes to make them more sustainable where we can and using a reputable Australian offsetting company to cover the areas that will take longer to improve"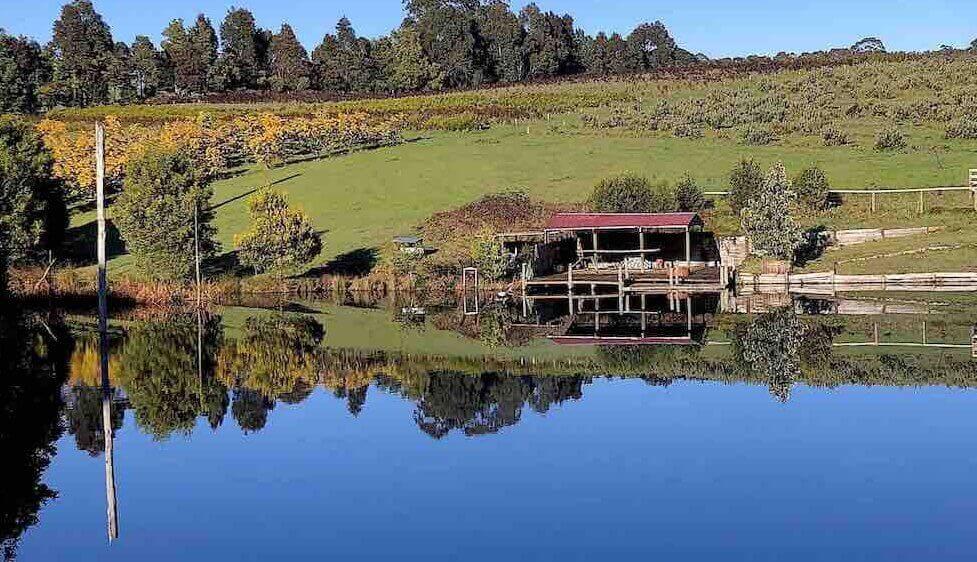 SUPPORT AUSTRALIA – BUY LOCAL
Now that lockdowns are hopefully a thing of the past, craft distilleries still need all the support they can get, now more than ever. There may not be a fancy restaurant or museum at Kinglake distillery yet, however they do have a cellar door that offers tastings and bottle sales, so pop in and try their whisky and be swept away in the history of the place and the beauty of Kinglake in all its glory. They're not open every day as Sam and Chantal do all the brewing, distilling, bottling and everything in between on their own. So, subscribe to their website HERE Kinglake Distillery – handmade single malt whisky for notifications of future dates to visit.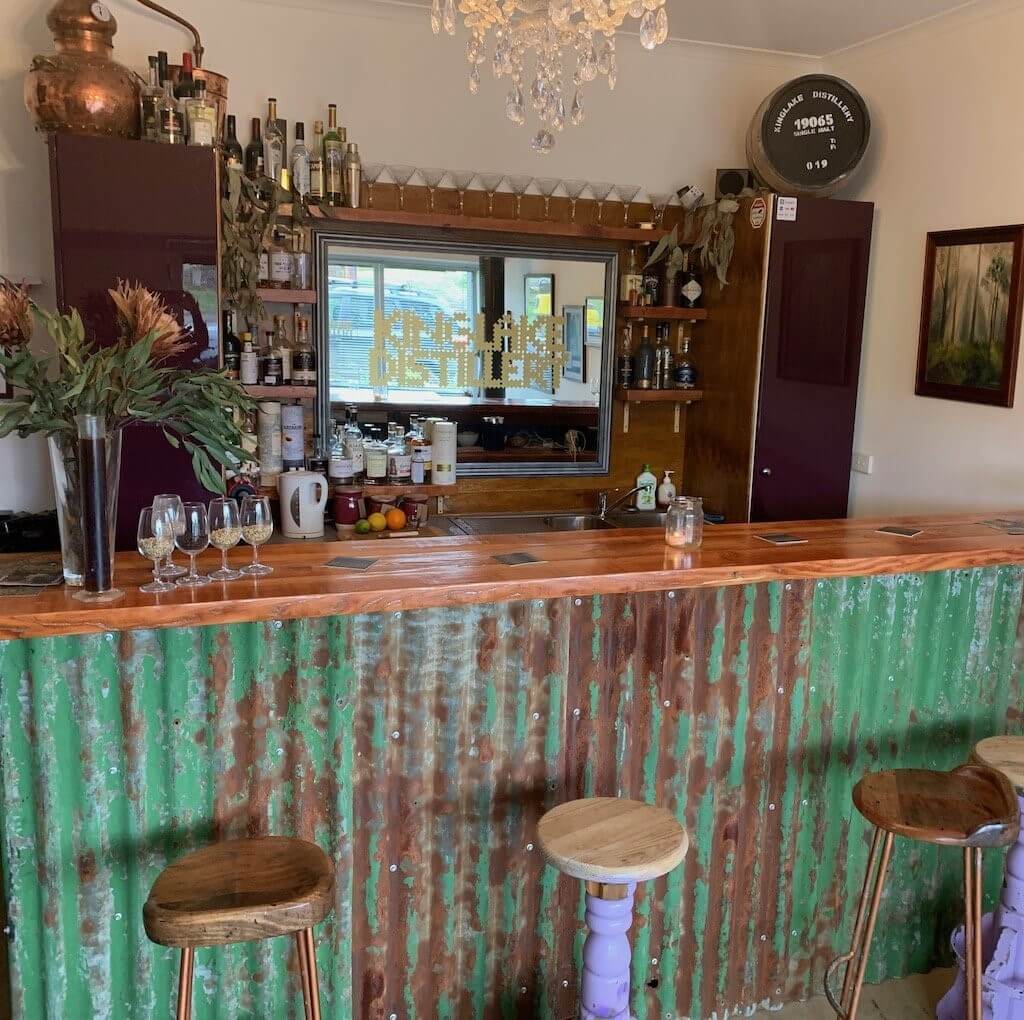 Chantal and Sam also comment; "If you're desperate to come try our whisky and can't make these dates, we'll just have to make a special exception! So please give us a call or email"
Address 410 O'Grady's Road, Kinglake Central 3757
Phone: +61 413 188 248
Email: info@kinglakedistillery.com.au
The team at Kinglake are true pioneers, who threw caution to the wind to follow a dream, just two people, with courage worthy of Kinglake's ancestors, to settle, build and prosper in an industry that is often shackled by red tape and cloying taxes. Judging from their first whisky release, the future is wonderfully bright and their journey will make for a most worthy destination.
Congratulation on your distillery and first release guys, Ross and I are looking forward to watching you grow and will most certainly play our part in getting your whiskies on lips all around our fine nation. We can't wait to visit and share a country dram and maybe, just maybe, stumble upon our own pieces of gold along the way, very much like your forebearers did, Kinglake style! 😉