Chapter 14 in our weekly series of celebrating Australian whisky takes us to a 1920's Flour Mill near the banks of the Murray River on the NSW border, where Corowa Distilling Co was founded on a One Dollar cheque and a whole lot of whisky faith!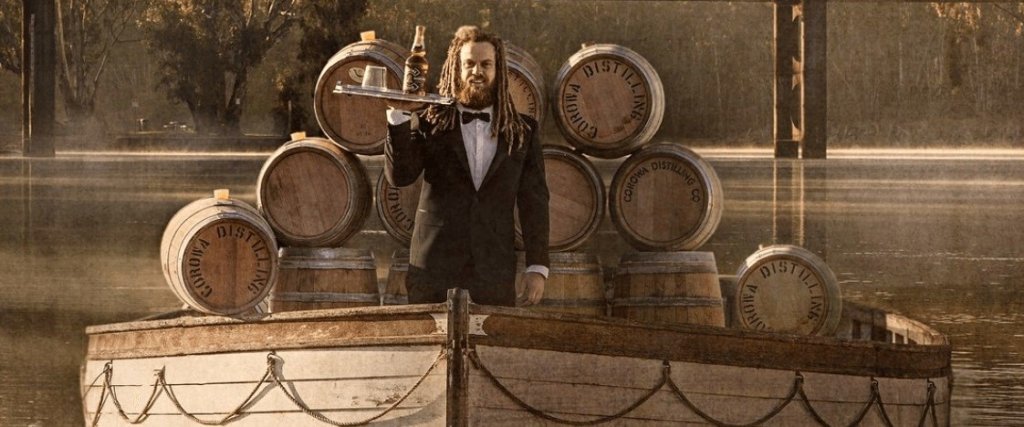 Corowa Distilling Co. was established in 2009 and is located at 20-24 Steel St, Corowa NSW. Its founder, Dean Druce was brought up learning the family business of chocolate, wheat and liquorice in the small town of Junee, NSW. Dean and his father Neil have long shared an appreciation for quality whisky and learnt their craft from the well-known master distillers of Tasmania and Scotland.
 The distillery is situated inside an abandoned flour mill that is also the home of 'Corowa Chocolate' having relocated the family chocolate factory from Wagga Wagga to be part of the new distillery. They make organic Belgian style chocolates and gigantic old school freckles that have to be seen to be believed.
In 2016, over 100 casks were laid to rest in their bond store with releases starting in 2018. As of today, the distillery already has over half a dozen whisky releases available, some sold out, with many more casks resting for future releases.
The head distiller, Beau Achlig (affectionately known as the 'Dreaded Distiller') for his iconic hair is a bona fide local having been born and bred in the region, giving Corowa Distilling Co. a real connection with their local community.
The History – The Flour Mill
In 2009, the Druce family made a life changing decision and purchased a derelict 1920's flour mill in Corowa that was heritage listed from the local council, for the grand ol' total of $1.00….. No, I'm not embellishing at all, it's the truth – the whole truth. The deal included a promise, that the Druce's would restore the old, derelict flour mill to its former (almost 100-year-old) glory. The mill had sat there vacant for far too long and the fact that it was heritage listed meant that 'red tape' kept suitors well away.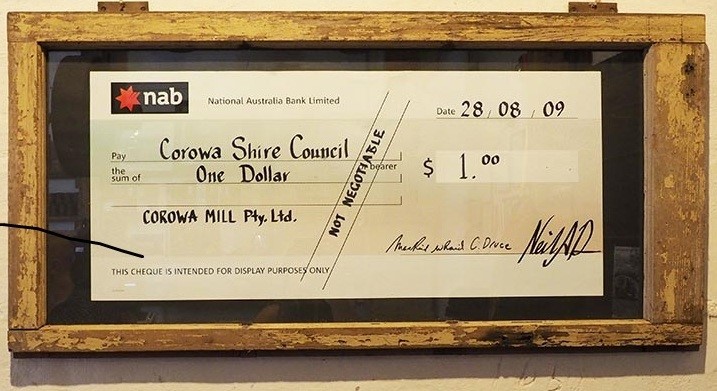 When the Druce family came along, they saw 2 things; 'potential', and 'jobs' for the local community – the rest is history really! Since 2009, the mill has been fully restored to its former glory and now houses Corowa's very first whisky distillery, with over 25 new jobs created to install all the equipment necessary. The structure is steeped in history too. First opened in the 1920's, the mill exported flour to all for corners of the globe, but once the Murray river gave way, production came to a grinding halt and the property was vacated and changed many suitors in the preceding decades.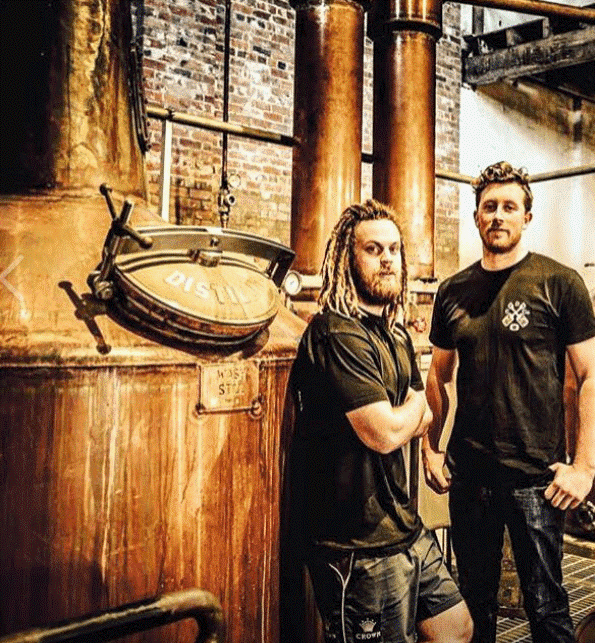 Since releasing their inaugural 'First Drop' single malt whisky in 2018, Corowa have released 6 more expressions to date ranging from Muscat casks (Mad Dog Morgan) to Bourbon/PX Sherry (Quick's courage) and wine casks (The Characters), just to name a few. Most of the bottles are named in honour of people from Corowa's colourful past. For more information on all their bottlings, jump on to the Corowa Distilling Co website HERE, or stay on our website and have a look around.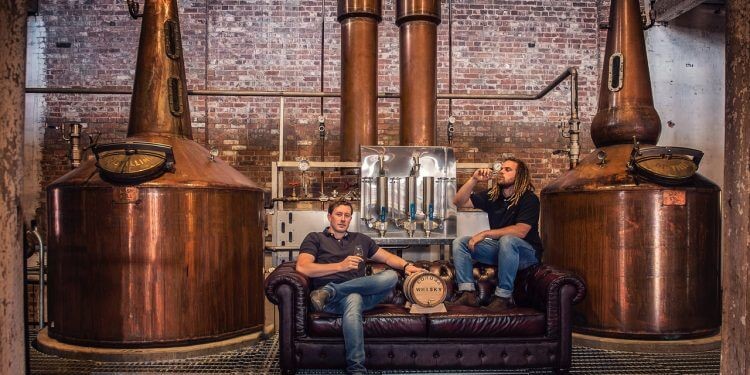 Keeping it all Australian, Dean Druce wanted his twin copper pot stills made in Australia as well, and after a little searching, settled on a craftsman from Griffith NSW (about 180km North of Corowa). Not only did he deliver on the two stills, the Distillery placed them in front of the original 1920's 18-metre-tall brick wall that had survived the test of time. (see
A closer look at one of our favourite Corowa whisky expressions.
Corowa Distilling Co. 'First Drop' Single Malt Whisky 500ml 63.1%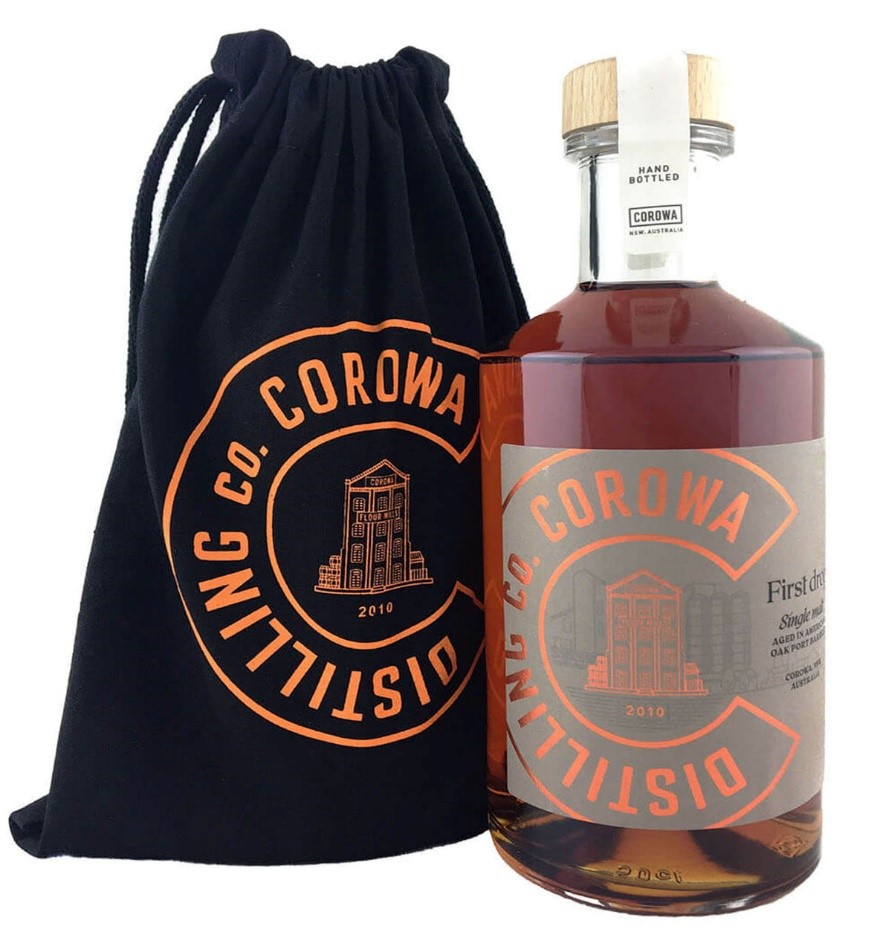 The inaugural (first) release that yielded 320 bottles
-Cask: American/Port barrels
-Bottler: Corowa Distilling Co.
-Released: 31st August 2018
-Individually Numbered
After much anticipation, Corowa Distilling Co. have official released their inaugural, hand-bottled, single malt whisky fittingly named 'First Drop'. Made by supporting local farms for their barley, and malted in a nearby malting factory, Corowa Distilling Co. believe in their sense or terroir and community by producing a whisky that is truly local.
This whisky was aged in 100L American oak port barrels from the Barossa Valley for no less than two years and upon release, virtually sold out overnight. Displayed in a beautiful pouch with a very contemporary bottle design, grab yourself a piece of pure Australiana today as this inaugural expression will not last long.
Our tasting thoughts.
Nose: Burnt caramel, orange zest, apricot juice and sultana cake. Cinnamon sugar with lots of port gusto.
Palate: Sticky and sweet with ripe orange flesh, dark chocolate, brown sugar, vanilla essence and mature roses.
Finish: Spirit-forward, medium to long, drying, with lingering spice.
Latest Corowa Whisky Release (Bottled 17th of February 2020)
Corowa Distilling Co. Peated Port Cask – Single Barrel Whisky 500ml 61%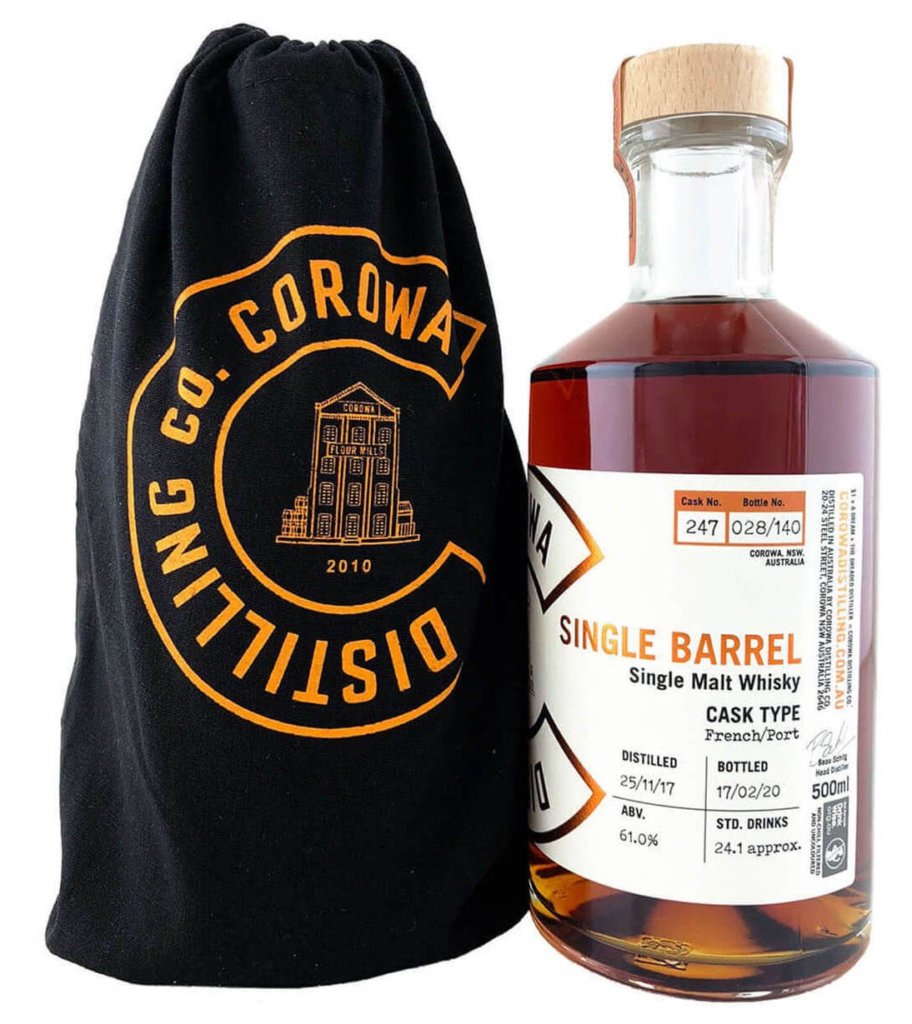 The very first peated single malt release from Corowa that yielded 140 bottles.
Cask: French Oak Port barrels
Cask No: 247
Distilled: 25th of November 2017
Individually Numbered
Introducing Corowa Distilling Co's very first peated single malt whisky. A limited-edition cask strength release using (Scottish-sourced) peated barley that was laid to rest for over 2 years in a French oak port cask, that produced 140 bottles.
Already sold out at the distillery and at most outlets, we have some of the only remaining stock available for retail – Strictly one per person.
Our tasting thoughts.
Coming soon, only just made available on our virtual shelves.
Cellar Door, Tastings and Tours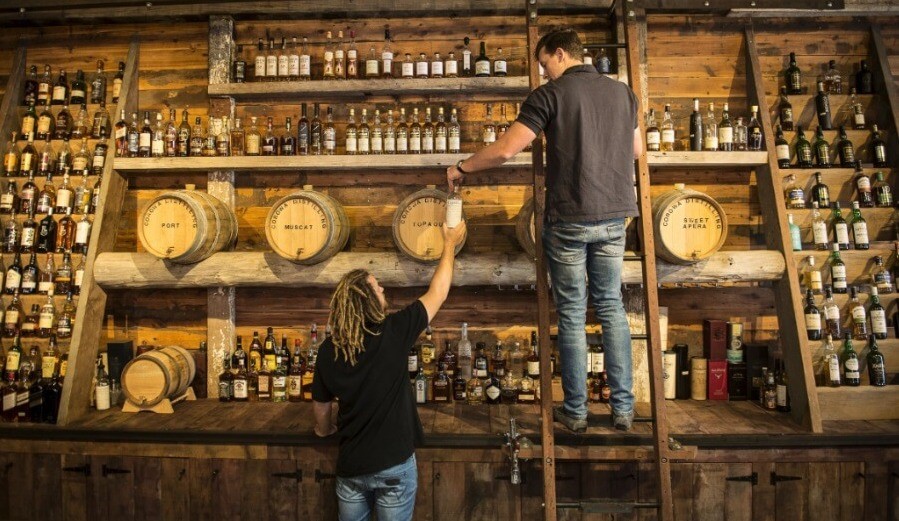 Visiting Corowa distillery is more of a smorgasbords of artisan delights than just a whisky distillery as they have an array of delectable choices to eat and drink. The café menu offers delicious breakfast and lunch options, including a selection of fresh cakes and coffee, then there's the never-ending supply of organic Belgian treats and glorious flights of whisky.
Before Covid-19, their opening hours were as follows:
WHISKY TOURS – RUN TWICE DAILY:
11.30 AM and 2.30 PM
$5 PER HEAD – Includes history, chocolate information and whisky process
$25 PER HEAD – Includes above + tastings.
To book tour, please call (02) 6033 1311
And although things are slowly getting back to normal, the last 3 months of lockdown has kept tourists and whisky/chocolate enthusiasts away from the iconic property – The good news is most their whiskies (that haven't sold out) and apparel are available only a click away on the website, so show some support to our local whisky industry and have a look around when you can. 😉