"I am an interpreter

of whisky. Every year

I check my casks and decide

if they are ready or not. With age, whisky gains in delicacy and fine aromas but will lose the body. I select the perfect balance between the aromas and the body"
The late Silvano Samaroli
An extract from an interview with Emmanuel Dron in Collecting Scotch Whisky
We're delighted to announce that The Old Barrelhouse is now the exclusive importer and distributor of the iconic Samaroli Independent bottling brand in Australia. Samaroli was established in Italy in 1968 by Silvano Samaroli and was the first non-UK brand to select and bottle whisky in the world, breaking 200 years of British tradition.
The Samaroli name is synonymous with some of the most revered and sort after whisky and rum bottlings on the planet. So, keep a look out for it at select independent retailers and whisky bars around Australia.
Single malt scotch whisky is something which has historically maintained a degree of exclusivity, a treasure reserved for the few lucky enough to be let in on the single-malt secret. Historically speaking, this is what makes Italian independent bottling a compelling category in and of itself. It's also what makes Silvano Samaroli, a pioneer within Italy, a figure that is essential to understanding independent bottling today.
After World War II in 1950, Italy began to take shape as a global industrial power, bringing economic and social growth, leading to the emergence of a true middle class with whisky becoming an emblem of their new-found status. To consume whisky was a symbolic statement for Italians to effectively tell the world "We have arrived".
Enter Silvano Samaroli, a businessman, connoisseur and wine and liquor merchant who began importing Scottish whisky, as well as distributing and selling his selections. Throughout the late 50s, the 60s, and early 70s, Silvano purchased and sold whisky, initially under his importing label, then later under his own recognised company "Samaroli."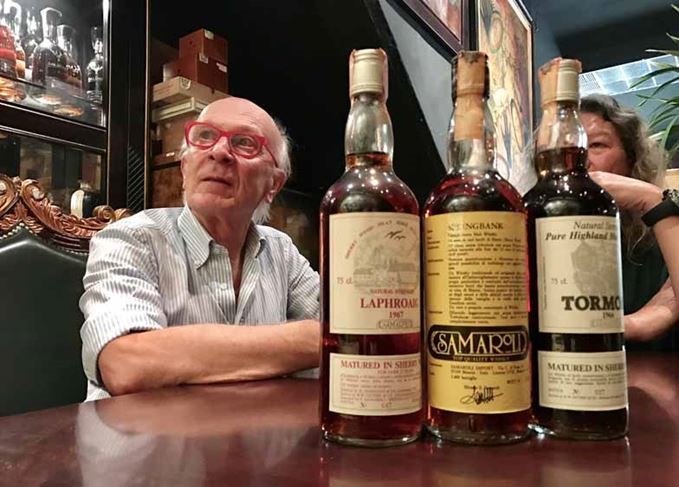 By the late 1970s, Silvano was traveling frequently between the UK and Italy for the purposes of his whisky purchasing. By this point, he'd even acquired his own warehouse space in Scotland where he would keep his stock before bottling. It wasn't until 1979 that Samaroli released its first whisky series – a collection of Wm. Cadenhead's dumpy bottlings, followed by the 'Flowers' series in 1981 whose bottlings adorned hand-drawn labels by Samaroli himself and are now among the most highly contested bottles of whisky at auction houses around the world.
As all businesses naturally rely on the relationships they build with their clients, Silvano's relationship to Anacleto Bleve, another important entrepreneur in his own right, is essential to the history of Samaroli. Anacleto's shop was the first in Rome to actually serve wine on premise. He curated his wine offerings meticulously, and as he pushed the boundaries of tradition and common practice, Anacleto began serving specific pairings of food and wine, becoming a pioneer of modern Roman gastronomy.
As a patron of Anacleto's shop, Silvano and Anacleto Bleve bonded and became close friends, bound by common interest and similar passions. Their friendship saw them become mutually beneficial business partners and Silvano often followed Anacleto's advice (and palate) regarding many of his early bottlings. Anacleto was importantly the first person to get an exclusive bottling from Silvano, which was instrumental in allowing Silvano to grow his business. Moreover, Silvano had an important outpost in Rome, Casa Bleve, an establishment where his product was sold not because it was a household name, but because the ones selling his product were trusted and effectively family.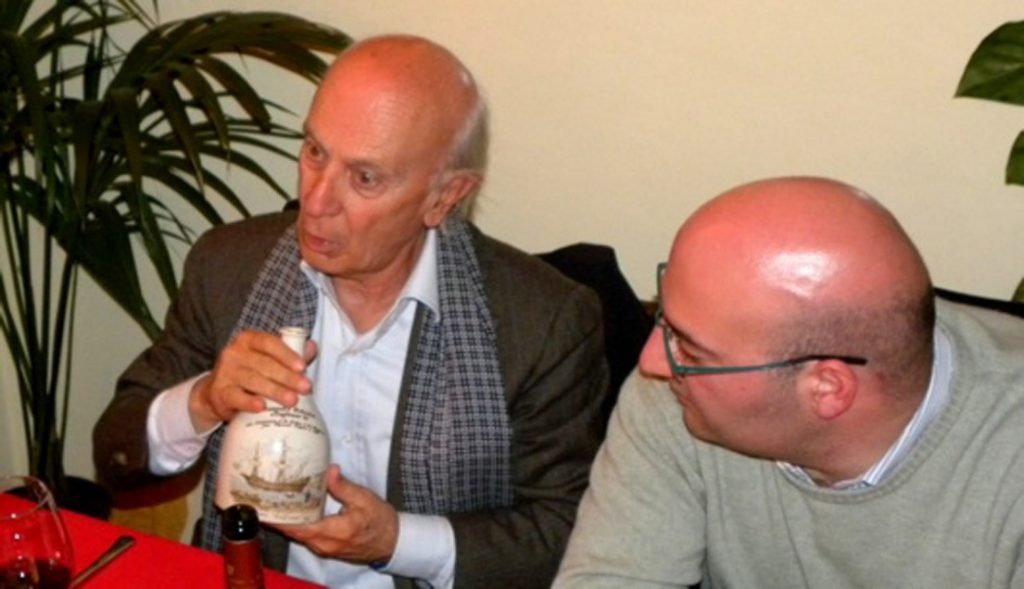 In the early 2000s, Silvano realized he had no heir-apparent and was faced with the choice of either letting his company fade away, or finding someone who would maintain his legacy and philosophy. The Bleve family was his natural conclusion. Antonio Bleve, Anacleto's son, was to undergo an apprenticeship with Silvano, and he would remain involved with the company until Silvano's final days. After working intimately with Silvano for a decade, and growing up the beneficiary of Anacleto's approach to food, wine, and spirits, Antonio maintains his own unique approach, one that is nevertheless influenced heavily by both his father and Silvano.
"The world has changed considerably since 1968, and we are fortunate to have propelled beyond the humble beginnings of being on the shelves in Rome. But, what Anacleto was to Silvano, you are to us. A passionate supporter and a partner. It is our hope that together, with you, we will continue to build Samaroli, creating our very own eternal city. Forza Roma. Forza Samaroli"
The Samaroli Whisky Brand (in a nutshell)
Samaroli Whisky is made from single malts and vatted, blended malts using multiple casks from various vintages combined and aged together to create magical whisky. The elegance, balance, complexity, finesse and depth of flavour of Samaroli whiskies are without rival as meticulous, almost maniacal attention goes in to cask and liquid selections before allowing the spirit "time to create its own way".
Sadly, Silvano Samaroli passed away in 2017 at the age of 77, however, with Antonio. W. Bleve at the helm of the company, Samaroli is continuing the legacy of been recognised as brand of great and premium spirits, by respecting the values and ideals of the past.
"W

e must take the lessons of our legacy, and use this knowledge to further our future. While the world has changed and expanded, so too must we at Samaroli continue to change with the world, but also change the world itself"
The Samaroli brand is continuing Silvano's legacy of been recognised as a brand of great and premium spirits, synonymous of elegance and flair, a brand that evokes a unique lifestyle experience created appositely for their loyal enthusiasts. The team at Samaroli is constantly working on new and stimulating projects, where passion and determination will lead to the result of unique expressions and discoveries, maintaining what their Mission Statement has always been….  "Excellence and Uniqueness"!
Reading the Samaroli Whisky Tasting Wheel
Samaroli have developed a very useful tool to help identify the primary and secondary aromas that can typically be found in their whiskies which we have broken down below.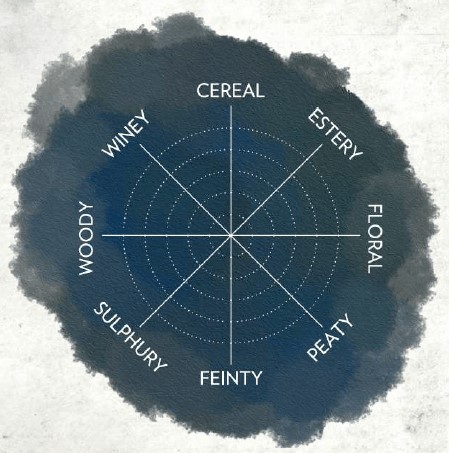 Cereal:
All malt whiskies have a cereal characteristic such as malty or husky….
Hay, Bran, Hops, Corn, Wheat, Malted Milk
Estery:
Fruity characteristics are produced by esters, which develop during the fermentation process…
Citric, Honey, Fruits (fresh, cooked, dried), Solvents, Bubble Gum.
Floral:
Floral characteristics such as fragrant, perfumed or grassy notes arise from the fermentation process…
Herbacious, Floral, Salty, Fragrant and Menthol notes.
Peaty:
Defined by smokey or medicinal characteristics derived from phenols andrelated compounds which are produced from burning peat during the malting process…
Medicinal,Mossy, Smokey, Incense, Sea-weed and Iodine.
Feinty:
Feinty characteristics are produced during the distillation process. The 'Feints' or last section of spirit which condenses from the still is full of heavier compounds…..
Sulphury:
These characteristics which are often described as rubbery or meaty are largely formed during the fermentation process….
Meat, Rubber, Vegetive, Coal and Gas etc.
Woody/Winey
There are different types of wood influences in whisky depending on the type of casks chosen and of course the length of maturation…..
Vanilla, Meringue, Spices, Coconut, Sherry, Resin and Licorice not forgetting the vinous features of Chardonnay, Port, Sauternes, Almond Oil, Bitter Chocolate and Cream.
One of our favourite Modern-Day Samaroli's
Samaroli 2021 'Caol Ila' 2008 Vintage – Cask 301633, 13-Year-Old 70cl 45%
With only 190 bottles released world-wide from a single cask (#301633), this Islay single malt expression from Caol Ila pays tribute to the arts reflected though Samaroli's meticulous ageing techniques, following though to their indicative labelling. The whisky was aged in a first-fill, 120 litre ex-bourbon cask with the end result being nothing short of spectacular. Two casks were bottled at the same time due to the popularity of this whisky, and both are sold out on our virtual shelves. However, keep an eye open for select independent retailers who will be listed them in the coming days and weeks.
Our Tasting notes.
The whisky starts sweeter than your typical Caol Ila, but in time, Samaroli captures the true essence of Caol Ila in this bottling to produce a remarkable example of how elegant peat, medicinal notes and iodine can mingle in unison with the aromatic flavours of soft liquorice, spiced vanilla yoghurt, maple blossoms and old leather to deliver a whisky rich in spirit and toasted oak.
Final Thoughts
A no-brainer for any discerning Caol Ila fan – A 13-year-old with great bones and enough bite to satisfy even the staunchest of Islay enthusiasts and with only 190 bottles released world-wide, we'll be savouring this bottle till the very end.
Samaroli whisky in our opinion sits at the summit of the IB mountain with a few other indies. Silvano Samaroli created a spirits odyssey, which is now living on, under the watchful eye of his protégé, Antonio Bleve – The information we unearthed on Silvano Samaroli's early days is only a snapshot of his accomplishments and rich history, he was a visionary with many of his bottlings now occupying deserved spots on the pantheon with whisky greats, who paved the way for many independent bottlers around the world. While the sad news of his passing still reverberates across the whisky landscape, he left humility, and an extraordinary legacy preserved within the liquid of his cherished bottles. Vale Mr Samaroli!