SOLD! By The Old Barrelhouse
Designed by Sir David Adjaye Obe – Revealed for the World's Oldest Single Malt Scotch Whisky & the most expensive independently bottled single malt scotch to ever be sold at auction.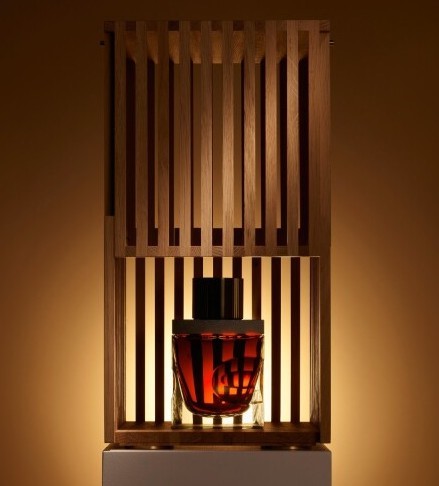 On 3rd February 1940 in a quiet corner in the north of Scotland, George Urquhart and his father, John, had the extraordinary foresight and vision to lay down spirit from Glenlivet Distillery in a bespoke Gordon & MacPhail cask to be enjoyed by future generations.
On 5th February 2020, leaning on the unique skill and experience acquired by over more than 125 years, the decision was taken to finally bottle the First fill Sherry butt's precious out-turn of 250 decanters at 44.9% ABV
This is the 5th release in the Generations series that was first launched in 2010 following on from two Glenlivet 70-year-olds in 2010 and 2011, another 70-year-old Glenlivet in 2012, and a Mortlach 75-year-old in 2015 with this 80-year-old Glenlivet the oldest so far. Ewen Macintosh, Managing Director of Gordon & MacPhail comments: "Maturing a single malt Scotch over eight decades is an art, similar in many ways to architecture where you are creating something that needs to stand the test of time. Both Sir David and Gordon & MacPhail share a commitment to invest in the future. We both see the significance of creating something exceptional; leaving a legacy for future generations."
With only two bottles allocated to the Australian Market, The Old Barrelhouse is proud to announce the sale of this once in a life time expression for an undisclosed sum to a private client in Melbourne.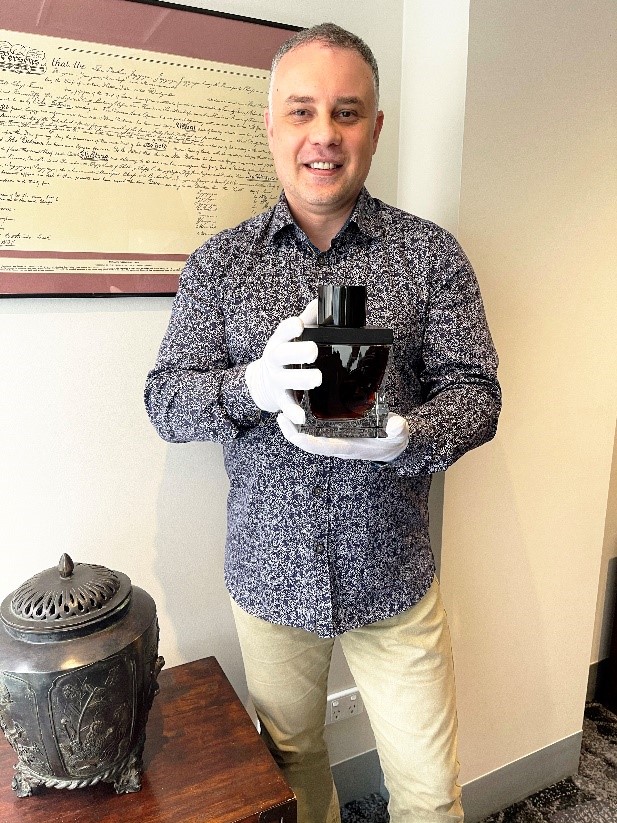 Co-founder of The Old Barrelhouse; Ross (pictured) travelled to Melbourne to deliver the precious cargo directly to our client. The trip was quite the logistical achievement with the bottle finally exchanging hands just in time for Ross to relax his nerves and enjoy many of the majestic whisky venues Melbourne has to offer. 😉
The overall weight of the expression is a mighty 24 kilos and includes two bespoke Sir David Adjaye 'Artistry in Oak' tumblers with Bottle Number 1 of the 250 bottles released selling at Sotheby's Hong Kong in October 2021 for 1,500,000 HKD (approx. $262,000 AU) that included a Unique & Rare Whisky Tasting Experience for Four in London. This makes it the largest sum ever paid for an independently bottled single malt Scotch whisky in history.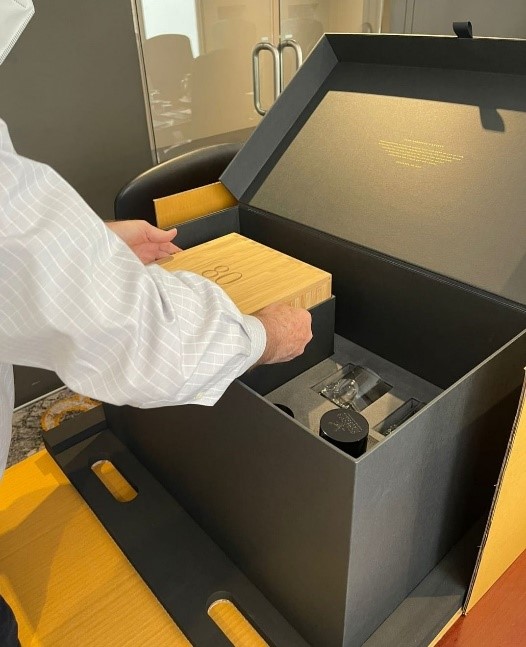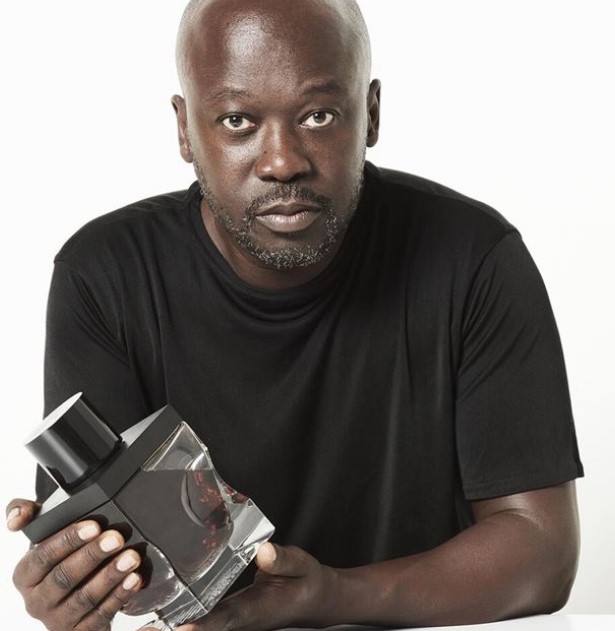 The stunning concept and presentation of the Generations 80YO was created by award winning Ghanian-British internationally acclaimed architect and designer, Sir David Adjaye OBE, who is known to infuse his artistic sensibilities and ethos for community driven projects. His ingenious use of materials, bespoke designs and vision have set him apart as one of the leading architects of his generation.
The decanter and glassware have been produced by Glencairn Crystal Studio experts in ultra-premium decanters, another family business based in Scotland. The pavilion oak case was made from fully sustainable materials by the craftspeople at Wardour Workshops another family firm based in Dorset, South West England.
View the story of how the 'Artistry in Oak' theme was taken from drawing board to reality.
(Viewing time 2min 26sec)

Cradled in oak for 80 glorious years – it's a masterpiece of Provenance, Endurance and Legacy!
From whisky writer, Charlie MacLean MBE: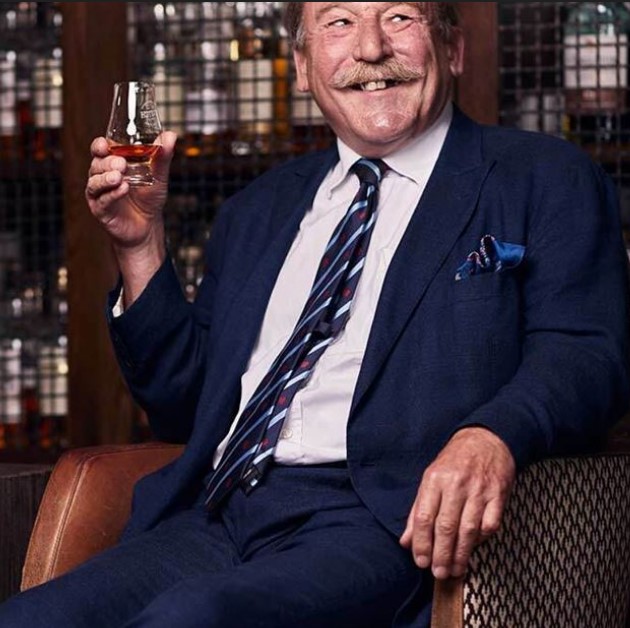 Appearance: Deep umber with magenta lights; old polished rosewood.
Nose: A complex, mellow nose-feel, still vivacious after all these years. Top notes of almond oil, scented hand-soap, backed by sandalwood and gorse flowers on a warm day. A whiff of peat-smoke in the empty glass.
Palate: An oily texture, and lightly sweet to start (dates, salted plums, figs), drying elegantly (traces of dry Oloroso Sherry), towards a lengthy menthol finish. Drop of water increases spiciness.
Summary: "Vibrant and wholly satisfying. One of the finest malts I have ever encountered".
View Generations 80: Liquid History
(Viewing time 2min 26sec) By Stephen Rankin – Director of Prestige: Gordon & MacPhail Whisky
View Generations Glenlivet 80 Unboxing
(Viewing time 4min 30sec) By Stephen Rankin – Director of Prestige: Gordon & MacPhail Whisky
It's been a real pleasure working with the Gordon & MacPhail team in Australia and the UK to get this beautiful piece of Scotch Whisky history to our shores.
With only 250 decanters available world-wide, Australia's allocation of only two official bottles may seem miniscule, but in the grand scheme of all things considered (which is a topic worthy of discussion for another day), the fact that even a few bottles are gracing our sunburnt shores is quite the revelation.