Another year and another World Whisky awards ceremony is completed folks where Japanese Whisky is once again the toast of the town with the Nikka Taketsuru 17-year-old winning top honours. It's a stunning whisky that owes everything to its namesake – Masataka Taketsuru because without him there would possibly be no Japanese whisky, and without Japanese whisky, the world would have been just a little bit sadder, and with a sadder world, Agh….you get what I'm trying to say! 😉
So, who was Masataka Taketsuru?
He's known as the Father of the Japanese Whisky Industry and founder of Nikka so it's only fitting that this multi-award-winning 17-year- old is dedicated and named after him.
Taketsuru's fascination with scotch whisky started as a young man working at his family owned sake brewery. It was there where he learned the arduously fine-art of sake production, training as a chemist, but it wasn't long until scotch-whisky captured his imagination. So, in 1918 he travelled to Scotland to learn the art of distilling scotch-whisky educating himself at the Hazelburn distillery where he met his wife Rita who would be the source of his inspiration when creating whisky in Japan.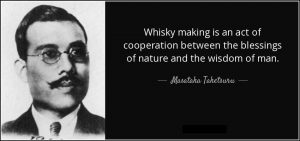 Taketsuru and his bride then returned to Japan in 1920 and he joined spirits company 'Kotobukiya' (currently Suntory) to produce the first Japanese whisky using the skills learned from his time in Scotland. He then established Nikka Whisky in 1934 and built his first whisky distillery on the island of Hokkaido called Yoichi. He considered the location to be absolutely perfect for producing coastal and delicately peated whiskies. His growing success then led him to establish a second distillery named Miyagikyo in 1969 on the main island of Honshu that produced rich and fruity whisky in sharp contrast to his Yoichi facility.
Masataka Taketsuru passed away at the age of 85 only 10 years after the construction of the Miyagikyo distillery leaving behind an enormous legacy that inspired a generation of Japanese whisky distillers to follow in his footsteps using scotch-whisky as their muse. He will forever be remembered as the founding father of Japanese whisky whose spirit lives on through his adopted son, Takeshi Taketsuru, who expanded his father's business substantially whilst continuing his quest for excellence.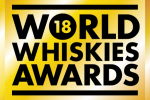 Tasting notes
From Jim Murray's Whisky Bible 2009
Firm oak, but compromises sufficiently to allow several layers of malt to battle through with a touch of peat-coffee. Massive, a toasted, honeyed front gives way to really intense and complex malt notes. Superb finish. some late marmalade arrives from somewhere, the toast is slightly burnt but the waves of malty complexity are endless. Not a whisky for the squeamish. This is big stuff – about as big as it gets without peat or rye.
The Old Barrelhouse