ARDBEG ARE ROLLING BACK THE YEARS TO CELEBRATE ALL THINGS 'PEAT & LOVE' WITH ARDBEG 'GROOVES' FOR ARDBEG DAY 2018
Well it's that time of year again folks – where websites crash, apologies are issued, websites crash again, more apologies, browsers malfunction, google glitches and refresh buttons bug out…. Yep, it's ARDBEG 2018, where their latest offering, Ardbeg Grooves Committee release is dripped out world-wide leading up to Ardbeg Day celebrations. We were spared the extra pandemonium in Australia this year with Moet-Hennessy running a very smooth campaign for Committee members where expressions of interest were registered on their hardy web portal, and then you asphyxiated your phone within an inch of its digital life sweating on a call back more precious than Willy Wonka's Golden Ticket.
JOB DONE, for better or for worse!
If you would like more information on how to become an Ardbeg Committee member go to this link: https://www.ardbeg.com/en-gb/committee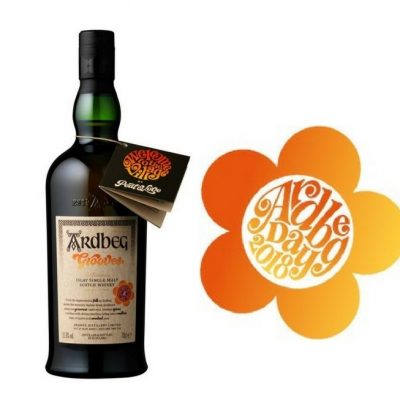 This year's release is called Ardbeg Grooves and is inspired by the alternative lifestyle and unorthodox spirit of a previous generation recalling the 1960's 'Summer of Love', or as Ardbeg suitably phrase it – "Peat and Love" as global Ardbeg Day celebrations on the 2nd of June closes in which includes a distillery open day during the Feis Ile (Islay Festival) 2018.
Distillery Manager Mickey Heads describes the 2018 theme:
"The Ardbeg Village of the 1960s was a very different place – a groovy wee community, with its own post office, billiards hall, two choirs and even a football team. These days the Ardbeg community is a worldwide one, and Ardbeg Day is the best way for us all to come together and raise a dram to the ultimate Islay single malt."
For this year's vatting, Dr Bill Lumsden (Ardbeg's Director of Distilling) has used re-toasted red wine casks to mature a portion of the whisky. While still sticky with the residue of the wine, these casks were intensely charred to produce heavy grooves into the surface of the wood, allowing for more intense spirit to wood interaction similar to the majestic Ardbeg Alligator release of 2011.
There are two versions of Ardbeg Grooves: The limited-edition Committee release bottled at 51.6% alcohol with a light cream label available to committee members only, and the wider release that will be unveiled on the 2nd of June for Ardbeg Day bottled at 46% alcohol with the darker label.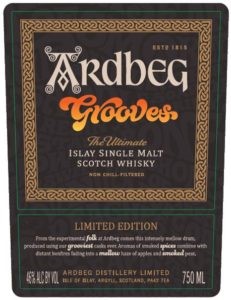 There are whispers on the whisky blogosphere that since the casks used for Ardbeg Grooves were sourced from Brown Foreman who own Jack Daniels, that there could be a possible link between the barrels used to age their premium Jack Daniels Sinatra Select bottling and the Ardbeg Grooves release. The Sinatra Select barrels were also grooved on the inside of the staves after charring to allow for a much more intense synergy between wood and spirit thus developing a deeper and more complex flavour. Coincidence? more than likely, as Ardbeg has never said that Grooves was matured in ex-TN whiskey barrels, but sometimes, just sometimes – the truth can be stranger than fiction. 😉
So dust off your old platform shoes, iron those bell-bottom corduroys, channel your inner Woodstock and roll a big fatty (of tobacco of course) and prepare to reel back the years to a 'groovy' Islay time of PEAT & LOVE.
Ardbeg Grooves General Release Official Tasting Notes
Colour: Berbere (African spice blend of a reddish/orange hue)
Nose: Intense aromas of smoked cinnamon and paprika, antique leather and saddle soap, with classic Ardbeg scents of pine resin, tar and briny sea spray in the background. A distant hint of a fragrant bonfire by the shores of the distillery and, finally, an unusual savoury note, like chilli-seasoned meats. A little splash of water releases some beautiful, unexpected aromas: lavender scented soap, ground white pepper, floral and herbal notes entwined. Fresh flowers mix with coriander leaves and mint.
Palate: A powerfully salty mouthfeel drifts into sweet vibes of treacle toffee, vanilla popcorn, salted fruits with soot and tar. Again, those distinctive savoury notes of smoky BBQ, paprika and mustard spice, fading into an unexpected haze of smoked pears and apples, almost like pear cider.
Finish: Smoked paprika and bonfires with a mellow sweetness throughout.