Chapter 23 in our fortnightly series of celebrating Australian whisky takes us to Victorian High Country where Bree and Leigh Atwood have created their own piece of whisky heaven, in just 5 short years.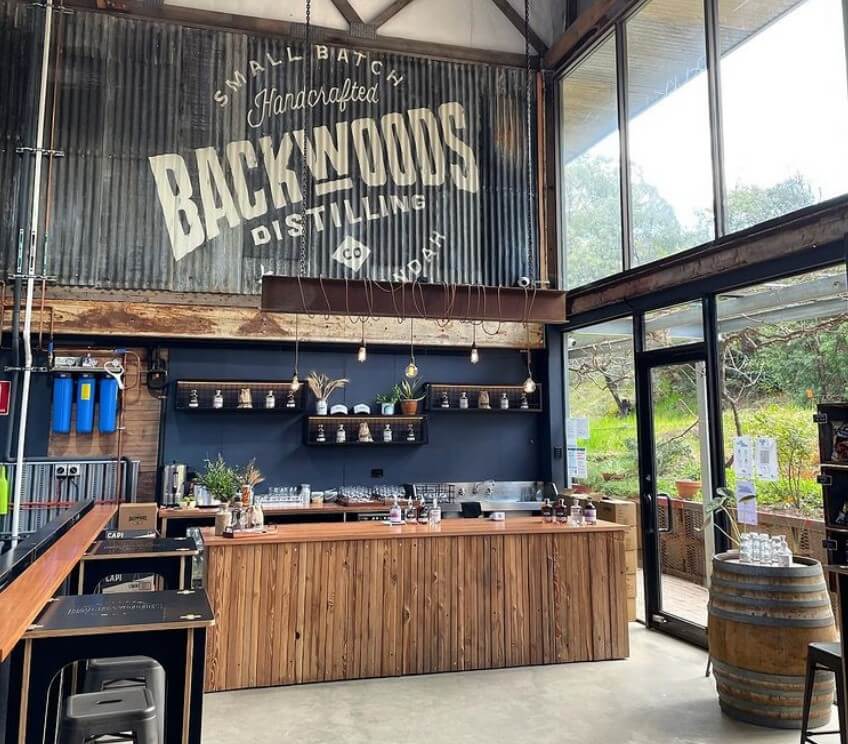 Backwoods Distilling Co. is a multi-award-winning whisky and gin distillery that was established in 2017 after a tree-change took husband and wife team, Leigh and Bree Atwood, their two sons and Ray (the wonder dog) away from Melbourne's inner-west life to the historic and picturesque town of Yackandandah in the Victorian High-Country region of Australia. Having both grown up in nearby Myrtleford, it was more of a homecoming of sorts with the beauty of Yackandandah drawing them back to their roots.
"For me, especially,

the whisky is all about the story behind it. My favourite whiskies are the ones that my favourite distillers make"
Bree Atwood
A fondness of whisky and science saw the Atwood's draw inspiration from a handful of titans within our whisky industry. Names like Bakery Hill, Black Gate, Fleurieu, Timboon, and the alchemy of Peter Bignell's Belgrove had them fall in love with Australian whisky and the legends behind the distilleries. These experiences stoked the fire that drove Leigh and Bree to forge their own whisky destiny, resulting in Backwoods Distilling Co.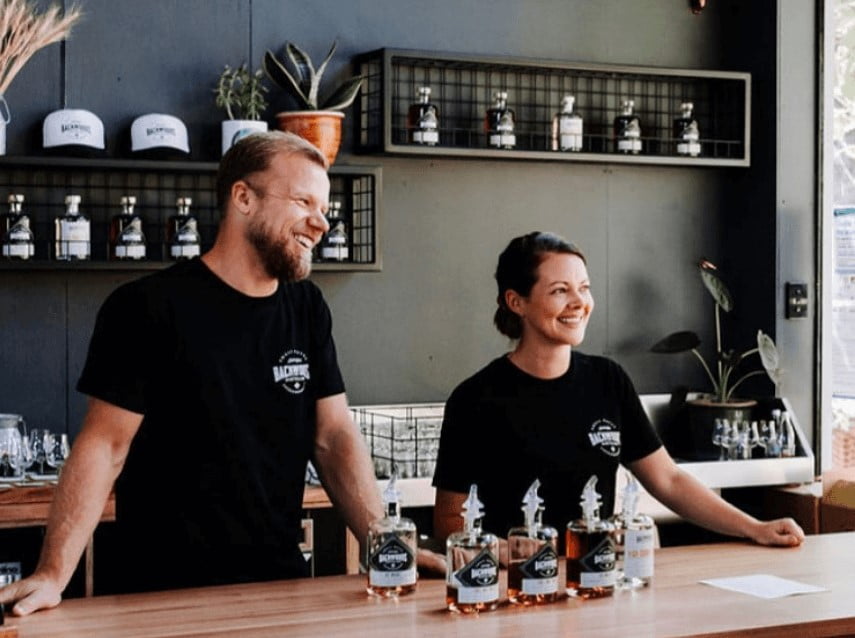 "Five years on from our move, we're both working full time for Backwoods, opened our distillery door in February, selling out each batch of whisky and added a couple of gins to the range (which we swore we'd never do)"

 

 
Bree Attwood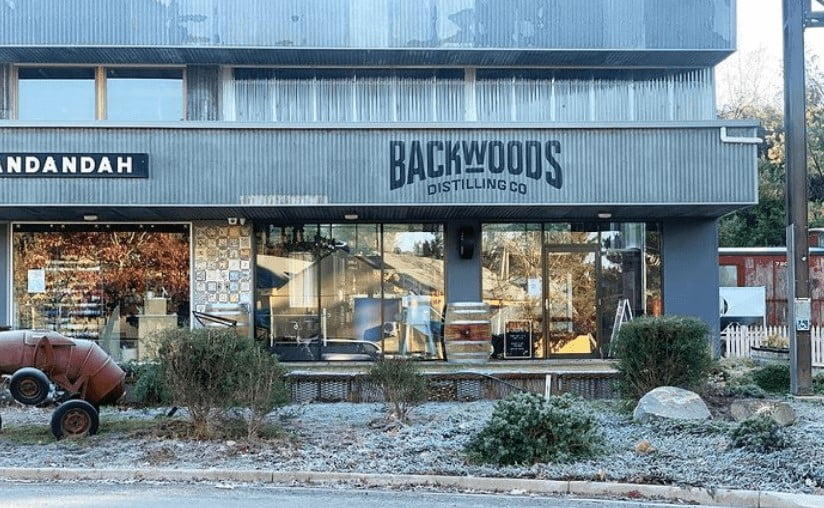 It didn't take long for the Atwood's to outgrow the distillery shed on their property where they first started distilling, so in February 2021, they opened the doors to a brand-new location at Yack Station in Yackandandah. Yack station was built in 2014 on the site of the old Yackandandah railway, which operated from 1891 to 1954.
The building was constructed from primarily recycled and repurposed materials gathered from iconic sites such as the Strand Arcade in Melbourne and the historic Albury flour mill and is now home to a diverse range of small business owners.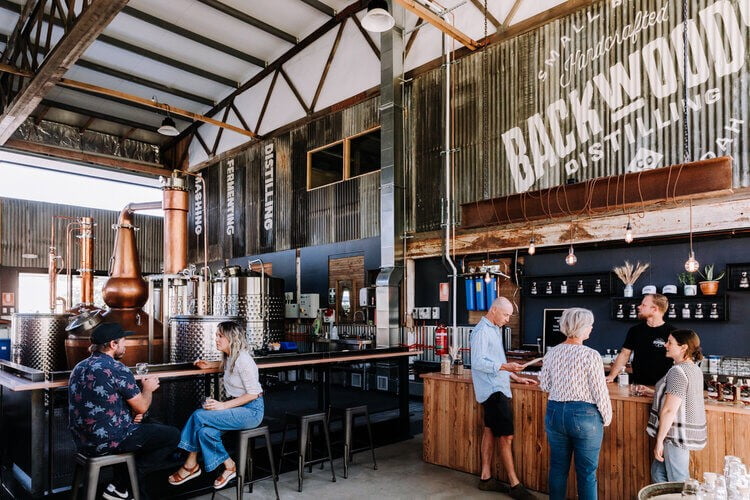 The open plan of their new distillery brings in plenty of light where you can enjoy tasting flights while sitting amongst the exhilarating cereal-aromas of the distillery's mash tuns, joined by the cooing hum of the copper pot stills, elegantly plying their trade, trickling new make spirit from their snouts.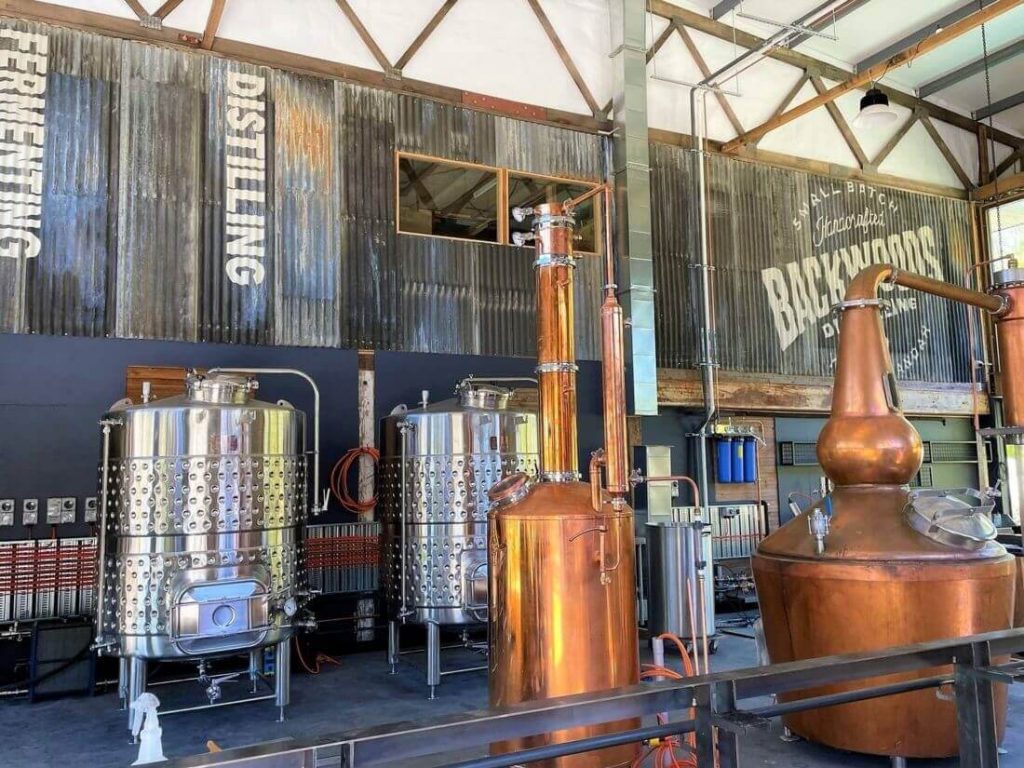 The distillery has 2 x 2000 litre stainless steel fermenters and are currently producing 250-300 litres of new-make spirit a week on their Mark Burns designed 1250L copper-pot still, affectionately known as 'Stillvester', the Backwoods work-horse. Their production volume has ramped up since opening the new distillery with both Bree and Leigh moving full time into the business. Previous to this, they were producing about 300L of spirit a month, making it quite the step up. In 2021 they'll have produced 9,000L of spirit (up from 3,000 litres in previous years) with plans to increase the volume to 12,000 litres in 2022.
With one eye on the environment, Backwoods receive their malted grain from Voyager Craft Malt in the nearby Riverina region who source their products from local independent growers who use sustainable agricultural practices. The distillery's spent grain is then delivered to a local farm for animal feed, completing the circle and making Backwoods distillery virtually waste-free.
Backwoods Distilling Co. specialises in both rye and single malt whisky production with their single malt mash bill consisting of 3 different special malts and their rye mashbill a mingling of malted rye, barley, winter wheat & chocolate roasted malt.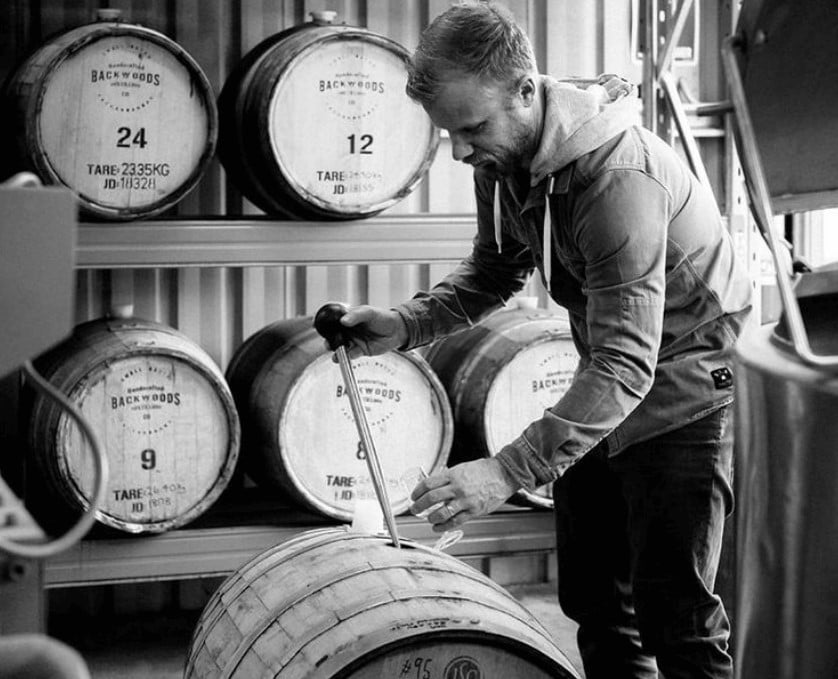 Their barrels are all hand selected from the Australian whisky and wine industries that had previously held whisky and red or fortified wines, with the distillery currently housing about 130 casks, all resting in their bond store ranging from 100L, 200L and 300 litres in size. They're slowly phasing out the 100L casks having only refilled some of them in 2021 to concentrate on the larger format barrels.
As of late 2021, they've now released over a dozen whiskies, (both single malt and rye) in barrel types including Tawny, Apera, Muscat, Shiraz, Cabernet and Red Gum with a Stringy Bark finish thrown in for good measure.
A look at one of our favourite Backwoods whiskies!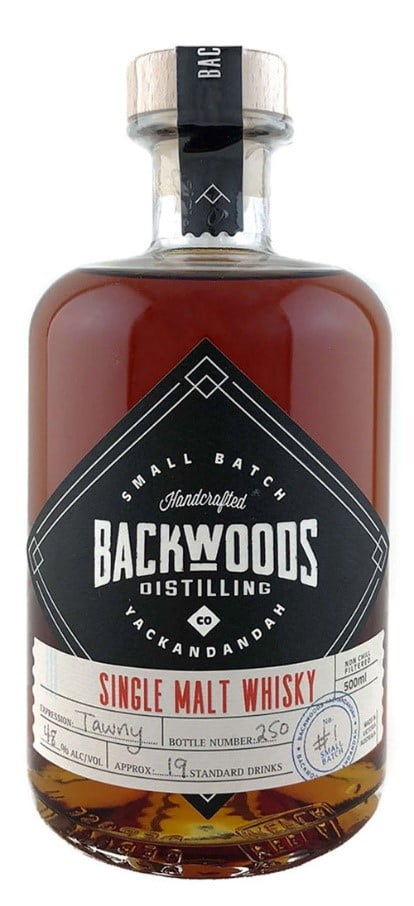 Backwoods Distilling Co. Batch #1 Single Malt Whisky 500ml 48%
The inaugural French Oak ex-tawny release.
Batch No: 1 – Bottled: 7th of July 2020 – Released August 2020
The whisky started with a three- malt variety mash: 50% Atlas pale malt, 40% Veloria schooner malt, and 10% Voodoo schooner malt, all selected to balance the gentle sweetness of honey and caramel, with an earthy and grassy profile.
The new-make spirit was then laid to rest in Australian Tawny casks, chosen as a salute to the fortified winemakers of North East Victoria. The Backwoods team then patiently waited until just the right amount of extraction was achieved from the cask to ensure the malt profile remained present, resulting in a beautifully crafted and balanced Australian whisky.
Nose: The combination of French oak and tawny bring aromas of chamomile tea, savoiardi biscuits, fresh brown nougat, cherry-cola and a twist of grapefruit peel, with some baking spices coming on late.
Palate: Full steam ahead now with the rich, three-malt combination dancing off our lips in a melting pot of banoffee pie, Turkish coffee, Commandaria (Greek dessert wine) and the slightest hint of grass and truffle?
Finish: Medium and youthful with spice, picking up on the herbal notes from the nosing.
In Conclusion
Although Backwoods have produced some fantastic whisky since this inaugural release, we couldn't go past it as our favourite due to the risky nature involved with first expressions, they can often be hit or miss and could possibly make or break a start-up distillery. Not only was this whisky a welcome inclusion to the Australian 'first release' whisky landscape, Leigh and Bree created a single malt of flavour, balance, intensity and terroir that sits up there with the best of them.
"We're so proud of what we've achieved so far. And excited for the future of Backwoods! Thanks to everyone who's been along for the ride. We love sharing our journey with you"
Backwoods Distilling Co.
With a work ethic to rival any Australian whisky distillery, the Atwood's are moving forward via innovation, production and sustainability to continue their growth as distillers and small business owners. They've acquired a significant fleet of red gum casks riffing off their first successful red gum release back in March 2021. They're also working with some smoked malts that we simply can't wait to sample with a few batches of red gum, smoked single malt already resting in peaceful slumber, available towards the end of 2022.
Collaborations are also in the air with Backwoods working with various Australian distilleries to release a few very special expressions that will be announced in due course as well as their continuing partnerships with with local breweries and wineries.
Covid 19 has left quite the minefield in its wake and with new strains seeming to manifest before our eyes, it's been a tough road for our small batch Aussie distilleries. The Atwood's comment; "It's been a topsy-turvy time so far. We've been closed, and reopened, more times than we can remember. And around every corner, new sets of restrictions, changes and rules, our customers have been waiting to support us, any way they can. Our beautiful visitors have made it so easy on us. They walked in with smiles, checked in and showed their 'green ticks' with pride"
It's this kind of home-grown support that makes Australia one of the greatest countries in the world and has us working within the Australian whisky industry more as a blessing than a job. Looking after our mates and local business is branded in all our DNA, so if you're thinking of making a trip to Yackandandah or you're just passing through, pop in to the distillery, sample their spirits, say g'day and purchase yourself a bottle or two. Because one thing is absolutely certain, you'll be welcomed like family!
Backwoods Distilling Co. current opening hours are:
Thursday: 11am to 4pm
Friday & Saturday: 11am to 5pm
Sunday: 11am to 4pm.
For more information, you can access their 'VISIT US' page HERE!
And you can visit theie website HERE! where Backwoods High Country Gin is currently available while we wait for their next batches of whisky to come of age.
The quality of Backwoods whisky see's the distillery sell-out of every expression they release. We have a small amount in stock thanks to the access Leigh and Bree have afforded us from the very beginning. You can view our range HERE!
We've been following Backwoods Distilling Co. since the early days and are proud to be one of their Founding Member, 'Founder #64' to be precise, joining back in February 2018
. This exclusive club was limited to 250 members who helped launch the dream of Backwoods Distilling Co. and the team has never forgotten these Founders constantly giving back in ways that have far exceeded the initial sign-up fee.
Now, fast forward 4 short years and Leigh and Bree have not only realised their whisky dream, they've navigated straight through it and are now living the reality that Backwoods is here to stay, and that makes our motley team at The Old Barrelhouse very, very happy indeed!